Visual Arts
How Many Buffalo Boxers Were World Champs?
by
/ Jun. 16, 2015 5pm EST
A local sports history trivia question: How many Buffalo boxers won world championship titles?
I counted six among the commemorative plaques and photos and memorabilia and verbal information on display at the Karpeles Manuscript Museum at Elmwood and North. And a couple more you could get an argument on. Fighters who might have won it in the ring but lost it in the judging. 
Jimmy Slattery, of course, the light heavyweight champion in 1927 when he outpointed the perennial Maxie Rosenbloom. He lost the title the same year to Tommy Loughran, but then won it again in 1930, defeating fellow Buffalonian Lou Scozza in one of the great matches and great fights ever. The pride of the Irish First Ward against the joy of the Italian West Side. Toward the end of the 13th round, Scozza had Slattery on the ropes and the referee had to step in, but then bell rang, ending the round, saving Slattery from a technical knockout. Slattery recovered in his corner, hung in, and won the 15-round decision. The description says merely "boxing fans still debate the outcome." 
Scozza had another near miss of the title in 1932 in a fight against Rosenbloom. In the 14th round, Scozza knocked Rosenbloom to the canvas, but he recovered and retained the title by decision. 
Scozza never became world champion, but in 110 pro fights was never knocked out, but he did knock out Jimmy Braddock. The only other fighter ever to knock out Braddock was Joe Louis, for the heavyweight world championship. After retiring in 1934, Scozza worked with youth organizations as a boxing instructor, and as a boxing and wrestling referee, and refereed many bouts in Memorial Auditorium in the 1950s and 1960s. Slattery drank hard and died young.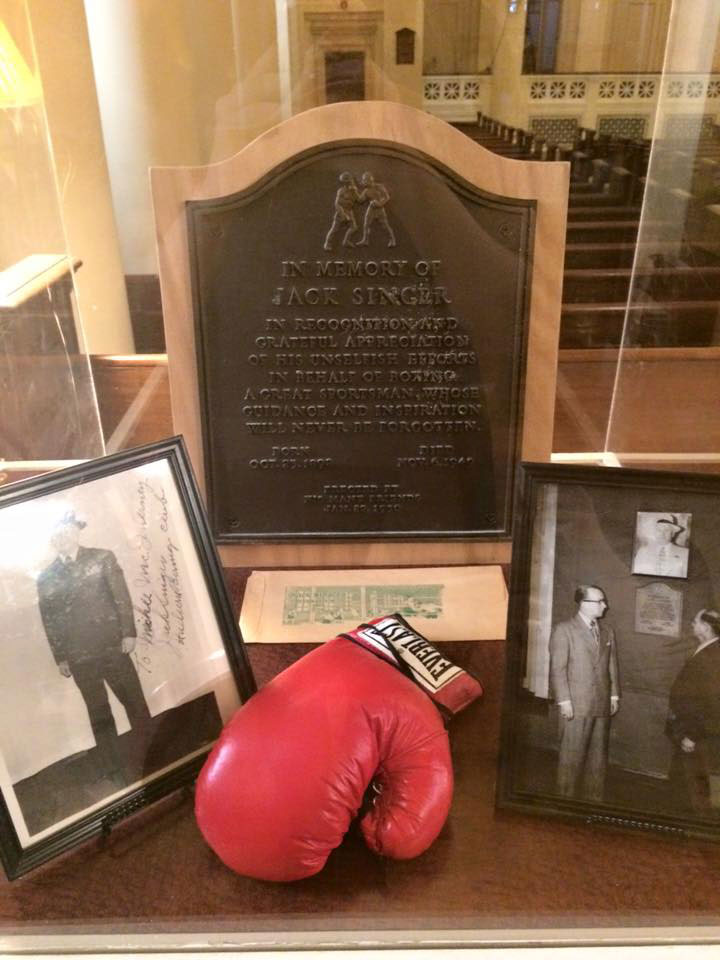 Photo by Buffalo Veteran Boxers Association — Ring 44.
Other Buffalo boxing world champions included: 
Frank Erne, lightweight champ from 1899 to 1902. Erne won the title by decision in a fight against George "Kid" Lavigne, and lost it to Joe Gans in a fight that lasted just 100 seconds. Gans knocked Erne out with a single punch, described by a newspaper writer as "a right hook, to the jaw, delivered with lightning speed and exact precision, after exactly a minute and a half of fiddling."
Jimmy Goodrich (real name James Moran) lightweight champ, 1925. Goodrich won the title in July by knocking out Stanislaus Loayza of Chile, and lost it in December by decision to fellow Buffalonian Rocky Kansas (real name Rocco Tozzo). It was described by a writer as "the hardest battle of [Goodrich's] career…Goodrich fought desperately, and along about the middle of fight it looked as if [Kansas] was wavering, but he rallied and renewed his attack with added fierceness, punishing Goodrich severely." Kansas lost the title the next year to Sammy Mandell in a decision.
George Nichols, light-heavyweight champ, 1932. Nichols won an elimination series for an officially vacated title, on the way to which he beat Scozza by decision, and after which Scozza beat him, once by decision, once by knockout, in non-title bouts. Apparently Nichols had suffered a knee injury and was unable to defend his title, whereupon it passed from him.
And Tommy Paul (real name Gaetano Papa), featherweight champion, 1932 to 1933. Paul won the title by beating Johnny Peña by decision, and lost it to Freddie Miller, also by decision. 
Many of the fights were in Buffalo. The Erne-Lavigne fight, at the Hawthorne Club Arena in Cheektowaga (site of the present Forks Hotel, Broadway and Union Road); The Slattery-Scozza fight, in the old Broadway Auditorium (now the city garage, Broadway near Michigan); the Goodrich-Kansas fight, also in the Broadway Auditorium; and all the Nichols-Scozza fights subsequent to Nichols taking the title. And several Rosenbloom fights. 
Other outstanding figures among the Buffalo boxing veterans include numerous veterans in the military sense. Matt Urban, a boxer and track runner at Cornell who for his military service in World War II was awarded the Congressional Medal of Honor, as well as the French Croix de Guerre, Belgian Croix de Guerre, Purple Heart, Silver Combat Star, Bronze Combat Star, et al. In presenting him with the Medal of Honor, President Jimmy Carter called him "The greatest soldier in all of American History." He never boxed professionally, but later coached boxing at West Point and was a coach for the 1960 American Olympics boxing squad, featuring Cassius Clay. Tommy Stenhouse, who had a 28-7-1 pro record, a member of the famed Tuskegee Airmen in World War II. Lester McGowan, New York State Golden Gloves Champion, 1941, killed in action at Iwo Jima, 1945, age 20. Joe Muscato, a World War II veteran who was awarded the Medal for Bravery as well as a Purple Heart. Muscato's pro fighting nickname was "Sergeant," and his pro record was 31-11-1. Joey Giambra, a top middleweight from the late 1940s to early 1960s, who somehow never attained the world title many think he deserved (even in an era dense with outstanding middleweights, the likes of Sugar Ray Robinson, Bobo Olson, Gene Fullmer, Rocky Graziano, Rocky Castellani, Joey Giardello, Ralph "Tiger" Jones, and Randy Turpin, to list a few of them). Giambra is shown in an Army uniform in a 1955 newspaper wirephoto, the caption of which calls him "the pride of the Fourth Armored Division." 
The exhibit is a presentation of the Buffalo Veteran Boxers Association. (Thanks also to Chuck LaChiusa's excellent Buffalo Architecture and History website—a work in progress in the literal and best sense—for additional information herein.)
 BUFFALO VETERAN BOXERS ASSOCIATION — RING 44 
 Karpeles Manuscript Library Museum North Hall / 220 North St / rain.org/~karpeles