Food
by
/ May. 24, 2017 12am EST
It's happening, it's really happening! Full-on summer is here and with that, a desire to shift gears in all aspects of our lives. I've already had more salads in the last week than I did over the previous month. Bikes come out, hem lines rise, our diets change. 
For a few years now, my go-to summer beer has been 21st Amendment Brewery's Hell or High Watermelon. It has everything I want in a summer beer: lighter, refreshing, with a hint of fruit. So, imagine the dissonance, the challenge, to my conception of self when I sipped Muskoka's Cool as Cuke Pale Ale with cucumber and lemongrass from their unfiltered Moonlight Kettle Series.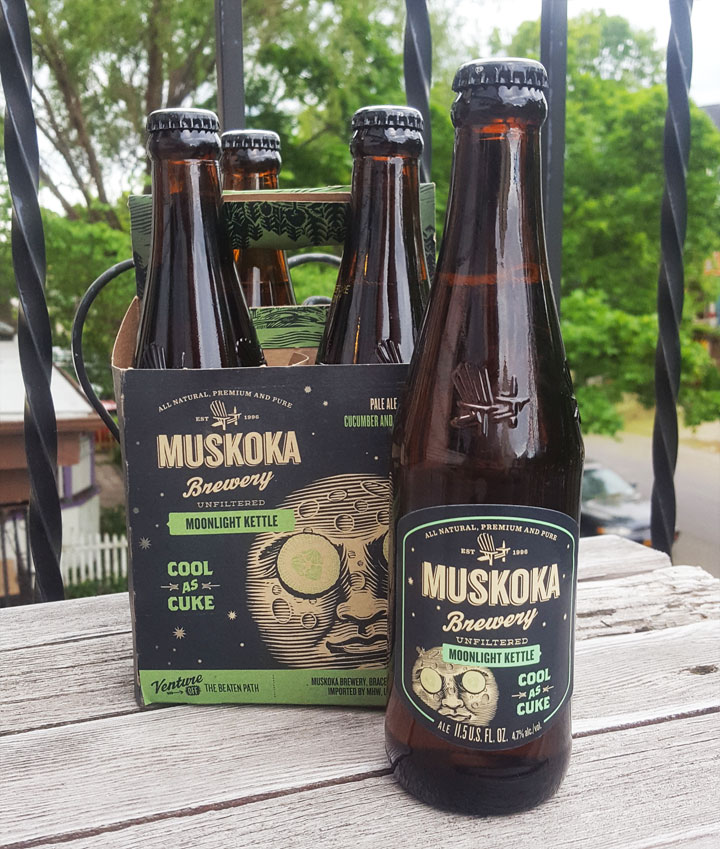 The beer is perfect for hot weather. Exceptions should even be made for simply warm weather. The cucumber, as it does, is perfectly refreshing, and then the lemongrass provides an interesting, citrus aromatic complement; it ends with a nice bit of hops to reiterate that one is still drinking a beer.
Muskoka's Moonlight Kettle Series is a unique small-batch venture. Each month, Muskoka team members volunteer to join Muskoka's brewers to create, name, and brew their own beer. The result is 12 completely unique brews that are truly experimental, yet delicious in their flavor combinations. 
The Moonlight Kettle Series beers are available in four-packs at Consumer's Beverages as well as on draught at your better beer bar—I had mine at Ballyhoo a week or so ago.
In July, Summertime Siesta, a dry-hopped session kettle sour, will replace Cool as Cuke, so to get more mileage out of this column I reached out to some beer folks to get their recommendations for what to drink this summer.
---
Jody Selin, ceramicist, bartender, farmer  
Old First Ward Brewery's #mashtag
I'm going to suggest something that you can get when you come visit me! #mashtag is an unfiltered New England Style IPA that's cloudy with a hazy, golden glow. Made with Citra, Amarillo, and Mosaic hops, the nose presents as citrus-forward with soft melon and papaya undertones. 
On draught, the beer has a light and creamy mouth feel, a tropical juice front followed by a clean hop finish, with very little to no bitterness and aftertaste. The lower ABV (5.5 percent) and low bitterness make this an ideal summer beer—sessionable and appealing to those who don't normally go for IPA'. 
Old First Ward Brewery at Gene McCarthy's has a beer garden to watch the sunset and growlers for take home.
---
Alex Placito, beer beat writer for the Buffalo News
Flying Bison's Polonia Pils
When it's warm, I of course want to drink all the cool things. Refreshing session IPAs, pale ales, Belgians, wheat-based beers, fruit beers, and light sour beers all seem to hit the spot well. But the style that's on my mind the most for warm-weather drinking this year is pilsner. Crisp, clean, with a refreshing effervescence, and perfectly balanced between crackery pilsner malt and floral/spicy noble hops. Locally, I don't think it gets much better than Flying Bison's Polonia Pils—it's a beer that just goes down so easy because I don't want to stop drinking it. And it's not so strong that I'd be in trouble if I didn't. I would pair it with grilled vegetables and a Zweigle's white hot (suck it, Sahlens). Or, you know, any other food at all.
---
Annie Krause, The Rogue Cellar
 Ommegang's Witte Wheat + more ​
If you're outside drinking beer on a hot day, you'll want something low in ABV, light in color, and full of flavor. Hit the sauce too hard and fast, and you'll find yourself asleep under the picnic table before the party's really started. I recommend pilsners, ales, and lagers under five percent ABV. Muskoka Brewing's Crafted Lager, Troegs' Solid Sender Ale, and Ommegang's Witte Wheat Ale are solid backup options, but my number one recommendation is Two Roads' Ol'Factory Pils. It's a dry-hopped pilsner that's a blend of old German brewing and modern American aesthetics. Crisp and juicy, this pilsner is the perfect post yard work, pre-BBQ party beer for Summer 2017.
---

Cory Muscato, distiller at Lockhouse
 Woodcock Brother Brewing Co.'s Niagara Lager 
Whether you're drinking local or national brands there are very few breweries that venture into the world of craft lagers. Lagers are traditionally more difficult to produce while keeping to style than their ale counterparts. They require longer periods of time conditioning into the best versions of themselves, typically at least four to six weeks in conditioning tanks verses one week for most ales.
Though lagers are not as cost-effective or quick to brew, Woodcock Brother Brewing Co. in Wilson, New Yoek didn't shy away from the task. Spending six weeks conditioning after fermentation, Niagara Lager is a Helles style beer that is designed to be ideal for the summer months. Notably Western New York's premier craft lager, this beer has a crisp underlying hop bitterness, a clean malt structure, and is approachable for those that unfamiliar with the style.
Cheers!
---
 SUMMER GUIDE 2017 
The bird count, some dog ticks, and a trio of foxes: If you've forgotten what I'm naming, you're gonna long to reclaim it one day.

 
---
---
Eyes Everywhere's Ultimate Summer Playlist

Partying on a patio on a summer day in Buffalo with hometown boys Kyle Tatum and Brian Doyle, better known as Eyes Everywhere, is something every resident should do as often as possible. It's a rejuvenating experience—dancing in the sunlight to bassy house music.

 
---