Commentary
Rus Thompson Accused of Voter Fraud
by
/ May. 12, 2016 5am EST
Rus Thompson is to Carl Paladino as Joe Percoco is to Andrew Cuomo. A confidant. A right-hand man. Rus Thompson and Carl Paladino are loudly and brashly supporting Donald Trump for President — Paladino is the statewide co-chair. Paladino has the support of Erie County Republican Chairman Nick Langworthy and lying liar of a Congressman, Chris Collins. Donald Trump is the bigot they've all selected to lead our great nation and the free world.
Let that sink in. 
Rus Thompson considers himself a mover and shaker in Erie County politics. The problem is, he doesn't live here anymore; he doesn't live on Grand Island anymore. He might be busy waging a vendetta in the press and courts with former Grand Island Supervisor Mary Cooke, but for what? He's lived in Niagara Falls since about October 2014. 
On or about October 3, 2014, Rus' wife, Julianne M. Thompson transmitted the following to the Erie County Board of Elections: 

Please remove us from the Erie County voter roles [sic] and from the ECBOE mailings. We are moving out of Erie County. Thank you. Julianne M. Thompson.
As it happens, they moved to the City of Niagara Falls in Niagara County. The problem is that Rus Thompson didn't register to vote in Niagara Falls—he never has, to this day. In fact, he's still registered at his old address on Grand Island in Erie County. 
Whether or not Jul Thompson had the legal authority to have her husband's name removed from the voter registration rolls via the scribble shown above is irrelevant; it establishes when they left the county, and it appears that Mr. Thompson may have falsely attested to living at an address he no longer occupied as his residence. 
The state statute on voter registration is pretty clear. In order to vote, you must: 
be a United States citizen;
be 18 years old by December 31 of the year in which you file this form (note: you must be 18 years old by the date of the general, primary or other election in which you want to vote);

live at your present address at least 30 days before an election;

not be in prison or on parole for a felony conviction and;
not be adjudged mentally incompetent by a court;
not claim the right to vote elsewhere.
It's the address part that's tripping Rus up here. You don't get to vote where you work; you vote where you live. If you change your address, and plan on voting at your new domicile, you should notify the Board of Elections as soon as possible, but at least about 20 days before an election.  If you want to keep voting in the town from which you've moved, that might be possible, but it's illegal. It's voter fraud, and it's a felony. 
As of Wednesday May 11th, Niagara Falls resident Rus Thompson is registered to vote at an address on Bedell Rd. on Grand Island, in Erie County. 

Voter history indicates that he voted in the primary and general elections in Erie County in September and November 2015. It's unknown at this time whether he voted in the Presidential primary. 
Thompson has told at least one media outlet that his alleged voter fraud isn't his fault; that his name was mysteriously purged from the voter rolls. I think we've solved the mystery, because his wife clearly notified the Erie County Board of Elections to do exactly that in October 2014. 
Here is Thompson's affidavit ballot, dated September 10, 2015, which he used to vote in the primary election: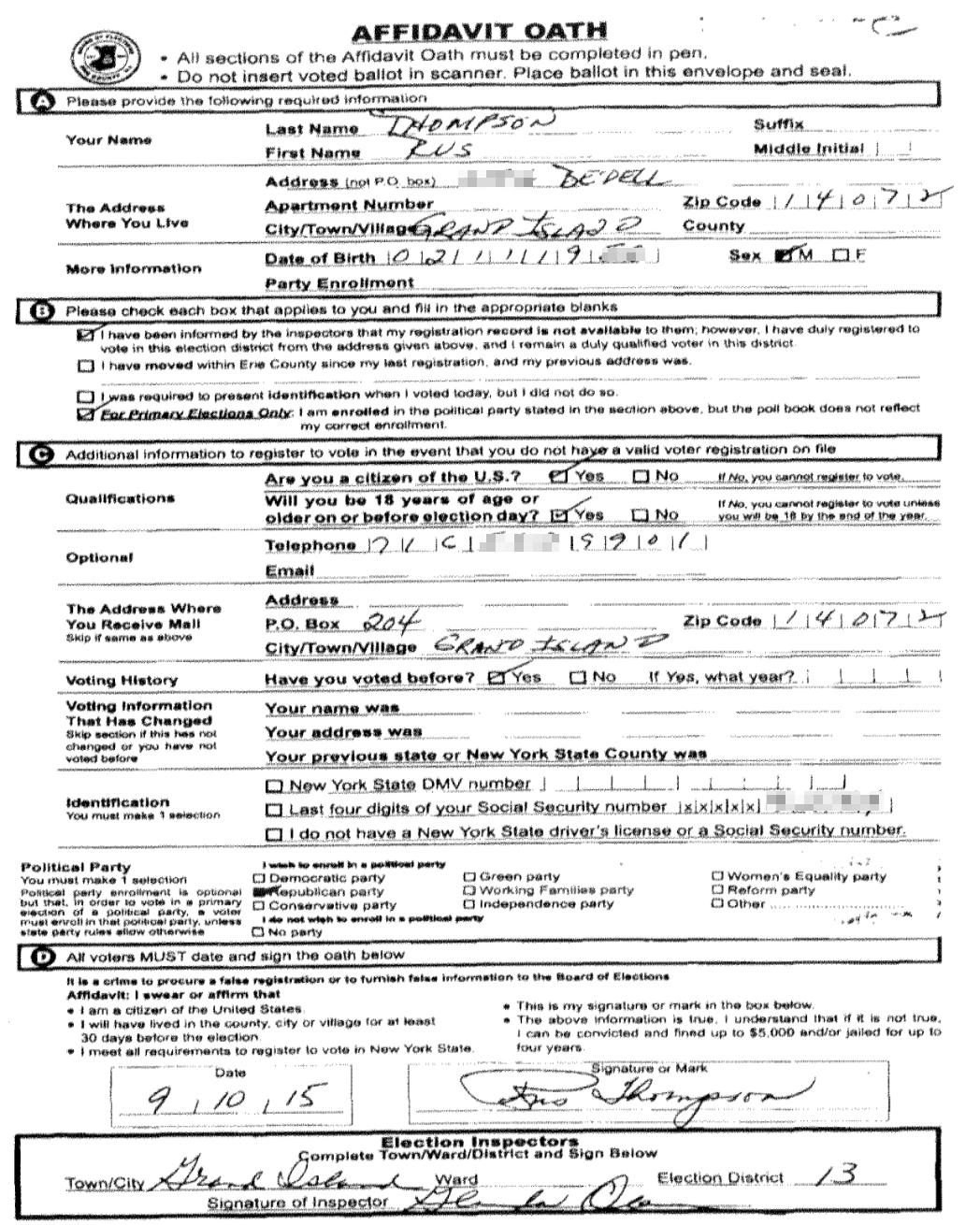 Here is the text of the very specific oath Mr. Thompson took: 

So, based on what we know, in 2015, Rus Thompson found himself purged from the voter registration rolls on Grand Island. This was done at his wife's request in October 2014 when they moved to Niagara County. Yet he still wanted to vote in Erie County, and when his name wasn't in the book, he filled out an affidavit ballot. The problem for him is that when you execute an affidavit, you are swearing an oath that certain things are true; in this case, that, Rus has "lived in the county, city or village for at least 30 days before the election." He hadn't. The oath very clearly states that the penalty is a fine and prison term. 
When we checked in mid-April, Rus and three twenty-somethings sharing his surname were still registered on Grand Island; one Conservative fusion, one Independence fusion, and one Republican. At that time, Jul Thompson was not found in a current voter database in either Erie or Niagara Counties. 
However, the fact that Jul is not registered to vote did not in any way impact her civic duty to campaign in and out of state for Donald Trump, or to circulate Conservative fusion Party petitions for Shelly Schratz. On those petitions, Mrs. Thompson gave an address on Lewiston Road in Niagara Falls. Interestingly, one of the aforementioned twenty-somethings, Abram Thompson, was the only person registered to vote at that Niagara Falls address. It is possible that there was some processing error in Mrs. Thompson's enrollment/change of address, since it appears that the Niagara County BOE either never informed Erie County of Abram's change of address, or more likely, Abram mistakenly registered as a new voter, and neglected to fill in the area asking if he had registered at another address previously).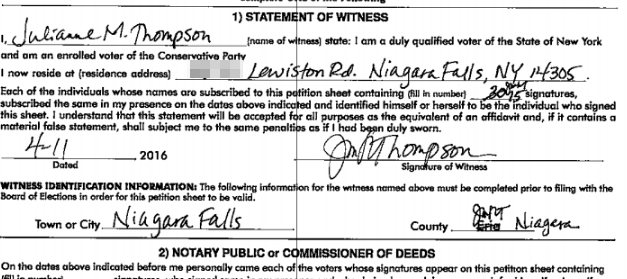 It would tough for the Thompsons to chalk this up to a government conspiracy against them when representatives of both major parties oversee each board of elections, but that's likely how they'll play this. Already, Thompson is rushing the Paladino victimhood playbook. Regardless, you have 5 people at 2 addresses enrolled in as many as 3 different political parties. And this is after Rus's history as being enrolled as a Republican, an Independent, a Conservative and as a Democrat (remember how he was going to primary Antoine Thompson?) There's clearly some weirdness happening here. Also, TEA New York now operates out of a PO Box on Grand Island. (A PO Box also doesn't establish residency, by the way). 
From TWC News, 
According to sources, Thompson moved from his Grand Island rental property to Niagara Falls. But when he voted in last November's election, he filled out an affidavit ballot at his usual polling place on Grand Island and used his old Grand Island address, allegedly voting in a district where he did not reside. Thompson would not comment Wednesday, but said there is another side to this story and already there are some high-profile Grand Island residents coming to his defense.
The rules are that you have to have been a resident of the place where you are voting for the immediate preceding thirty days. If Rus Thompson was a Niagara County resident, at any point in the 30 days leading up to any vote, he had no right to do so on Grand Island, in Erie County. Furthermore, when you execute an affidavit ballot, you are swearing an oath to God that you are eligible to vote in that location; that you are eligible in every way, including but not limited to having been a resident for the past thirty days. 
On the Tea NY website, they link to the extreme right-wing organization, the "Oath Keepers".  Rus Thompson appears to have violated an oath, which is ironic and hilarious. On their site, Thompson and his wife have posted no fewer than ten posts referencing voter fraud. (No links because that website once falsely accused me of having fraudulently manufactured Carl Paladino's pornographic, bestiality, racist, misogynist, bigoted emails; Rus and Jul Thompson are despicable liars.) In one, he writes, 
We are now, as Carl Paladino says, focusing like a laser beam on single issues, and have determined the following to be our top priorities:

2nd Amendment Rights
Agenda 21
Voter Fraud
Just days after President Obama's re-election, Thompson chalked it up to massive Soros/Obama voter fraud, 
Unbelievable.
No wonder the election result was "unbelievable."
…because it can't be believed.  Massive voter fraud and the numbers just don't add up.
I eagerly await Rus and Carl's expose on voter fraud and Agenda 21. What does Rus have to say about it all? 

Some houses are made from glass. Other houses are already surrounded by shattered glass. The past few weeks have brought about a cornucopia of allegations of criminality and breaches of public trust. Former Assembly Speaker Sheldon Silver was sentenced to 12 years in prison for his corruption; former Republican Senate President Dean Skelos awaits his fate. The Buffalo Billion trudges along under a cloud of accusations of bid-rigging and corruption arising out of the contracting process. Governor Cuomo's right-hand man, Joe Percoco is under investigation, as is a lobbyist with ties to the governor and various firms with Buffalo Billion contracts. Locally, there may or may not be a special grand jury looking into allegations of widespread corruption as it relates to political operatives and patronage. 
New York is a big state run by some very flawed people. I'm pleased when law enforcement swoops in to hold those in power truly accountable. 
But it's not just the powerful — it's also a problem with the wannabe powerful. 
And when actual scandal hits local Democrats — think back to Dennis Gabryszak — our local leadership demands their resignation. We're not afraid to call out our own for their misdeeds. The Republicans, however, have no similar urge. 
Assemblywoman Angela Wozniak, who sexually harassed a staffer, may choose not to run again, but she isn't resigning. Hell, Langworthy can't even bring up the guts to demand it. He refused to condemn her actions in any way, except to say it was something she needed to deal with on her own. No condemnation, no call for resignation, no demand that she not run again — just mealy-mouthed weasel words and silence. The same happened when Carl Paladino's bigoted, pornographic emails came to light. The same will happen with tea party activist and indicted Niagara County resident Rus Thompson. They'll say nothing; the Erie County Republican Committee simply lacks the courage or ethics to call out one of its own for corruption or misconduct; ever. 
Let's also make another thing clear: when people like Rus Thompson call for an end to voter fraud, or the implementation of an ID requirement, it wouldn't have made a difference in this case. Everyone knew who Rus was at his polling place; they just didn't realize he was now a Niagara County resident. He appears to have lied under oath in order to vote where he used to live. 
Thompson was to be arraigned before County Court Judge Kenneth Case Wednesday, and the indictment against him unsealed. That didn't happen; since Judge Case and Thompson are Facebook friends, the matter was transferred to Supreme Court Justice Christopher Burns, and adjourned to Friday at 10:30. 
Rus Thompson and his wife accused me of something they know I didn't do, and she wished she could "sue the pants off" me and get me to take a "lie detector test" over Carl's emails. Whatever; that's the thanks I get from these creatures after defending them and their motives when the Tea Party split in 2010. Yet, as far as the courts are concerned, Rus Thompson is innocent until proven guilty. He deserves his day in court, and he may get off for being stupid or lazy rather than malicious. 
That's one hell of a political epitaph.