Commentary
Monday in Marijuana: Taxes and Texas
by
/ May. 11, 2015 11am EST
Tax not, least ye be taxed
A friend of the The Public recently returned from the Phoenix, Arizona area with a copy of that city's weekly paper Phoenix New Times. The New Times issue in question included a 24-page "420 guide" chock-full of MMJ advertisers. To outward observers, the marijuana business is booming, but on the inside are signs of an economy with enormous potential struggling to heat up. The industry is new and carries many of the growing pains associated with that from a competitive standpoint, but from a financial perspective it's the federal laws that keep the entire business in a stunted growth pattern. 
We've covered the banking issue in February, but now with the haze from the 2014 tax season dissipating, we're uncovering horror stories from entrepreneurs who were whacked by federal tax policies that deligitimize marijuana business. Consider these anecdotes from the New York Times:
"I had to write a check for $275,000," Mr. Nassau said. "Unbelievable."
[One] dispensary owner who had taken in $1.7 million last year before expenses and had received a tax bill of $866,000. They are negotiating with tax officials, she said.
In Seattle, John Davis earned $53,369 in profits last year from his medical marijuana dispensary, the Northwest Patient Resource Center. Because he complied with all of the tax rules prohibiting deductions, he said, he ended up owing $46,340 in taxes. 

"It hurt, and it hurt bad," he said. "Everyone thinks you're just rolling in dough. That may be the case if you're not being compliant. You're not making money. You're holding on, hoping for a better day."
And in places like Colorado it's become more of a cash-only business because of the way their books have been marginalized by banks that are prohibited from accepting their business. 
This year, Allgreens, a marijuana shop in Colorado, successfully challenged an I.R.S. policy that imposed about $30,000 in penalties for paying its payroll taxes in cash — common in an industry in which businesses rely on armed guards and cash-stuffed safes because they cannot get bank accounts.
It all sounds rather "un-American."
Texas to the rescue 
Did someone say "un-American"? One Texas lawmaker reached the endpoint of the analogy and said that prohibiting marijuana was anti-God. In March Republican State Representative David Simpson wants marijuana to be regulated like "tomatoes, jalapeños or coffee."
"Current marijuana policies are not based on science or sound evidence, but rather misinformation and fear," says bill sponsor Rep. David Simpson (R-Longview).  "All that God created is good, including marijuana. God did not make a mistake when he made marijuana that the government needs to fix."
Simpson has put his swagger where his belief is, introducing a bill on Texas Independence Day for the full the legalization of marijuana as an issue of personal liberty and spiritual providence. 
You would think that our country's history with alcohol prohibition — an era marked by bootlegging, organized crime, government corruption and a rise in crime in general — would have prevented us from making the same mistake again.

But our current "war on drugs" policies, though well intended, have accomplished the exact opposite, spurring a proliferation of ever-changing exotic designer drugs and a disregard for constitutional protections in the name of eliminating drugs at any cost. Just think of no-knock warrants, stop-and-frisk, civil asset forfeiture and billionaire drug lords.
Why would you smoke that stuff?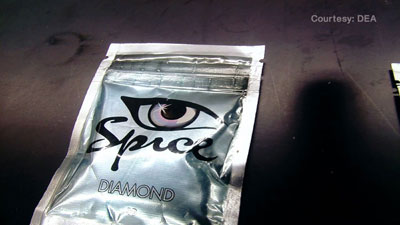 One more parting argument for the decriminalization of marijuana comes from emergency rooms across the Union. Last month saw a spike in synthetic marijuana users seeking emergency treatment in hospitals and posion control centers. Over 1500 new patients were received in April after numbers of under 300 were seen in prior months. New York City alone saw 120 such emergency room visits in one week. The culprit behind many of the overdoses is a new not-yet-but-soon-to-be regulated compound called MAB-CHMINACA. 
But it can be more potent than regular marijuana and can cause vomiting, seizures, hallucinations, elevated blood pressure, loss of consciousness and death, health officials say.

This week in the Willimantic, Connecticut, area, about a dozen people became ill and five were hospitalized after taking K2 believed to be laced with the hallucinogen PCP, police said. The five have been discharged.

Willimantic police began receiving calls Monday morning of people exhibiting psychotic behavior after smoking the drug.

"We've seen people running around without shirts, running down main thoroughfares within the city, asking for help," said police Cpl. Stanley Parizo Jr.
Sounds like a ripping good time.