Commentary
by
/ Apr. 28, 2015 6am EST
There's a tea party activist who lives in Clarence, who is leading the pack that's trying to fail this year's school budget. She actually used to be on the Clarence Democratic Committee — that is until I heard her distinct Boston accent voicing a radio ad for then-congressional candidate Len Roberto. As it happens, Roberto was running as a tea party Republican against Brian Higgins, a centrist Democrat. It was unseemly for a member of a local Democratic committee to so publicly support a tea party candidate, so she was asked to leave the Democratic committee.
Evidently, she was a supporter of Roberto's "Primary Challenge" organization, which encouraged people to join local committees in order to control the candidate selection process.  I have no idea why she would have join the microscopic Clarence Democratic Committee rather than the vastly larger local Republican Committee, since I never heard her support a Democrat or utter a word that was in line with anything approaching a left-of-center opinion or philosophy. 
And so it is that she went on to help other Republicans—always Republicans—until she decided that she would fail this year's Clarence school budget—a budget that raises the levy (not the rate) 3.8% versus a tax cap of 4.8%. In 2013 when she and her buddies led the fight to actually fail a proposed budget, they demanded that levy hikes be within the cap. This year's proposal is well under the cap, yet she's fighting to fail it. 
(I warned you guys that this was going to consume my attention for a few weeks. Sorry). 
The campaign is now underway, and she and her group have identified two board candidates to run. Neither one of them is a homeowner in Clarence; neither one of them pays school taxes. Seriously. One lives in his mom and dad's house and isn't registered to vote; the other one lives in a house that mom and dad bought for him, and he isn't registered to vote, and hasn't even switched over to NY license plates, despite having lived in New York since 2013 — in Clarence only since early 2014, barely squeaking in under the residency requirement to run. 
The pro-school contingent is supporting Michael Fuchs, an incumbent and executive at Rich's who owns his own home, and Dennis Priore, a former Ken-Ton school administrator who also owns his own home. Both of them pay school taxes. 
Yesterday, the leader of the anti-school "fail the budget again" campaign posted this to a Facebook page: 
THE OTHER SIDE

The Pro tax group believes we are not concerned about providing our children with a good education, but it is simply not true.

Money does not guarantee a good education. Motivated students, parents who care, and creative teachers do; and here in Clarence, we are fortunate to have just that.

At the same time, we have to consider the taxpayer who is already strapped or on a fixed income. We also have to keep taxes as low as possible to keep resale possible, make it attractive for more people to move here, and keep businesses flourishing.

Perhaps we'd be more inclined to support new taxes, if Superintendent Hicks had given the taxpayers a break this year. Instead, he received $21.3 million dollars from the state ( $1.1 million dollars more than last year), and is still looking to increase taxes.

Perhaps we'd be more inclined to support new taxes if Superintendent Hicks didn't choose to restore 11 positions when enrollment is expected to decrease by 120 students in the fall, and 350 students in the next 5 years. Those eleven positions will mean more salaries, more pensions, more step increases, more TAXES.

Perhaps we'd be more inclined to support new taxes if we had been notified of the voting date last November for building repairs and artificial turf.

Perhaps we'd be more inclined to support new taxes, if solving education issues w/ Albany took priority instead of always depending on increased taxes.

Perhaps we'd be more inclined to support new taxes, if the teachers would pay more toward their health benefits instead of only 10%.

Perhaps we'd be more inclined to support new taxes if approximately 75% of the budget wasn't for employee salaries and benefits. None of us are against good salaries for teachers, but is this sustainable?

Perhaps we'd be more inclined to support new taxes if the cap wasn't more than the cost of living increase.

Perhaps we'd be more inclined to support new taxes, if the Triborough Amendment didn't allow raises without new contracts.

Perhaps we'd be more inclined to support to new taxes, if Clarence Schools stuck to basics instead of courses in GOURMET FOODS, CULTURE AND FOODS AROUND THE WORLD, INTERIOR DESIGN ETC,
Such misguided mind-vomit deserves a response. 
1. Over the past few years, the Clarence schools tax levy has gone up around 1.4% — less than the rate of inflation.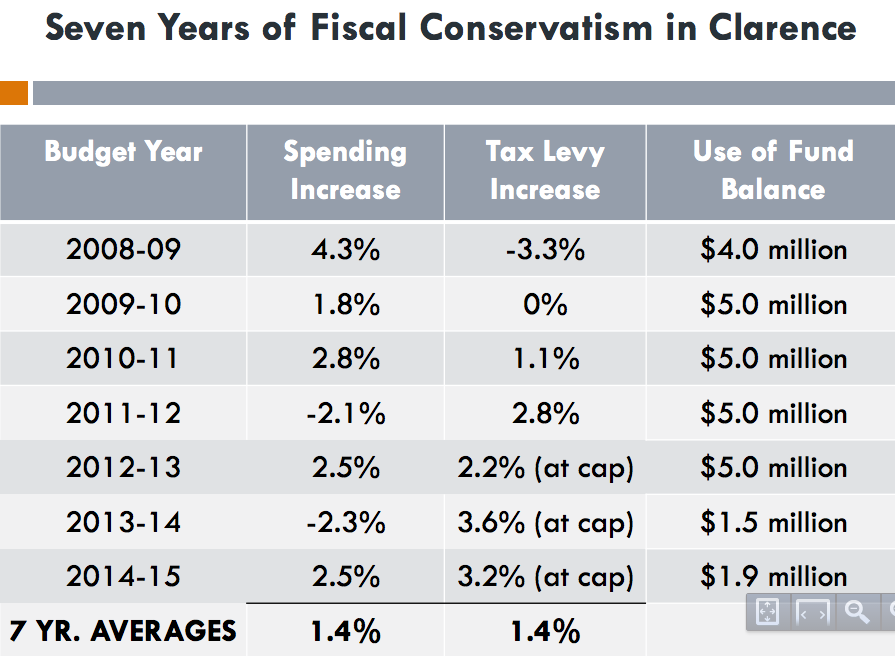 2. Over the past 15 years, the ranking of our school district has gone from "never below 2nd place" to 3rd two years in a row — starting in 2013. You'll fail the budget for what — to get us to 4th? "5th or bust"?
3. Superintendent Geoff Hicks gave everyone a break. He gave your lot a break by proposing a levy at 3.8%, vs. the cap of 4.8%. He gave the kids a break by proposing to bring back 11 teachers whom the kids need. But you'll fail the budget because it's not enough of a break for you? When do our kids get smaller class sizes? When do kids get librarians back?
4. The voting date for the capital project was delayed due to Snowvember school closures. It was on the Bee's FB page and lots of other places. In fact, it won overwhelmingly, and turnout was historically high. But you'll fail a budget because you didn't pay attention?
5. Your personal individual tax bill today is 33% lower than it was a decade ago. You want to fail the budget because of a ⅓rd drop in your tax burden?
6. The cap is what it is—by state law. You'll punish the students and fail a budget because you don't like the law?
7. My overall county, town, and school tax went up a whopping 0.3% last year, per my tax return. Of course, I also get to deduct my school taxes from my income tax, but that's a whole other matter. 0.3% rise in local taxes, including school tax, is pretty much the definition of "sustainable".
8. You're going to punish students because you don't like the Triborough Amendment—an obscure part of the NYS Taylor Law—a law that's 47 years old? You'll fail a budget because you don't like a state law?
9. I know you resent the students, it's quite obvious from everything you've written and said. I also know that you REALLY resent the teachers for having the gall and nerve to earn a living wage. But I can tell you that they don't offer courses in "gourmet foods", "culture and foods around the world" and "interior design" anymore. That's because your crowd failed the 2013 budget and the entire home & careers department was abolished. Instead, your constant, annual, irrational threats to fail every single budget over matters that the district has no control over, matters you don't understand, or matters that are irrelevant and beside the point, are leading to decreased enrollment as parents eschew Clarence for more stable districts like OP ($30/$1000) and Williamsville ($20/$1000) instead of Clarence ($14.57/$1000). Fail this budget, and it's not the gourmet food kids who are going to lose out—they already lost. Fail this budget, and you can kiss goodbye some AP classes, science & technology programs, maybe the business academy.
10. If you had your way, my children's education would be adversely affected by the acceleration of an already decade-long divestment in public education in Clarence. We've gone from 1st and never being below 2nd to two years in 3rd place. THAT'S unsustainable. Parents had to scrounge up $260,000 to make up what kids would have lost in 2013-2014. Did you contribute? Did you do anything at all to mitigate or ameliorate the harm you caused? Of course not. What a joke. You got yours, so what does anyone else matter? Your candidate—the one who voted against the capital project, who has Texas plates who lives in a house mommy and daddy bought for him—he wants to talk about "return on investment" and "total cost of ownership"? How about moving into the top district in WNY, and just by sitting still, I'm in #3?
Incidentally, the average home listing in Clarence right now tops $500,000; the median is $337,000. The average in Williamsville is $287,000, and the median is $214,000. So, when the anti-school people say Clarence homeowners pay more taxes than in Williamsville, they may be right—after all, our homes are larger, more valuable, and more expensive than those in Williamsville. But if you compare a $300,000 home in Williamsville to a $300,000 home in Clarence, the Williamsville home pays more school taxes, because their rate is $20/$1,000 of assessed value while Clarence's is less than $15/$1,000. Furthermore, the tax rate in Clarence in 2003 was just under $17/$1,000 and went down steadily until 2011. 
If we had increased the tax rate by the rate of inflation, using 2003 as the starting point, our tax rate now would be almost equal to Williamsville's. Spending more on schools doesn't necessarily mean you'll get a better education, but de-funding them isn't going to give kids a good one, either.