Commentary
Lancaster at a Crossroads
by
/ Apr. 24, 2015 6am EST
Who better to expound on whether "Redskins" is offensive to American Indians than two blonde non-Indians? 
The Buffalo News reports that Brenda Christopher and Kelly Depczynski are running for the Lancaster school board, and sort-of-possibly-but-maybe-not-but-really-yes advocating for the voters to fail the Lancaster school budget and a capital bond proposal, all to the detriment of the community and her students. 
I've already written about the imbroglio over "Redskins" here, here, and here. 
The school board voted weeks ago to get rid of the patently offensive mascot, and to their credit, students are leading the way to selecting a new mascot. Kids looking forwards, adults looking backwards; how typical. Anyone who suggests that the character of the schools, teams, or town will be degraded by changing the name of a mascot from something offensive to something racially benign, is wrong. 
It's been intimated that Christopher helped to force the board's hand in the way and time that it did specifically to manufacture this "Redskins" controversy so she could use it as the central platform of her bid to return to the school board. Depczynski has even made her way to Fox News, the news channel for misinformed elderly reactionaries, to try and make this nontroversy a national one. 
It behooves these pro-racist-team-name candidates to claim that they're not racists, and that "Redskins" is not offensive. That's like saying that it's not offensive to call Jewish people cheap because being cheap is a virtue. Take any stereotype — Asians are good at math, Germans are humorless, Polish are dumb, Italians are in the mob — and just repeat that it's "not offensive." That's not how this works. The "Redskins" name is offensive, among other reasons, because it emphasizes the racial difference of the racial group being described. Would we tolerate a team called the "Whiteskins," "Blackskins," or "Yellowskins"? 
But it's even worse than just that. 
Depczynski on March 9th responded positively on Facebook to another person's Facebook rant, 
If this American Indian at Lancaster and his family are so 'offended' … maybe the school board can gently refer him to go back to the reservation for his education," Lin wrote.

Lin also argued that Native Americans in Lancaster, New York who are offended by the school's mascot shouldn't have moved there to begin with.

"Maybe if 'Redskins' is too offensive they shouldn't have moved to that district," Lin wrote.

At the end of Lin's rant, school board candidate Depczynski responded, "Thank you, Lin! My thoughts exactly!"
Any claims of not being racist or having no anti-Indian animus sort of fly right out the window there. A DC-based Ojibwa tribal attorney writes, 
"Ms. Depczynski supports the removal of Native children from public schools to reservations; I wonder if the Native mascot she fights for will suffice as remembrance of actual Native peoples," [Tara] Houska wrote in an email. "It is deeply disturbing that someone who would deny Native American students access to an education in Lancaster is running for an office responsible for shaping policies that affect young minds."
Deeply disturbing is an understatement. But that's not the worst of it. Buffalo-based PhD candidate and Native rights activist Jodi Lynn Maracle, who shamed the West Side's "Gypsy Parlor" for its "Pocahotties" event a couple of years ago, recounts how Depczynski assaulted and threatened to commit bodily harm on her for the crime of suggesting that the "Redskins" moniker is racist, demanding that Maracle and she "take it outside". This is the sort of behavior that Lancaster will tolerate of a school board member?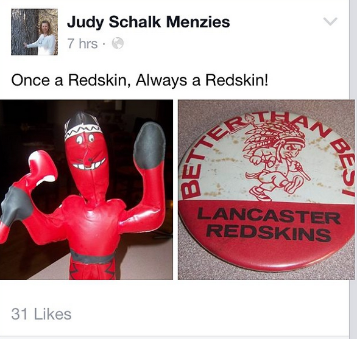 One would hope that the town's pride and heritage is more than just a patently racial and offensive mascot, and that the decision to remove it would be respected and that people could move on. But this is western New York, where every step forward is quickly followed by two steps back. 
Just to be clear — words/names aren't racist bc of how they are taken, they are racist bc of how they are used #Squaw #Redskins #Buffalo

— Jodi Lynn Maracle (@lasauvagesse) January 22, 2015
Indeed. But because "Redskins" is an obviously racial term, the best argument seems to me to be that it is wholly inappropriate to use in a school setting, particularly when the school's own code of conduct holds that, 
Students are expected to behave, and to treat all students, teachers, school staff and others, with honesty, tolerance, respect, courtesy and dignity as per the LCSD Policy #7552 — Bullying in the Schools. Students should respect their peers, teachers, and school staff. Individual behavior should not interfere with the rights of others. Students are expected to use language that is appropriate in demonstrating respect for self and others. Profanity, vulgar language including, but not limited to, racial comments, and/or obscene gestures toward others will not be tolerated. Appropriate disciplinary action will be taken.
If the school's own mascot is violative of the school's own code of conduct, what more do you really need? These are schoolkids, and the very last thing they should be taught is that it's ok casually to insult an oppressed race of people with a team mascot. 
Enough is enough. Follow the kids' lead and bring about a new Lancaster tradition; one that isn't a racial slur and one that every citizen of the town can be proud to shout and support. Maybe one that doesn't co-opt Native culture through the use of an historical epithet.