Commentary
by
/ Feb. 19, 2015 7am EST
No, really. Go. 
Although "political correctness" and "PC" are now hurled as epithets, within their definition is the radical notion that people should not deliberately be horrible to one another. Sure, Dinesh D'Souza has a right to call the African-American President of the United States a "boy" from the "ghetto", but you don't need a sociology degree to realize how that's offensive on two levels. The President is a "man", not a "boy", and "boy" has historically been used to pejoratively refer to African-American adult males. President Obama also isn't from the ghetto; not all black people come from the ghetto. Not all behavior you deem beneath you is "ghetto". People like Dinesh D'Souza make a good living by being horrible to others. He is not politically correct, and that's a shame because civil society should live up to that adjective. 
The Lancaster High School sports program calls itself the "Redskins". There is a push on now to have the district re-name the team because some American Indians are offended by it. More to the point, however, the team name is objectively racist. After all, we don't call teams "Whiteskins" or "Blackskins" or "Yellowskins". The reason why has to do with the blatant and palpable racial overtones. Redskins is no different, no matter what the tradition or intent. Identifying an ethnic group or race based on their physical characteristics — here, a pejorative term for their skin color — is a slur. You're highlighting how they're different from you. 
Search any dictionary — Merriam Webster, American Heritage, Dictionary.com, Kernerman Webster's, Collins - they all define "redskin" as offensive, racist, anachronistic slang. 
Some Lancaster residents inexplicably reject that. 
"It's a word. It's a matter of context," said Everett, president of Performance Advantage. "No one in this community would support the negative element associated with that name. We don't subscribe to this negative connotation. It means a lot to people – dedication, achievement, commitment to excellence."
The Lancaster School District has a choice to make here. Unlike the Washington Redskins, an NFL franchise, we're talking about a school. If you were to go around spewing racial epithets at kids in the hall, you'd be subject to discipline. So, how does that jibe with having a racist team name? If a student referred to an American Indian kid as a "redskin" or similar, he'd be punished, but we're meant to believe that it's ok to use that term if people are doing the important work of throwing balls hither and thither? 
Even if I'm not personally offended by the team name "Redskins", I see that many American Indians are. That's enough to me to — again, reverting back to the core definition of "politically correct" — support changing the name so as to not offend our indigenous Americans with a racial epithet. 
Proponents of the "Redskins" name say it evokes pride, bravery, tradition, and all of the good stuff with which we associate indigenous Americans. Here's the logo: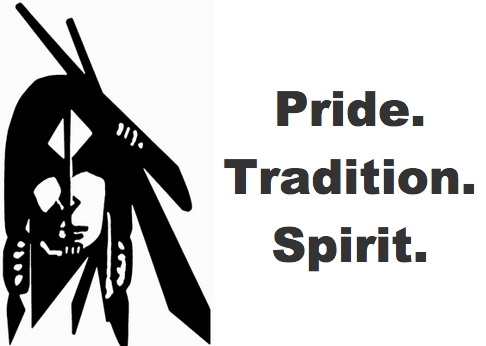 The Lancaster School District's mission is: 
…to provide our students with a comprehensive educational program that will allow them to develop fully the necessary academic and social skills to become responsible and productive members of a democratic society.
Responsible and productive members of a democratic society. Part of being responsible within a democratic society is changing a team name that has a mere 67 year history, and is blatatly racist by every dictionary definition. 
It's so simple for the district's school board to simply vote away a racist team name. There are literally thousands of alternative team names available to use, none of which are by definition disparaging to any historically oppressed ethnic or racial minority. What's so hard to comprehend here? By the Lancaster School District's own code of conduct (doc), 
Students are expected to behave, and to treat all students, teachers, school staff and others, with honesty, tolerance, respect, courtesy and dignity as per the LCSD Policy #7552 — Bullying in the Schools. Students should respect their peers, teachers, and school staff. Individual behavior should not interfere with the rights of others. Students are expected to use language that is appropriate in demonstrating respect for self and others. Profanity, vulgar language including, but not limited to, racial comments, and/or obscene gestures toward others will not be tolerated. Appropriate disciplinary action will be taken.
Tolerance. Respect. Courtesy. Dignity. Rights of Others. Racial comments…will not be tolerated. How are students expected to abide these basic disciplinary expectations if the district itself fails to do so? The example the district is setting is a poor one. Racist comments are not tolerated between students, but it's ok for the school's team and mascot to be a "redskin" American Indian? 
The upshot of all of this is, in the big picture, how inconsequential a name change would be. Would Lancaster students, teams, and alumni have less pride in their school or alma mater if the team's name was changed? Does changing the name of the team and school mascot lessen past glory or affect one's affinity for the school? Of course not. A racist name chosen almost 70 years ago, before the Civil Rights Act and before Congress and the Courts came around to agreeing that our contemporary American society guaranteed to all citizens, regardless of race or color, the same basic civil rights, is due for a change. Especially when you're talking about an oppressed people expelled from their homes by colonial invaders. 
This isn't the kind of thing you poll for; you don't leave it up to majority vote. Just because the name is popular doesn't make it less racial. Just because 50%-plus-one residents might support it doesn't make it less violative of the district's own code of conduct. Just because you're purporting to use a racist term to highlight what you say are that group's positive traits doesn't make it less racist. We would never dream of using "Yellowskins" or some other racist term for a team to describe positive Asian attributes, nor would it be appropriate to use Nazi-era caricatures to establish that Jewish people are good with money. These are examples of "political correctness", too. 
Appropriately enough for a school district, this is a teaching moment. Will Lancaster show its student body that it's willing to follow the same code of conduct it expects kids to follow? Will Lancaster's school district opt to be respectful of all races and ethnicities by changing the school's mascot and team name to any one of a thousand inoffensive alternatives? 
It seems to me that this hardly merits a controversy. High Schools should lead by example and name their teams using terms that aren't overtly racist.