Sports
8 Reasons You Should Go to the Golden Gloves
by
/ Apr. 24, 2015 12pm EST
GOLDEN GLOVES CHAMPIONSHIP
The Forvm, 4224 Maple Road, Amherst NY
Saturday April 25, 6pm, $30
Boxing's alive and well. Beyond this weekend's Heavyweight Championship of the World in Madison Square Garden and next weekend's long-awaited showdown between the cobra and mongoose pair that is Floyd Mayweather Jr. and Manny Pacquiao, the heart and soul of the sport is carried on in the small and often dank boxing gyms that dot the landscape in strip malls, storefronts, and community centers. And the practitioners of the sweet science participate in relative obscuirty with little potential reward: There are no athletic scholarships for boxing and nascent professional careers are extraordinarily fraught with danger, bad deals, low money, and endless waiting. 
For trainers and boxers alike, the sport at an amateur level is a labor of love, something more akin to an art form than it is to sport. The boxer's body and mind require daily maintenance and rigrous attention. This final championship round for the New York State (upstate) Golden Gloves is chock-full of great fighters and stories that are unfolding as you watch. 
1. It's amateur boxing. Yes, they wear headgear and oversized gloves for safety and only box for three rounds. But they get after it:
2. Some of these fights turn into absolute wars, like this one from an earlier round of this year's tourney between Anthony Woodruff and Mike Christopher. 
3. There's nothing like the drama of live boxing, and you will rarely get as close to the action of any sporting event as you can with amateur boxing. Here's the full bout sheet for Saturday's fights, I'd like to put a star on the Taylor-Adams, Nyagyot-Felton, Akeredoulou-Wood bouts as surefire crowd-pleasers.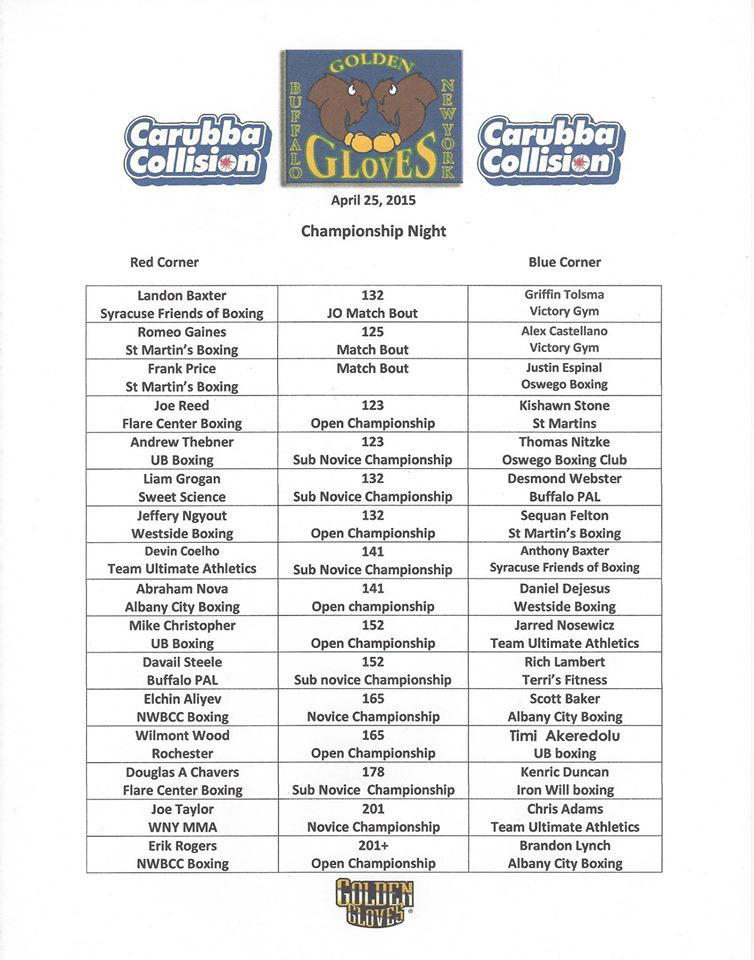 4. If you're into heavyweights, the 201-pound fight between Joe Taylor and Chris Adams might be worth the price of admission alone. Last time around, Joe Taylor did this:
5. The man who organizes the local Golden Gloves tournament and trains fighters our of Riverside's Northwest Buffalo Community Center, Don Patterson, is a fascinating guy and great ambassador for the sport. Our own Kevin Thurston recorded the following podcast with Don this month:
6. Buffalo's Jeffrey Nygayot is slated to fight Rochester's rugged Sequan Felton. They've split their previous two fights, but look for Nygayot to have the edge. He impressed thoroughly his last time out with a dazzling display of head-body punching and deft footwork. Nygayot's family emigrated from Congo to Buffalo when he was toddler, and when he's not training he's usually at Buffalo State College or working at 7-11.  
7. For a sport defined by speed, aggression, and violence, the moments of sportsmanship in boxing are incredibly real and heartfelt. 95 percent of the time, good fights end in hugs mere seconds after punches with bad intentions are thrown at someone's head.  
8. These are championships! The winner fo the "open" bouts advances to Las Vegas next month to duke it out with similar tournament winners from all over the state (and that's where a good amount of the ticket proceeds end up). For some of these participants, it's the trip of a lifetime. 
BONUS: The long-armed and powerful 178-pound Lawrence King is a sight to behold.