Local
4-20 Revelers Rally for Policy Change
by
/ Apr. 20, 2015 10pm EST
At 3:00pm the planned rally in support of the Buffalo Marijuana Movement's suggested bill for reform legislation looked like a wash-out. In weather which in typical Western New York fashion couldn't make up its mind whether it was a steady drizzle or a sunny but stiff wind, there stood one person at first glance holding a LEGALIZE CANNABIS placard and speaking to a trio of reporters. 
By 3:10 most of the reporters left the scene satisfied with a few sound bites they gathered from the five people on hand and missed the wave of late-comers that straggled in over the next twenty minutes. The start time was just a suggestion apparently, as supporters had to choose how they spent their precious afternoons on what has become an impromptu American holiday for all things marijuana, the twentieth day of April.
The young man who organized the rally, "Zaney"—who declined to leave a last name—stated that be believed several of the common council members would be open to pot reform in the City of Buffalo. He cited that members Smith, LoCurto, Wyatt, and Fontana had all previously either expressed concern over marijuana arrests or some form of support for medical marijuana. The Buffalo Marijuana Movement has submitted to the council's legislative committee a "Buffalo Marijuana Act" bill, suggesting that city decriminalize the ganj and treat it as a "lowest police priority" and open up the economic doors for the crops medicinal and industrial uses. 
"Colorado's not burning, last I checked," remarked one.
The crowd was colorful and relatively quiet. Go figure. One man came dressed as enormous doobie and a passerby tried to pose as smoking it, but the papier-mâché costume was too stiff in the hips. Another woman held a sign reading "I have the right to safe medicine" and expressed that she suffers from rheumatoid arthritis and finds relief in pot. "There's no doubt it helps," she explained. "It doesn't take away pain, but it calms you down so you can live with the pain."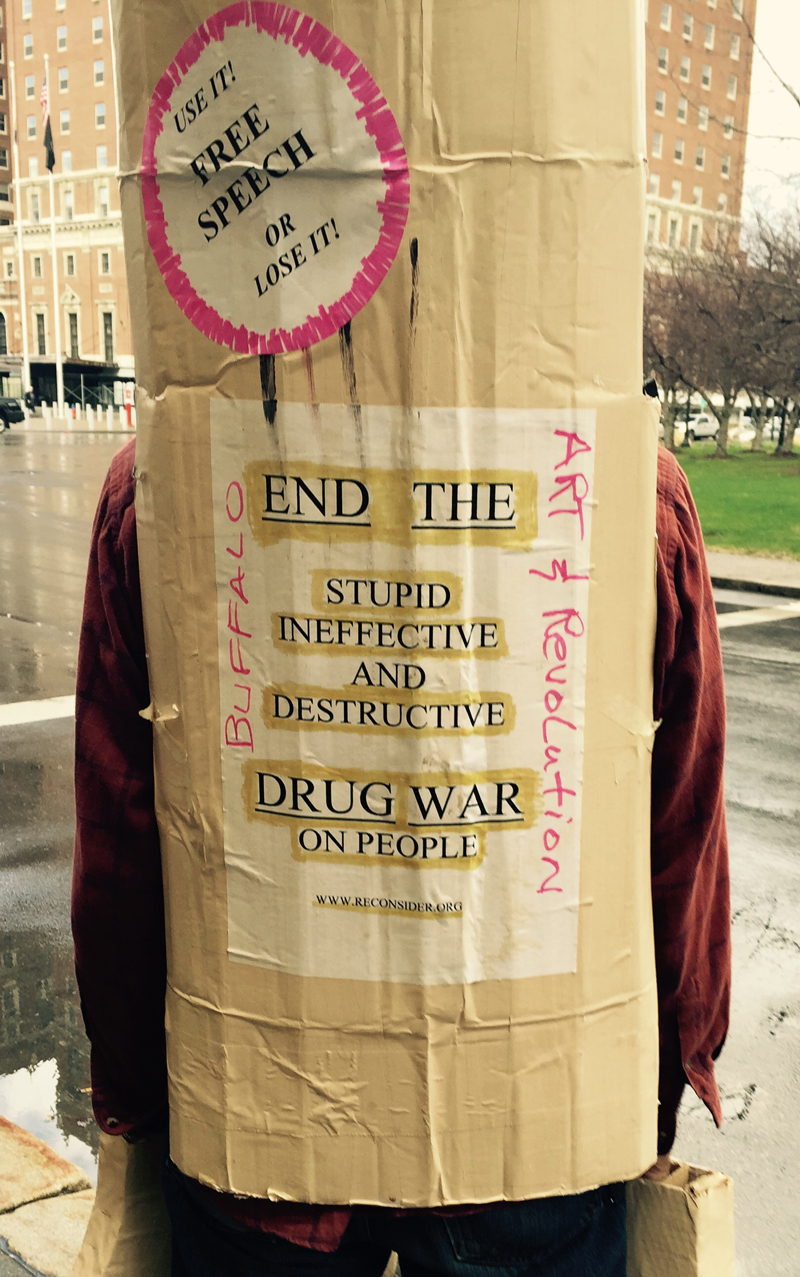 On hand was the common council watchdog and challenger to David Franczyk's 30-year reign over the Fillmore District, Samuel A. Herbert, who objected to the current state of affairs by pointing out two arguments: (1) that marijuana arrests often serve as pretext for the violation of the civil rights of minorities and that (2) like the widespread acceptance of gay marriage, marijuana usage was a matter of constitutional liberty and due its own sea change. "It behooves the common council members to pass a resolution to decriminalize use of marijuana," he stated. 
"It would be nice for one of our politicians to show some leadership on this," lamented Daire Brian Irwin. "Colorado has a billion dollar industry and New York is getting left behind."
Upstairs in City Hall, it appeared as if the door was would be open to the movement if council members phones starting ringing and their email inboxes started filling up. Chatting inside the Niagara District office about David Rivera's stance on the matter lead his legislative aide Sean Mulligan to offer that the former street cop, Rivera, had no platform yea or nay on the marijuana issue and would be open to a public discussion to hear from his constituents. 
"I think we're already there," Mulligan stated, in terms of low-level possession arrests. "From what I'm hearing, almost all of the small level cases are dismissed from court."