Local
Redux: Pickering vs. the USA
by
/ Apr. 6, 2016 6am EST
On March 18, the Buffalo News ran a fine story by reporter Phil Fairbanks, the details of which readers of the region's alternative press (both The Public and Artvoice) have known for some time. It's the story of how the FBI spent two years and as yet unnumbered resources tracking the activities of the owners and habitués of Burning Books, a shop on Connecticut Street on Buffalo's West Side that specializes in radical history, talks and films about radical movements, and workshops on such treacherous subjects as Freedom of Information laws and how the average citizen can apply them.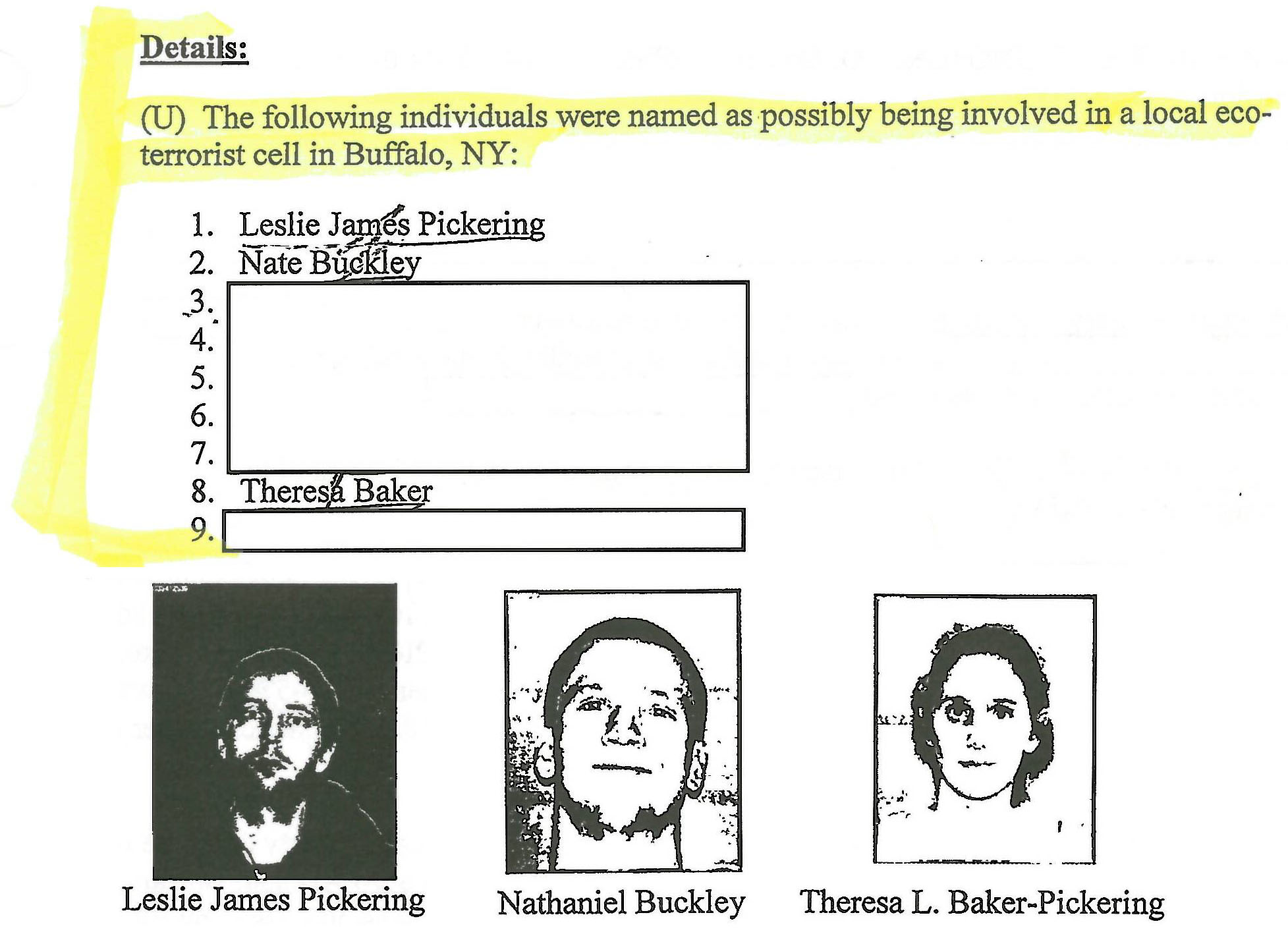 Excerpt from FBI files documenting the two-year investigation into Burning Books and its owners.
Fairbanks covered the basics: 
In February 2012, a confidential source told agents from the FBI's Buffalo office that the shop's owners—Leslie James Pickering and his wife, Theresa Baker, along with Nate Buckley, an activist who garnered headlines in the News when he was pepper-sprayed and arrested by NFTA police during a rally in front of M&T Bank's downtown Buffalo Main Street branch—were inciting violence in workshops and talks at Burning Books. As a result, the FBI initiated regular surveillance of the shop and Pickering and Baker's home on Fargo.
At least one more confidential source eventually began to cooperate with the investigation.
The FBI's surveillance included regular drive-bys by agents at both the shop and the Fargo residence of Pickering, Baker, and their daughter. It included confidential sources sent by the FBI to attend events at the shop. It included a "mail cover," whereby the addresses on mail coming to and from Pickering and and Baker's house were recorded and presumably investigated. It included interviews with an ex-girlfriend of Pickering, who is a lightning rod for this kind of scrutiny because in the late 1990s he served as spokesman for (though he insists he was never a member of) Earth Liberation Front, a radical environmentalist group that made its name during that era with a series of dramatic arsons and other actions in the Pacific Northwest. The surveillance ultimately embraced a "cell" of nine locals: Pickering, Baker, Buckley, and six others still unnamed, because only the three shop owners agreed to let their names go unredacted in the files Pickering and his lawyers received from the federal government after numerous requests and appeals.
Pickering and his family were placed on a travel watch list, resulting in his detainment at airports.
The FBI dropped the investigation in January 2014, a full year after one of the confidential sources recanted. The documentation of the investigation Pickering and his lawyers have received so far also suggests that the investigation was dropped because it yielded no activity that warranted keeping it going.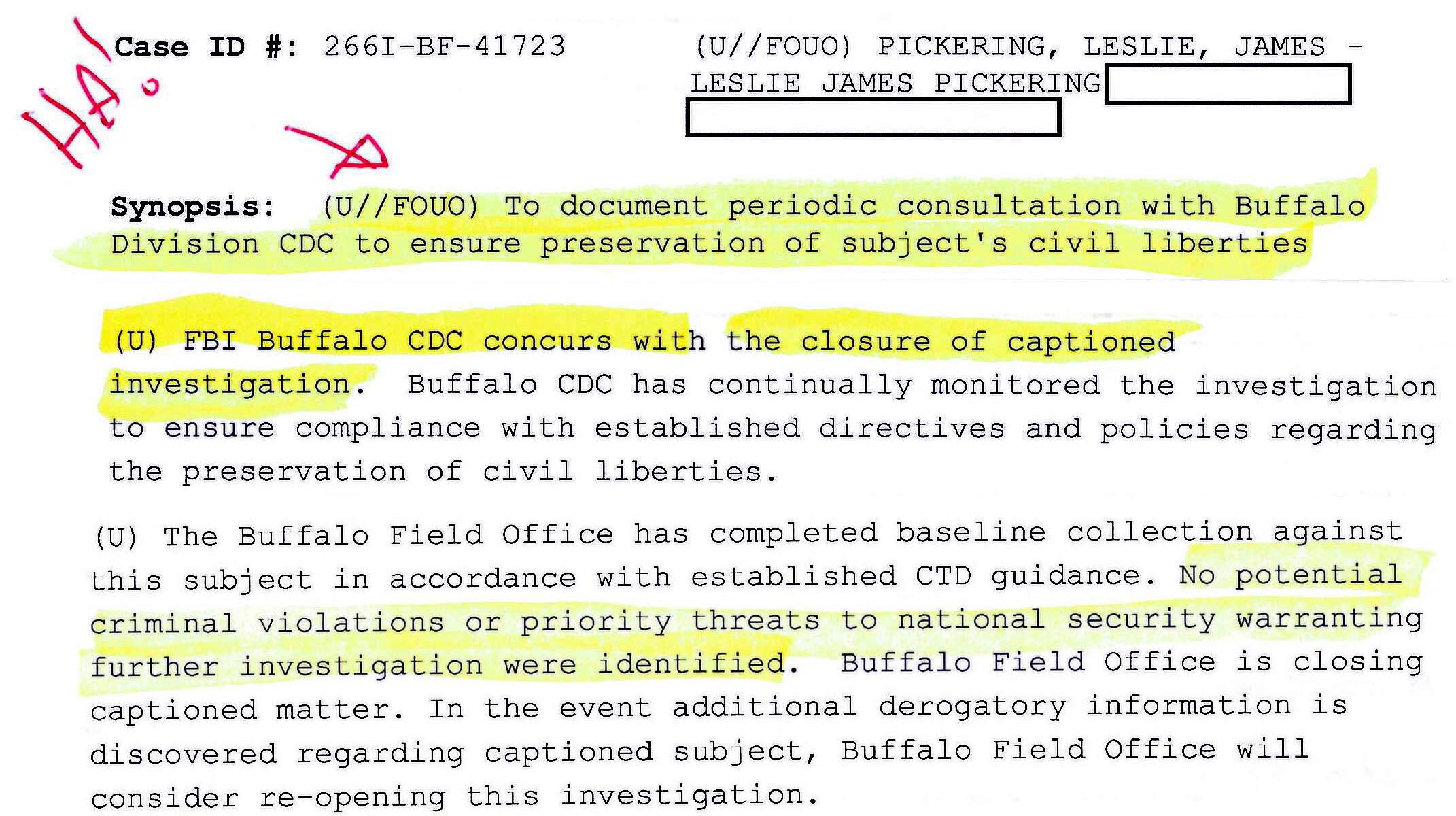 There are several elements that the News's article underplayed:
First, the article notes that the two easily indentifiable confidential sources were disgruntled tenants in the apartment above the shop who had an antagonistic relationship with their landlords. Their names are Amy Upham and Selena K. Lloyd. Upham, who responded to inquiries by a reporter following this story, has since moved out of town; the more mercurial Lloyd's whereabouts are unknown. 
While the article includes Pickering's suggestion that both sources struggled with mental illness, it does not pursue that suggestion. As it turns out, one tenant, Lloyd, likely the initial source, had been hospitalized for mental illness; the other tenant, Upham, has written about her struggles with mental illness. Upham has also described Lloyd as mentally ill, abusive, and potentially dangerous.
Upham has told mutual friends that her relationship with Lloyd was fraught with violence and threats of violence, and that she may have felt compelled to cooperate with her partner's vendetta  against the shop's owners in order to keep her partner from more dangerous reactions to their disagreements with their landlords. (Upham feared and perhaps suffered violence herself.) 
Indeed, Lloyd allegedly threatened to kill Nate Buckley—a threat that Buckley duly reported to the Buffalo Police Department, and which was reported to Buckley after Lloyd was released from ECMC's mental health unit, where she apparently reiterated the threat. That first death threat occurred in November 2001, just three months before the FBI's confidential source—most likely Lloyd—came forward to impugn Pickering and Buckley.
Finally, the frequency with which the shop and its owners were surveilled. Pickering and his lawyers, Mike Kuzma and Daire Irwin, are waiting for new documents to be released by the end of this month. There are 633 pages so far, but the FBI has suggested many times that number remain to be vetted before they are released. After this month, the lawyers have been told, the feds will clamp down on further releases. But what Pickering and company have seen and read so far suggest that cars came by more than once a week in the initial stages of the investigation. Informants were sent to events at the shop, and Pickering says that those informants could not have been Upham or Lloyd, as the antagonism between landlords and tenants would have made their presence notable.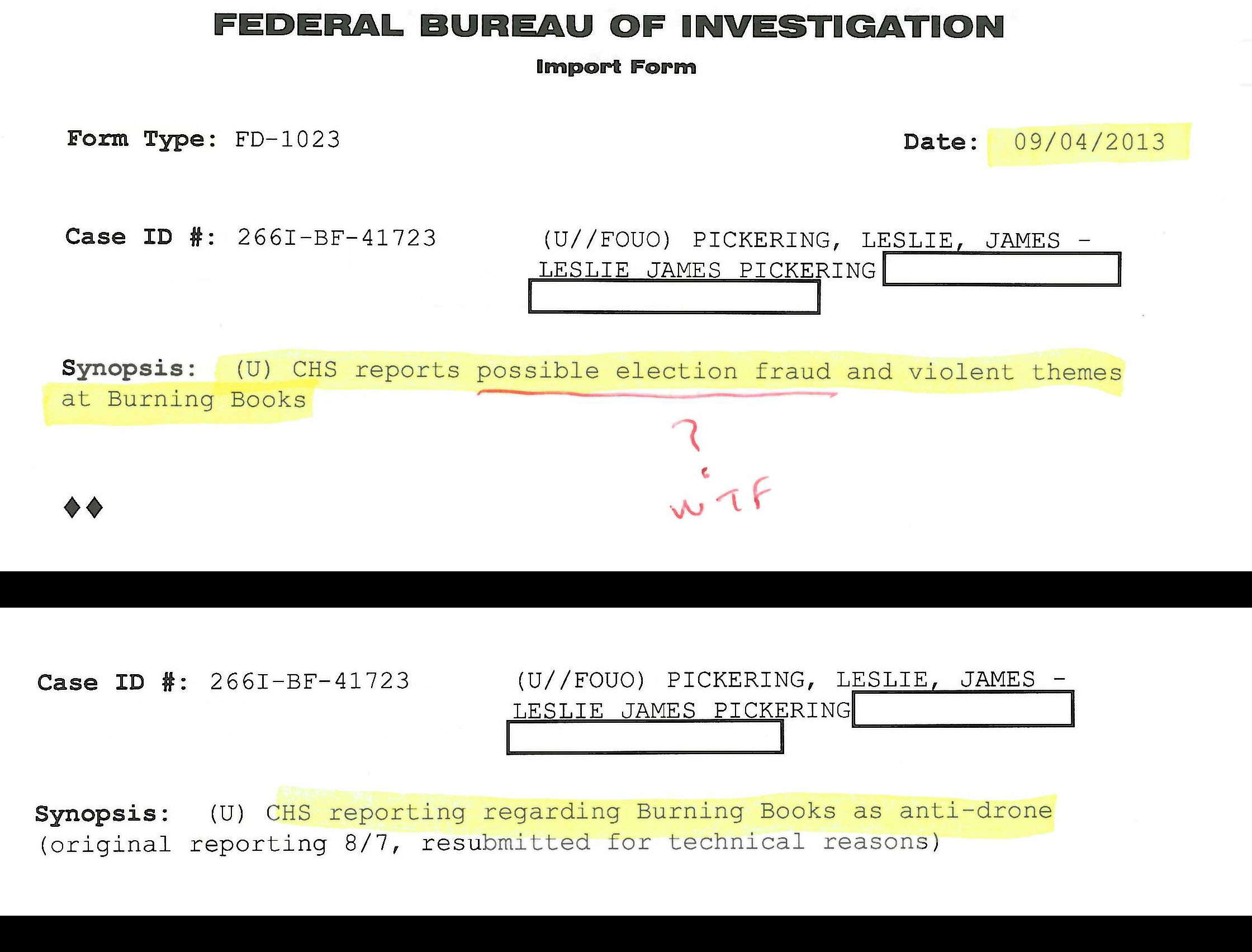 All this raises three questions:
Why would the FBI spend two years on an investigation spurred by sources who were clearly compromised, both in terms of objectivity and mental balance? Did they fail to investigate the credibility of the sources? Or did they simply not care?
What resources were expended on this fruitless investigation? How many man-hours? What surveillance techniques were brought to bear, and what did they cost?
Who are the other six in the nine-person "cell"? To what degree were they investigated or surveilled? Who else, locally and farther afield, is subject to such scrutiny?
On Saturday, April 9, 7-10pm, there will be a fundraiser and talk at 1526 Main Street (at the corner of Ferry), where Pickering and others will discuss the investigation and display some of the related documents they've retrieved from federal authorities through Freedom of Information requests. Proceeds will help pay continuing legal costs.