Music
by
/ Apr. 1, 2015 1am EST
Buffalo's own Lemuria begins a US tour in support of Tigers Jaw this spring, with a stop at The Waiting Room on April 6, followed by a headlining European tour. Formed in 2004, the band released their debut album Get Better on Asian Man Records in 2008. The trio—drummer/vocalist Alex Kerns, guitarist/vocalist Sheena Ozzella, and bassist/vocalist Max Gregor—signed to Bridge 9 Records, a label responsible for releases by bands like New Found Glory, Agnostic Front, BoySetsFire, and H2O, to release their 2013 record, The Distance Is So Big. With plans for a new record, the band sat down with The Public to talk about touring and their writing process.
What is it like to come back to Buffalo?
Alex Kerns: It's different because we know everyone in the crowd. It's like a little reunion. This show will be a little different because it's more Tigers Jaw show than ours, so it might be more their fans than ours.
Where are you looking forward to touring in the US and Europe?
Sheena Ozzella: UK is my favorite place to play in the world so far, so I'm really excited to go back. And we're going to sneak in a few dates for mainland Europe, too. I feel like it's been too long since we've been back there.
AK: I really like touring Germany, it's always my favorite country to play.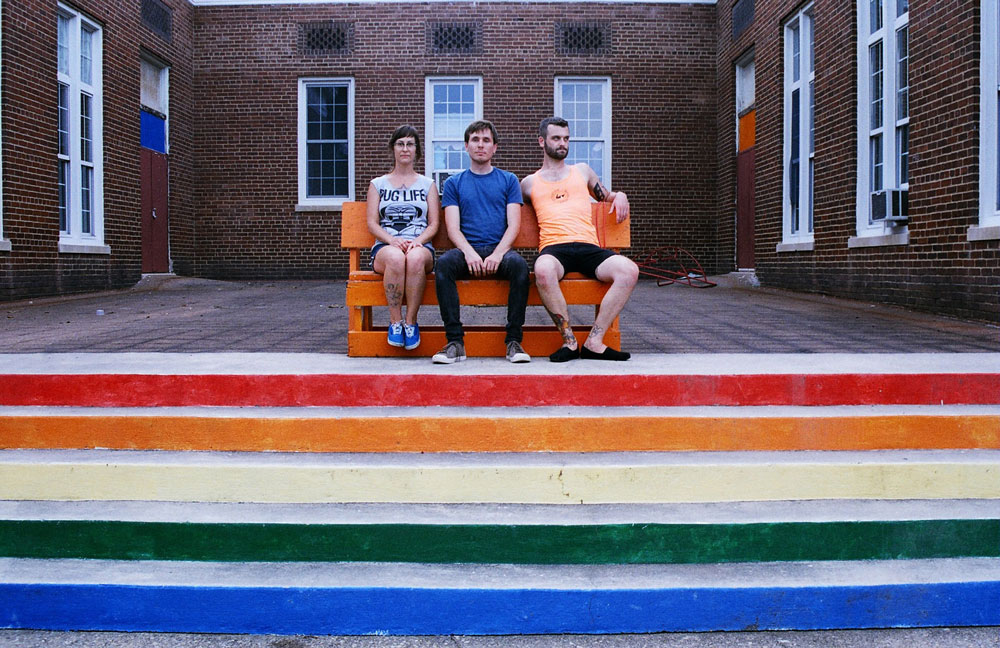 Is there anything in particular you have to make time for whenever you're on tour?
AK: Food [laughs]. That's kind of like the main thing, is that we always know where we're going to eat before we even get to the town. Like in Chicago, we always go to the Chicago Diner.
Max Gregor: Running, yoga, staying active mostly. I've noticed it helps me stay in a better mood, and makes me easier to be in a van with. I really enjoy being in nature—pulling over on tour and going on a quick hike, sitting on the beach. Tour is a great opportunity to get away from city life, even for a minute, by taking a state road through the redwoods.
Have you started planning a new album?
SO: Yeah, we've been recording a couple of demos individually—just ideas because we all live in different cities now. We definitely have a couple songs that we're getting ready to record demos together. Then we'll spend a couple weeks really focusing on perfecting the songs that we have, and hopefully write a few more to start on the next album.
AK: We're going to record demos this year, but we won't make it into the studio until early 2016.
How does that work with everyone living in different cities? Do you just send sound files to each other?
AK: Video, too. It helps because then when you get together you're not starting from scratch. You kind of have an idea of what a song might sound like. And then when you get together, you hash everything out and actually play like a real band.
Are there any new themes or sounds you're developing on these new demos?
SO: For me, I've definitely been trying to focus on playing my guitar a little more nicely, neatly. I feel like I've gotten away with being a pretty sloppy guitar player, which isn't a bad thing, but I'm trying to really focus on getting better at more precise playing. Hopefully on the next record, you'll hear a little bit more of that. And vocally, to be aware of vocal melodies, especially because Max is a singer in the band now, so we have a lot of options and a lot of different ways we can do vocal styles.
AK: I still take drum lessons every week. Every time I take a lesson I feel like a little knot is untied in my brain. I learn like Latin beats and world music, so I think as the albums go on, I try to apply them to some of the songs in a way that doesn't change the mood of what Sheena writes, but it doesn't sound like what you'd expect. It's not your standard 4/4 beat.
Sheena and Max, you both moved from Buffalo and are involved in the music scenes in DC and Austin. Do you think being involved in those communities will affect the new album?
SO: I still think I write the same old shit, but I feel a definite motivation from the musicians I know [in DC]. I miss living in the same city as Alex and Max, because songwriting was a little more relaxed. I don't know if the style of songwriting that I do will change very much but I definitely feel a different kind of motivation from living in DC.
MG: I'm pretty much only writing alt-country now. Kidding! I think it will for sure. Buffalo, DC, and Austin all have very rich musical communities, and going to shows at all means that each of us will be influenced by those experiences.
Lemuria will play The Waiting Room with Tigers Jaw and Somos on Monday, April 6. Tickets are $13 advance, and $15 at the door. For more information visit lemuriapop.com.