Commentary
Carl Paladino: White Nationalist
by
/ Mar. 14, 2017 7am EST
White nationalism is a polite term for "racist Nazi scumbag." 
White nationalists believe that whiteness is not just a race, but also a national identity. The Southern Poverty Law Center, which monitors and exposes hate groups, says, "white nationalist groups espouse white supremacist or white separatist ideologies, often focusing on the alleged inferiority of nonwhites. Groups listed in a variety of other categories — Ku Klux Klan, neo-Confederate, neo-Nazi, racist skinhead, and Christian Identity — could also be fairly described as white nationalist."
Over the last few days, Representative Steve King (R-IA) made news by going full white nationalist with this Tweet: 
Wilders understands that culture and demographics are our destiny. We can't restore our civilization with somebody else's babies. https://t.co/4nxLipafWO

— Steve King (@SteveKingIA) March 12, 2017
King approvingly quotes Dutch anti-immigrant extremist and Geert Wilders, who wants to ban and expel all immigrants and close all mosques in the Netherlands. It's standard European far-right fare — Dutch for the Dutch. In today's anti-everything environment, Wilders' party stands to win a majority of seats in Holland's parliament. 
Immigration in Europe is a very big deal because it hasn't historically existed — at least in this form. European immigration has, in the past, been a byproduct of imperialism — think Jamaicans and Indians and Pakistanis in the UK, or North Africans to France. Conquered nations who were, at least in theory, all part of the same empire; British or French by invasion. Austria-Hungary and the Ottoman Empire were true multi-national states, because they conquered their neighbors and kept going.
After World War II, Germany's economic miracle was in desperate need of workers, so hundreds of thousands of "guest workers" (Gastarbeiter) were imported from Turkey and, later, Yugoslavia. 
But for the most part, European nation-states equate citizenship with ethnicity or nationality. Dutch people live in Holland, French people live in France, German people live in Germany, Irish people live in Ireland, and Danish people live in Denmark. Only a couple of European states are multi-ethnic — think Switzerland, Belgium, the UK, and the former Yugoslavia. Part of the reason theorists believe that fascism took hold in Italy and Germany has to do with the fact that those states were created late — in the late 1800s. The concept of German or Italian nationhood as citizens of a unified state was a new one. 
The United States and Canada are different, however. The British, French, and Spanish conquered and eliminated the people they found on this continent, and the eventual nation-states they left behind brought in immigrants. American and Canadian citizenship is not wrapped into the concept of ethnicity and nationhood — you can be any color, any religion, or from any nation and still be an American or Canadian. Our borders never connoted any ethnic or religious homogeneity, making King's racist nonsense so ignorant and outrageous. 
So, that's all a roundabout way of getting to racist scumbag white nationalist Carl Paladino's emails. 
Before we get to them, it bears mentioning that when Italian immigrants came to the United States in the late 19th and early 20th Centuries, they were subjected to hatred and denigration not dissimilar from that now spat at immigrants from majority Muslim or Latin American countries: Dirty. Lazy. They refuse to assimilate. Their ways are backwards. Their religion and culture are not compatible with the American way of life. They are taking our jobs. Speak English! They are a drain on the economy. They are on the dole. They're here to destroy us.
They lynched Italians in 1891 New Orleans. Teddy Roosevelt said the lynchings were a "good thing", and the leader of the mob later became Governor of Louisiana. In fact, there were about 50 lynchings of Italians until the 1920s. Paladino could use a primer on that history of anti-Italian animus. 
On Monday, elected school board official Carl Paladino sent a mass email with the "re" line: "Good Ones". It contained memes.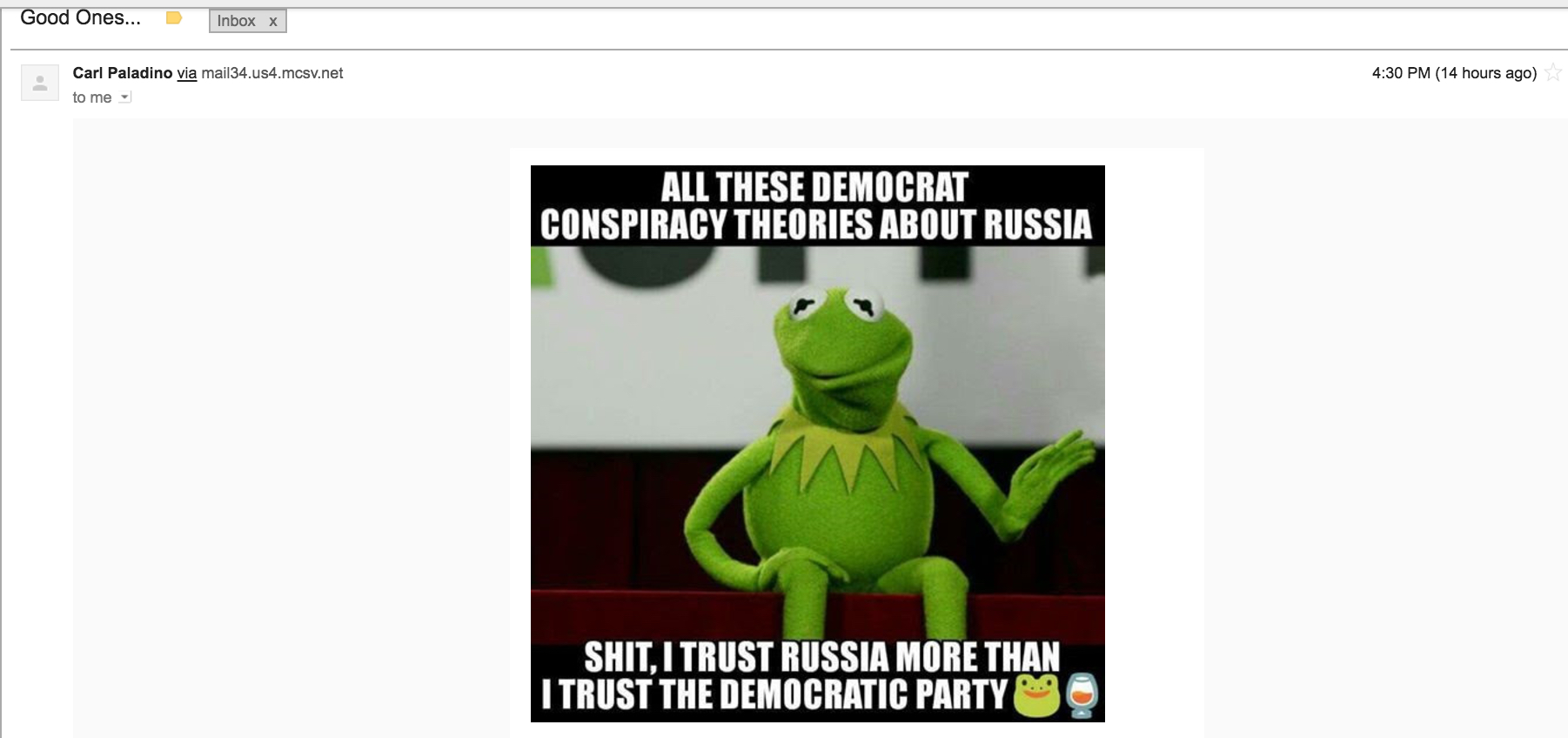 Not surprised. Republicans love Putin now, overlooking his far-right, para-fascist, autocratic, kleptocratic, expansionist nationalism because Putin's security services interfered in our election to help Hillary Clinton lose to Donald Trump. They think that Putin's deliberate efforts to destabilize western democracy and institutions like NATO and the European Union are great. 
Putin and his ruling party — United Russia — have struck deals with far-right political parties throughout Europe, like Austria's far-right FPÖ, Italy's Lega Nord, Moldova's PDM, three parties in Serbia, has funded Marine Le Pen in France, and has links to Hungary's Jobbik. All are either EU-skeptic or virulently anti-immigrant. Why? Putin is waging war in Ukraine and illegally annexed Crimea in a brazen land grab with a phony plebiscite. The US and EU imposed sanctions that specifically targeted Putin and his oligarchs, and adversely affected their ability to access and spend their stolen money. So, Russia is now funding the biggest Calexit group, and anyone who will help dismantle the EU. 
Paladino is down with all that.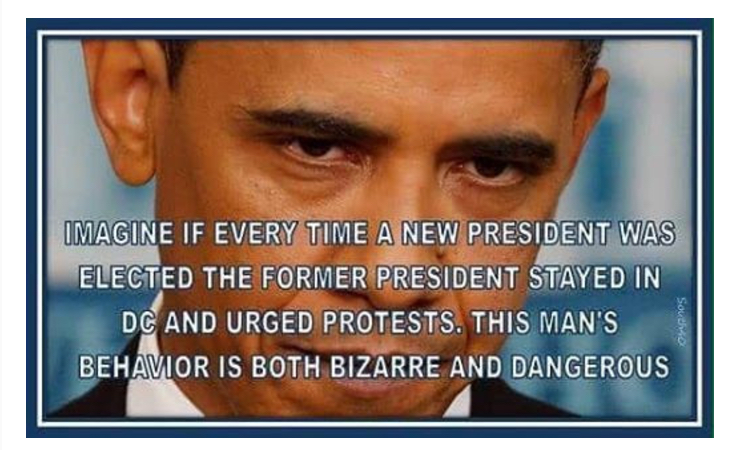 The Obamas stayed in DC so that their daughters could finish up school there. Protests, though, are bad because now they're directed at Trump now. The 1st Amendment is in deep peril.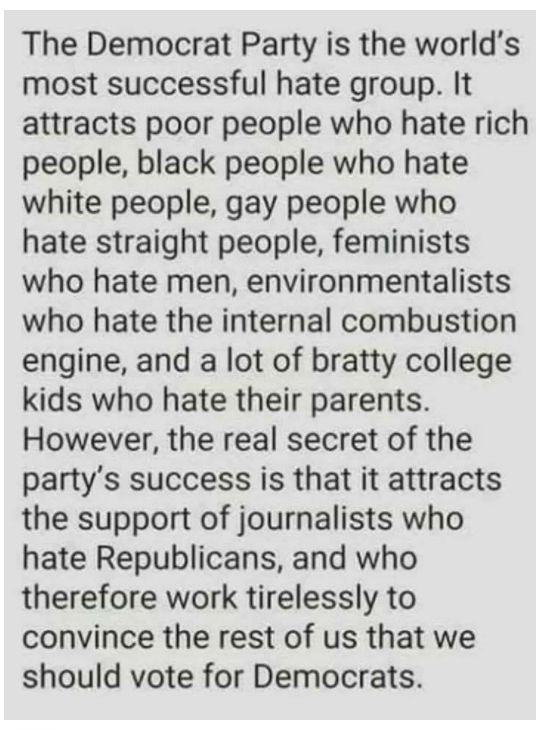 Isn't it funny to see Carl Paladino complain about hatred whilst spreading hatred?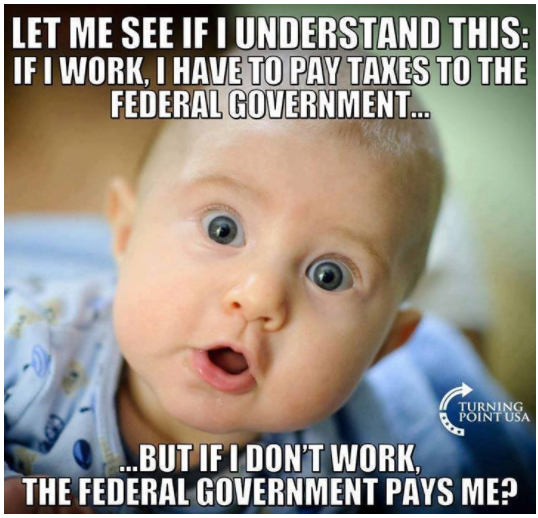 Because all those lucky duckies who don't work get paid for nothing. 
Yes. The left hates fascism and racism. It's really nothing new, and again — isn't it precious to see this guy who called First Lady Michelle Obama a male gorilla — complain about "hate"?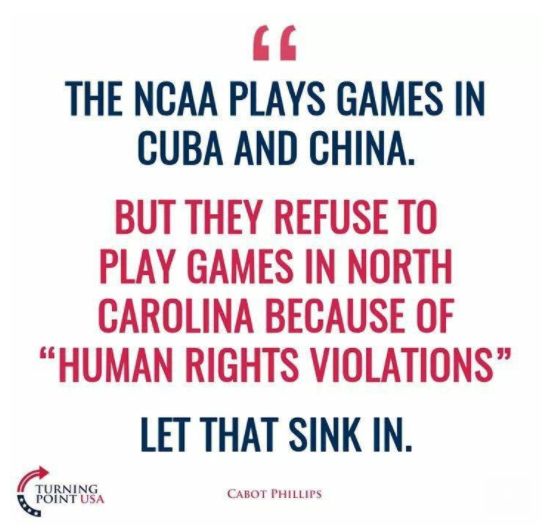 Cuba and China are horrible dictatorships that oppress people, for sure. But by making this comparison, Paladino is defending the oppression of LGBTQ people in North Carolina. I suppose it makes sense for Americans to be concerned about the treatment of their own people within the 50 states. But here, this is just homophobia couched in concern-trolling about human rights. 
Again: the hypocrisy here is that they love Putin, a dictator who oppresses people — especially LGBTQ people.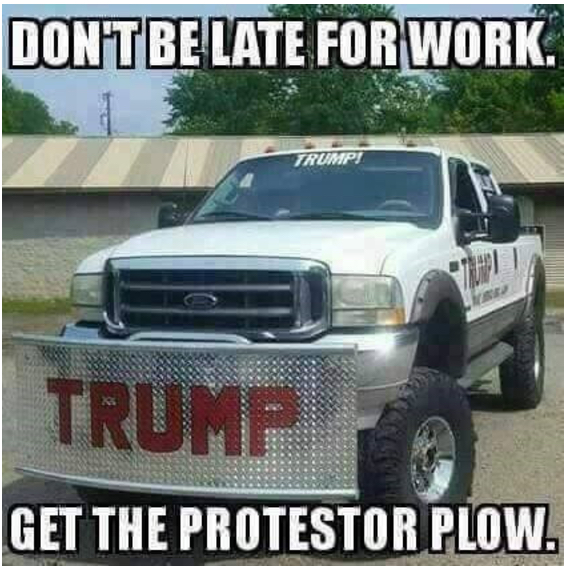 Carl Paladino, an elected school official, thinks murder is funny. 
But he saves the best for last. His pièce de résistance: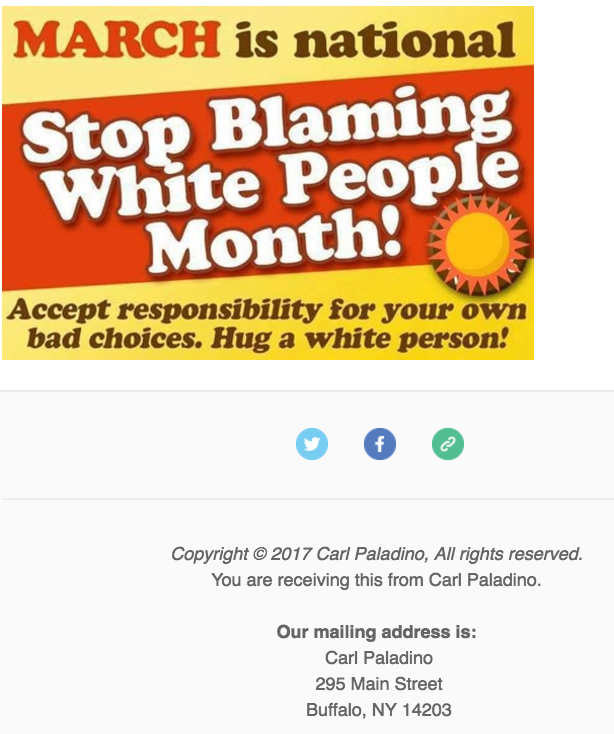 Hug a white person because you need to take personal responsibility for "your own bad choices". If you're not white. A reverse image search reveals that this meme is used to mock and demean "Black Lives Matter", and non-white people in general. 
Gosh, who ever would have known this Paladino guy was an unrepentant, despicable, degenerate racist?