Local
by
/ Mar. 4, 2015 1am EST
A tall Afghan man weaves between tables covered in white linens and topped with fine glassware, occupied by middle-aged men in pinstripe suits, well tailored to their soft, content figures. Their female companions wear designer dresses in solid colors in the softly lit, century-old, exposed-brick interior of one of Buffalo's high-end steakhouses.
He rushes from table to table with an almost permanent grin, wide and excited. He leans in lightly to ask his guests if they have enough water, would they like some more bread, can he take their plate, issuing exaggerated nods as he takes in their directives.
This is K2. Less than two years ago he was helping the US Army interact with his countrymen, intercepting enemy communications, and generally doing anything he could to assist the soldiers he worked for.
K2—we will use only his military nickname to avoid causing trouble for family members still living outside of Kabul—worked as an interpreter for the Army from 2010 to 2013. He was detailed to the 10th Mountain Division and the 101st Airborne Division. He came to Buffalo in May of last year on a Special Immigrant Visa, or SIV, a designation reserved for immigrants who have worked in support of US military operations.
Soft-spoken with an athletic build, the 27-year-old K2 often talks about how fortunate he feels to be living in America after fighting through some of the bloodiest battles of the Afghan war—the Arghandab River Valley, Kandahar, Maiwand—knowing that he lived for years just steps, sometimes inches, from death. During his service K2 saw countless people crippled or killed.
"We pretty much lost a whole platoon," K2 said during an interview in a coffee shop around the corner from his Allentown apartment on a snowy morning last fall.
K2 has endless war stories, each approximately as horrific as the next. He often starts them with his familiar grin, beaming at the memory of one of the staff sergeants, privates, or corporals he came to call friends. As he moves through the memory toward the blood, the end, his grin changes. It becomes more tense. His eyebrows twist up a bit and his gaze falls off to some distant point. K2's platoon took part in the campaign to secure Kandahar province in 2010, successfully shutting down a major supply route through the province. The chaos began on the first day, a trial by fire.
"I didn't train for this," K2 said. "No training, no nothing. They just tell me to go out."
While advancing through the Arghandab River Valley on their first day in the province, K2's unit came under fire. As they moved forward, a young sergeant named Stout triggered a mine. All of his limbs were torn off, K2 said. Crying, several soldiers dragged the sergeant under a tree. Stout was the first in what would be months on end of daily casualties.
In his last moments the sergeant wanted a cigarette, K2 said. Someone gave him one. He died before the medic helicopter arrived.
All the fighting, the loss, was not in vain. Coalition forces were able to cut of the supply route through the river valley, effectively disrupting one of the most important paths through the province for opposition fighters and making it nearly impossible for them to carry on. Not long after, most of the Taliban fighters in the region returned to Pakistan to regroup, K2 said.
"We blocked that. We put our blood on that," K2 said. "We lost lots of friends."

The beginning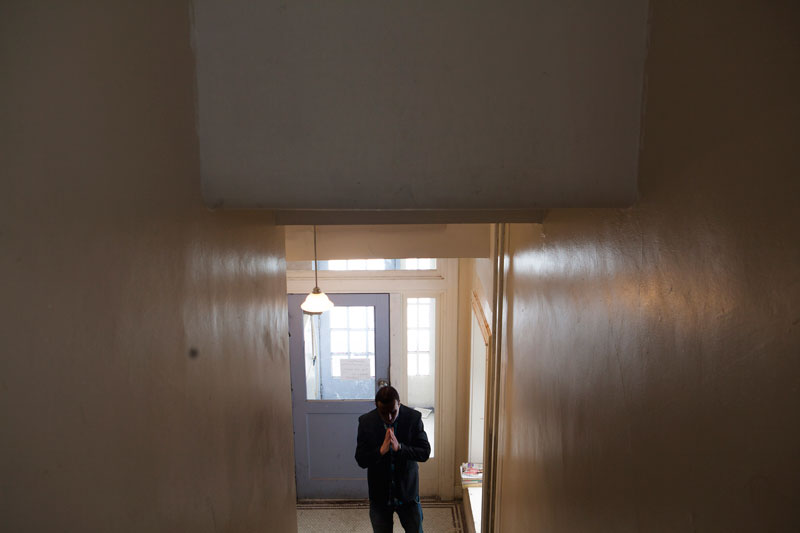 Photo by Brendan Bannon.
K2's earliest memories are of conflict and deprivation. He remembers a bomb landing on his neighbor's house when he was a boy. He remembers his family going for weeks with almost no food. His brother would sometimes steal bait out of mouse traps. Once they stole tires off of a car and sold them to buy flour, he said.
"Pretty much, my life started with a really difficult situation of life," K2 said. "Fighting, blood. That I started with."
He has spent most of his life in a state of anxiety, knowing the next shelling or car bomb or random murder was not far off. Here in Buffalo he has no fear that he will be shot while going out for groceries. He sleeps more easily. "You are very far away from that worry," he said.
Shortly after arriving in May, K2 landed a job as a bus boy at the steakhouse where he works about four days a week. He also works as an interpreter for Journey's End, the refugee resettlement agency that helped him get established when he arrived. In his spare time he works out at the Jewish Community Center, hangs out with friends from work, and keeps in touch with people back home through internet chat services like Viber.
He cooks Afghan dishes in his apartment, but has indulged in many of the foods the city offers, from a taste of a crab cakes at work to the fare at any number of chow joints in his Allentown neighborhood. Jim's Steakout is one of his favorites. "At first I spent all of my money on food," K2 said.
Back in Kabul it is common for children to be missing limbs, the result, in many cases, of happening upon land mines left from one of the conflicts the region has endured. Often these mines are detonated by kids kicking a makeshift soccer ball around an open field.
Last summer K2 was invited to a game of pick-up soccer at LaSalle Park with some neighbors, all of them from African nations. At one point during the game, the ball was kicked well past the goal line and K2 began to run after it.
"When I grabbed the ball I shocked. I was, like, 'Watch out,'" he said. "And then I was, like, 'Dude, don't worry. It's United States. There's not going to be bombs around.'"
Getting here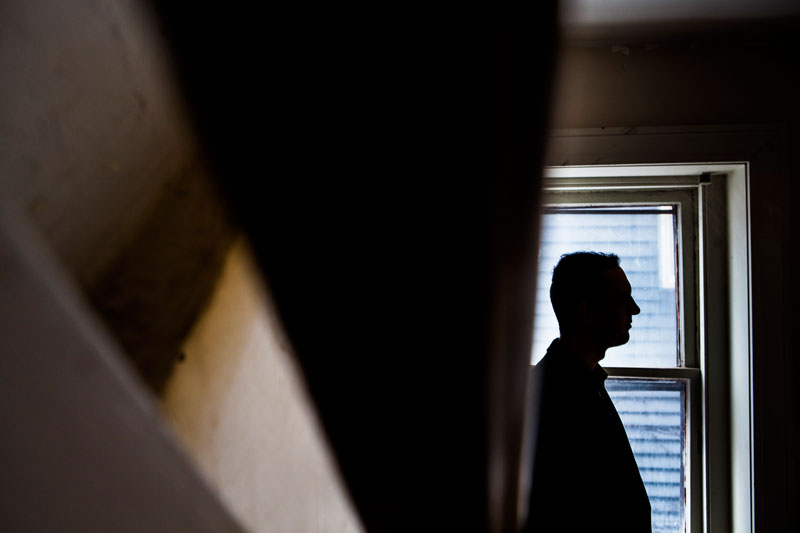 Photo by Brendan Bannon.
K2 will tell you that he's lucky. He's lucky to have avoided calamity, suffering no serious injury during his time with the Army, even as he witnessed soldiers mangled or struck down, sometimes just a few feet away.
He's lucky to have avoided being detected by the Taliban as he waited for his visa to clear. At one point Taliban fighters shot and killed three men standing right beside K2 and announced that they'd been helping the Americans. Then they sped off, leaving the men bleeding in the street.
Even in getting his paperwork cleared to come to the US, K2 was lucky. His application went through in about a year, lightning speed compared to the three-, four-, sometimes five-year waits that many interpreters have faced as they try to avoid being found out as American sympathizers, an almost guaranteed death sentence. K2 guesses that he filled out his paperwork properly and triggered no red flags during background checks by the US Department of State and other agencies.
"I don't know why I got my visa so fast," K2 said.
It certainly didn't hurt that he had sparkling reviews for his work with the Army, detailed in letters of recommendation from his bosses. Words like "exemplary" and "invaluable" were deployed to desctibe his job performance.
K2 first heard about the Special Immigrant Visa program in the summer of 2012 and began to think that it might be a good idea to enroll.
Sitting at an oak desk, polished and clean, though well used with light marks carved into the surface, the edges of the drawers showing wear, K2 shuffled through myriad papers that he had submitted, which had been returned to him by government agencies and contractors. Resting in the corner of the desk was a lamp of bamboo reeds with the bulb suspended in the center. An American flag, which he purchased at Tops on Niagara Street the week that he arrived, hung above the light, its white plastic handle wedged between two of the reeds.
The process has not gone so smoothly for many of K2's friends. He stays in touch with other interpreters who have had their visas delayed for years now. Some of them have become fed up with the process and are returning to the streets in search of work to provide for their families. One friend recently began selling fish in the market of his town, leaving himself vulnerable to the Taliban.
"He said, 'I don't have income. I don't care if they kill me,'" K2 said. "He is working like a regular guy and he don't care."
Not from this world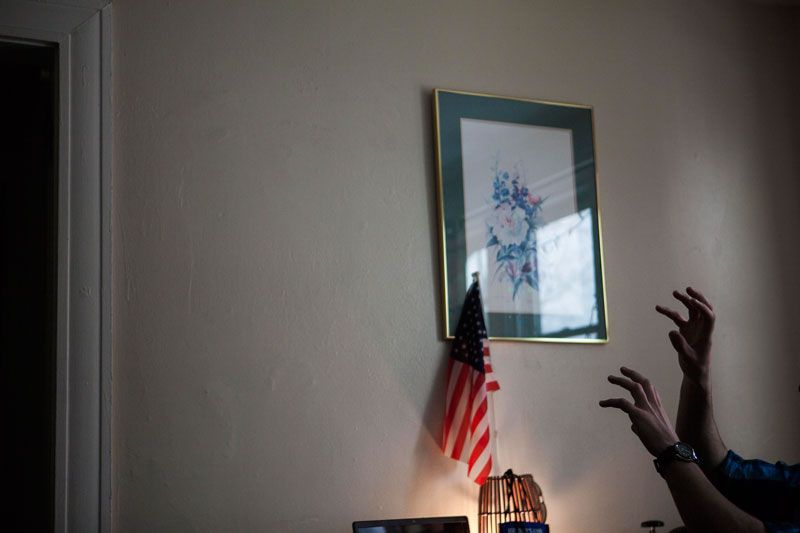 Photo by Brendan Bannon.
For K2, a proud Muslim, the actions of the Taliban, Islamic extremists, terrorists, or whatever descriptor one might use to label people carrying out violence in the name of Islam, are the twisted perversions of inhuman beings. They desecrate a beautiful religion that teaches love and compassion for all creatures.
In his interviews, K2 described a multitude of heinous acts carried out by Taliban fighters, including the abduction, drugging, and rape of children who were ultimately used to carry out suicide bombings.
To K2 the connection between Islam and those actions is fantasy, drummed up by maniacs wishing to control people.
"I think they are alien," K2 said. "They are not from this world."
K2 said there is nothing in the Quran that would justify those actions.
"You find something and I'll quit today," he said of his religion. "[They] made a peaceful religion a terrible religion, a really ugly religion."
The men who carry out these atrocities should not be described as Muslims, he said. And in the end, K2 believes, they will not be rewarded.
"The god I believe in is not going to forgive [them]," K2 said.
Visa problems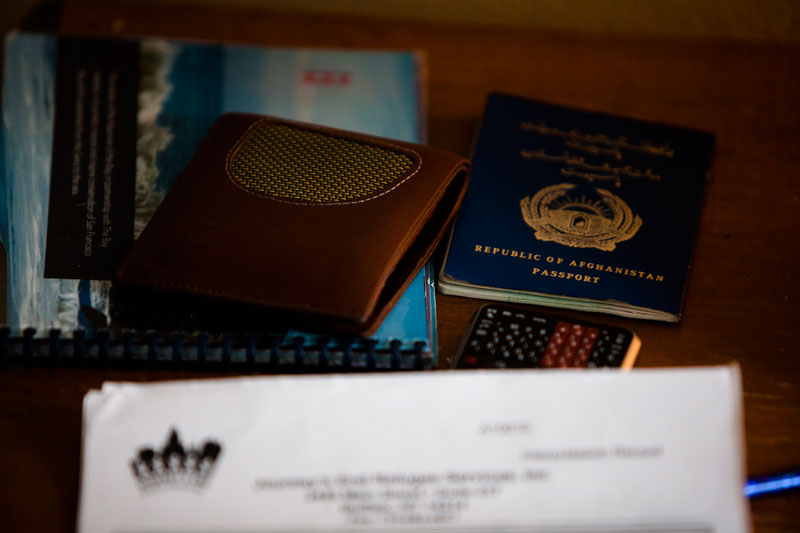 Photo by Brendan Bannon.
The story of interpreters like K2 waiting for visas is has been told many times by Western news outlets—the Washington Post, the New York Times, Vice News. It has even attracted the attention of comedian John Oliver, who last fall dedicated more than 15 minutes of his half-hour HBO program, Last Week Tonight, to the problems the state department and other federal agencies were having processing the thousands of applications from Afghans seeking Special Immigrant Visas.
As public pressure has mounted, the process has undergone some drastic changes and Afghans have been getting as many as 400 visas a month processed in the last year. By comparison only three of the visas were granted in the fiscal year 2011.
Katherine Reisner is the national policy director for the Iraq Refugee Assistance Project, or IRAP, a nonprofit comprising a small staff of attorneys and other immigration experts representing individual refugees in their struggle to get on a path toward citizenship, with a particular focus on those displaced by the US wars in Iraq and Afghanistan.
Her group has represented many interpreters who, despite putting their lives on the line to help the US military, remain in their countries, now hostile, potentially deadly places for them.
As the war in Afghanistan winds down, life for former interpreters becomes ever more dangerous, as the US bases that were their safe zones have been packed up and shipped off.
"As the bases begin to close that's when a tremendous amount of danger begins to befall the Afghans," Reisner said.
In March 2013, a bipartisan group of 19 members of Congress sent a letter to President Barack Obama expressing concern about the visa program. The legislators said the US needed to follow through on its promise to protect those who aided America in its mission, not only because it was the right thing to do, but because failure to do so could jeopardize the ability of the military to gain in-country cooperation in future conflicts.
"The US has a responsibility to follow through on our promise to protect those Iraqis and Afghans who have risked their lives to aid our troops. The extension and reform of these programs is a matter of national security," the representatives wrote.
Reisner said her group often used a similar argument when working with the various government agencies.
"What kind of message is that going to send if the folks who work for us come under attack?" She said.
Reisner said the state department has worked to reduce redundancies and clear the way for more visas to be issued and that they have drastically improved the speed with which interpreters and others who worked for the US can be processed.
"Any time you're administering a program that has the input of multiple, very large agencies, you run into problems with coordination, of communication, streamlining," Reisner said. "Just standard bureaucratic problems."
Reisner says the state department fixes have not completely solved the issue, but have made a significant difference.
"They were able to really get those [issues] ironed out, such that the process took much less work and time," Reisner said. "It made much more sense."
Since 2011, when just three visas were issued, the number has risen steadily: More than 3,400 Afghan interpreters and more than 5,600 of their dependents gained clearance in 2014, according to statistics listed on the state department's website.
Now a new problem has manifested. As it began to issue visas at a more rapid pace, the state department "became a victim of their own success," running out of visas more quickly than they could get them approved by Congress, Reisner said. So last year Congress allowed for the issuance of an additional 4,000 Special Immigrant Visas. That legislation, which also extended the deadline for applying to the program through the end of 2015,  was passed by one of the most divisive Congresses in history, a fact that Reisner says should not be overlooked.
"At the end of the day, it gives applicants another life-line," Reisner said.
Still, she believes more can be done. While the additional 4,000 visas approved last year give the state department more to work with, almost 12,000 Afghan applicants are waiting for approval.
In addition, background checks need to be sped up in order to reduce redundancies that prolong the wait for interpreters ands cost the taxpayers money, Reisner said.
"No one is arguing that there should be any less of a rigorous security check process," she said. "The security check process really needs to be kind of  examined in a way that might really make more sense."
Cultural guides
Matthew Zeller has been a CIA analyst, a captain in the US Army who served in Afghanistan, and a candidate for the US House of Representatives. These days he is the president and co-founder of No One Left Behind, a nonprofit started in 2013 to help Afghan interpreters get Special Immigrant Visas and establish themselves here in the US.
Zeller became invested in the issue after his interpreter, who he credits with saving his life during a firefight in 2008, struggled to gain his visa, even as the Taliban was closing in on him. Mohammad Janis Shinwari shot two Taliban fighters who were firing on Zeller as his unit was pinned back fighting off an attack. The next day Zeller requested that Shinwari become his personal interpreter.
Interpreters, who are also referred to as  "terps" or translators by military personnel, are valuable for obvious reasons. They allow troops and contractors to interact with people they encounter and glean valuable, sometimes life-saving information.
But, Zeller explained, they are also able to prevent officers from engaging in offensive behavior, pick up on social cues that might be overlooked by someone who knows the language but not the culture, and can otherwise identify Taliban and other possibly threatening people amongst the regular citizenry.
"I would argue that my translator was more important to my survival than my weapon," Zeller said.
Zeller was on a mission that had him staying at an Afghan base, with very little interaction with Americans outside of his own unit, making a skilled interpreter particularly valuable.
"Our translators were our cultural ambassadors," Zeller said. "They were more attuned to what was going on at any one time than we would ever be able to be."
A good interpreter is able to bend words in such a way that he can soften the tone of a military officer, who is trained to be direct when communicating, preventing tense situations from getting out of control, Zeller said.
"The message that's brought across is the same," Zeller said. "'I need you to go do this.' But it's delivered in such a way that it does nothing to inflame tensions."
Zeller said that as part of his mission he would always do his best to avoid violence. The objective was to "win the hearts and minds of Afhganis," and so it was always best to try to come to an understanding with the citizens.
"From my perspective any time I could peacefully negotiate my way out of a situation and try to build upon relations with that person across the rug from me and win over friends and allies I was accomplishing our mission," Zeller said.
Days before Shinwari was scheduled to come to the US, the state department put a hold on his visa, citing concerns raised by anonymous tips that he had links to terrorist organizations. Zeller has no doubt that the calls came from Taliban, or people working in league with the Taliban, attempting to hold Shinwari in the country long enough to kill him.
Zeller said he has seen Taliban kill lists that pegged Shinwari as a top target in his region, likely due to the attention he received from the Western media before making it out of Afghanistan.
"They realized this was their one chance," Zeller said. "Get his visa revoked, keep him in the country and they have a chance to make an example out of him."
Shinwari was eventually cleared by the state department and has been living in the US since October of 2013.
Zeller said that none of the interpreters he has come to know, including Shinwari, joined the military as some type of golden ticket to US citizenship. They all believed, to some degree or another, that they would help the US and coalition forces expel the Taliban, establish a democracy, and would then continue living there.
"I never once heard a translator say, 'Oh I'm doing this so I can get my US visa,'" Zeller said.
In fact, the last day Zeller spoke with Shinwari in Afghanistan, he told his interpreter that if he ever needed help to just call and he would do everything in his power to assist him. Shinwari told him that would not be necessary; instead, he said, Zeller should return to Afghanistan on vacation and stay as a guest in his house.
"There was never this idea that there would have to be this massive life line for these people," Zeller said.
Only as the war went on and more and more interpreters were killed did the rush for visas begin.
State department response
The state department responded to a request for an interview from The Public, but would not allow its spokesperson to be identified for the record. Secretary of State John Kerry and state department spokeswoman Marie Harf have both commented on the situation for other publications. The spokesperson, like Kerry and Harf, said that the department has been able to increase processing times, has pushed to continue improving the processing time and noted that the amount of visas available is limited by congressional approval.
"The secretary ordered a review, that review took place, and we identified the areas where we could be more efficient in the process and those changes were implemented," the spokesperson said. "The results are, have been, fairly positive."
The spokesperson said that processing time had always been a focus of the program.
"We're committed to this program," the spokesperson said. "We're committed to supporting those people. They put themselves at great personal risk to help us and we're committed to supporting them."
The state department has made the application process easier to understand in order avoid clerical errors that have held up the process for some Afghans seeking visas, the spokesperson said.
"We've made the system much easier for Afghans to use, we've conducted outreach towards them around the country, we've explained the policies and procedures to applicants," the spokesperson said. "We recognize that the process is challenging. Some applicants still require extensive time to complete the application. We're looking for ways to clear, make this process more clear, to improve this process for applicants. It's complex."
Shame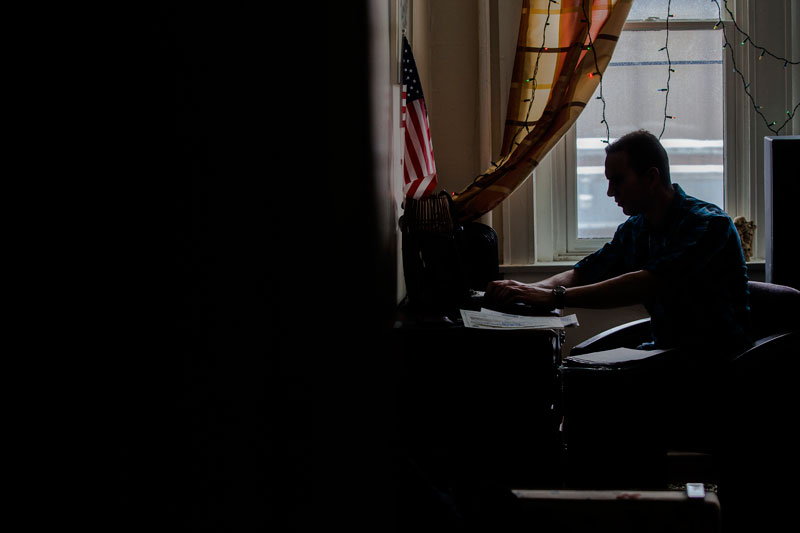 Photo by Brendan Bannon.
When K2 signed up to be an interpreter, he thought he was doing the right thing. He imagined that he would help the Americans rid Afghanistan of the nefarious forces holding the country hostage and live out his days in a democracy.
Growing up on a livestock farm about an hour outside of the city, K2 didn't go to school until he was nine years old. He would hitch rides into Kabul with other farmers going to market, riding in the back of a truck with their animals.
At school K2 excelled, taking a particular interest in languages and computer programming. He speaks seven languages; Afghan, Pashtu, Farsi, Urdu, Hindi, Zargari, and English.
After high school most of K2's friends went to university, but his family had money issues and so he decided to become an interpreter. 
His English skills made him eligible for a position that paid more than $700 a month, a great living in Afghanistan where the average person doesn't make that in a year.
"I was thinking that I was going to help my country," K2 said. "In the meantime you make money. In the meantime you are working with United States Army."
As the war dragged on and insurgents were able to keep a foothold in the country, those working with the US and coalition forces—particularly those working directly for Americans like interpreters—came to be despised, not only by the Taliban but by many regular folks. While Afghan police and soldiers are sometimes targeted by the Taliban, the general populace tends to view them favorably. Not so for interpreters, K2 said. If a policeman or a soldier is killed they are honored with grand parties and big turnouts for their funerals. If an interpreter is killed they are quietly buried with no party, no food, no celebration, K2 said.
"This is something that I hate," he said. "People in Afghanistan think that United States Army are infidel and it's a big shame for your son to die with United States Army."
After his time with the Army, K2 hid out in his parents' village outside of Kabul for about a year. He spent most of his time indoors, only leaving to take a cab to the gym and back for his workouts. While his parents offered him refuge, they were not particularly warm toward him, something K2 describes as confusing.
As he spoke about his family, K2's eyes nervously searched the counter of the Allentown cafe where we spoke. His father, he believes, was not ashamed, K2 said. But other interpreters from their community were spoken of with disdain by their families after being killed.
"He's not one of those fathers," K2 said. "But still, our tribe, our people, it's something, like, really shameful for him."
K2 didn't feel that he could expect his family to protect him if Taliban came searching for him. If they tried to hide him, they would likely be killed as well, he said. His family would be forced to negotiate with his captors, so he had to get out of Afghanistan for their safety as well as his own. "If the bad guy come after me, then my brothers and my family would come after me," he said. "They will start talking with the bad guys."
K2 recently took a trip to San Francisco, a town that boasts a large Afghan community. He toured the sites, making a group of international friends while staying at a hostel. For the time being he is happy living in Buffalo, but the West Coast trip has him thinking that his permanent home might be somewhere with a climate more akin to his native country's.
He plans to start college courses in the fall at Erie Community College and has been talking with an Afghan woman who lives in New York City. He has even been to visit her a few times, he said. He hopes to bring his family to America to live with him, though he parents are elderly and his brothers have no desire to leave. It is often a topic during their internet chats. Having experienced life in America he wants nothing more than for his parents and brothers to be able to join him.
"I will definitely fight for my family if I get them out here," he said. "Life's really good here."
Meantime in Afghanistan, violence remains widespread, but there are more jobs, more roads. K2 Hopes that trend continues and that one day, maybe seven or eight years down the line, he will be able to visit.
"If I was the one who helped make Afghanistan better," K2 said, "I'm proud of myself."