Music
Spotlight: Humble Braggers
by
/ Jan. 21, 2015 9am EST
"I usually go back to the vinyls. Pop-rock stuff is usually where I start. Newer stuff," says Tom Burtless, leader of Buffalo pop-rock band Humble Braggers. Today we're at Record Theatre digging for records and chatting about his band and their influences.
I ask him if he's looking for any record in particular.
"Not really. I was here a few weeks ago and I picked out two that I've wanted for a bit. I love Small Black. They came out with an album called Limits of Desire in 2013 and I've been playing it non-stop. They were kind of part of the chill-wave thing with Washed Out. And then I got Radiohead's Kid A, finally."
"On 10-inch?"
"Yeah on the dual 10-inch vinyl. I've wanted that one for a bit."
The conversation leads to a discussion on the collectibility of Radiohead's most recent album, The King of Limbs. I contend that in a several years, it will be one of the most collectible albums of all time for the following reasons: The record came with a newspaper full of Radiohead art and lyrics, and anyone in the news biz, or that has ever touched a newspaper, knows that newspapers eventually turn yellow and then disintegrate. The album also came with a sheet of blotter paper—a sheet of paper perforated into hunderds of tiny squares typically used as a vehicle for LSD. Burtless concurs that it'll be difficult to meet the challenge of keeping that record with the newspaper and blotter sheet in tact for any lengthy period of time.
"For the people who do, it'll be like a pay off," Burtless says.
As you can tell, we're totally geeking out by this point.
But Burtless's Humble Braggers is kind of about geeking out, and a lot of the music that Burtless is inspired by is of the abstruse kind: bands like The Mars Volta, Radiohead, and especially the British band, Foals.
"I'm a huge Foals fan," he says, stumbling upon one of their records. "Antidotes was their first album. It was more edgy. More on the rock side of things, like math rock. I always check to see if they have it because I really like that record but the one that got me hooked was Total Life Forever, which had a really eighties-y sound to it."
Burtless flips through the Foals section but comes up short. "Ugh, every time. All they have is this live session thing."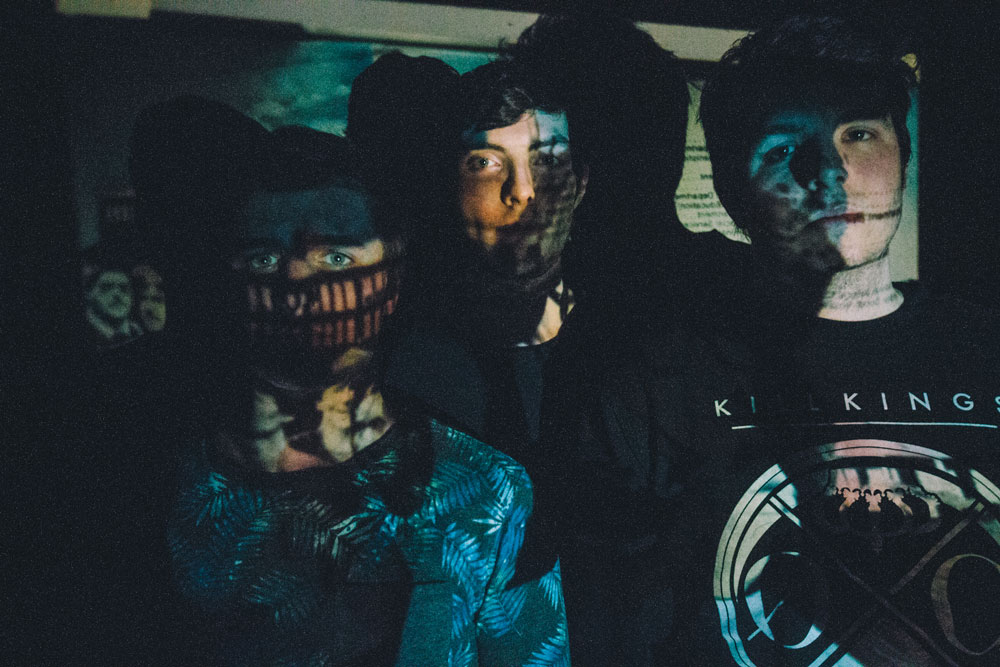 The conversation turns to the origin story of Humble Braggers; a band with a tight, indie-rock influenced dance-pop sound not unlike Friendly Fires or Rochester's Joywave, but that sounds nothing like any of the bands that Burtless has been lauding during our conversation. He ensures me that the influence of Thom Yorke and Omar Rodriguez-López (of The Mars Volta) is nonetheless buried somewhere deep down in the sounds of all of his projects, even if it's simply in a guitar tone or reverb effect.
Burtless began the project in 2013 after a series of other short-lived bands. A few years ago he was in a band called Streamside; a post-rock type of band. After a year the band started playing shows but by that time Burtless was already over the songs he helped write. 
"Near the end of that I started writing a few songs that would eventually become the first Humble Braggers EP but I was asked to play in the band All Blondes Go To Heaven. That was really fun and I loved the music, but it only lasted for a few months." He quickly joined another short-lived project after All Blondes Go To Heaven before resolving to focus on his personal material.
"Once that all faded away I sat down and was like 'I want do what I was doing before this all started.'" In May of 2013 he finished writing and recording four songs and uploaded them to Soundcloud. That was the Safe Haven EP, a record that Burtless recorded entirely on his own, which is full of mostly slow motion, reverberated songs like "Thought Me So," and "What's Fair."
But Burtless still knew he needed to recruit a few members to form a full band. He asked a friend of a friend, Corey Bzibziak—who at the time was booking shows around the area for a company called Tiny Blue—to play bass. His friend Gabe Wells, who had just moved back from Maine became the band's drummer. Shortly thereafter Bryan Zells and Jake Galenski came on as guitarists. What started off as a personal project became a full band. "All of us kind of have our own projects," says Burtless. "We kinda have this thing where it's like 'Hey, you play bass in my project, and I'll play bass in yours.' Or 'I'll play guitar in yours if you play keys in mine.' So it's kind of more like a collective."
Humble Braggers followed up the Safe Haven EP with a three-song EP, Say, which somehow reconciled Burtless's original material with a Tears for Fears cover and a Drake cover. He achieved the unlikely and made his spot-on rendition of Tears For Fears' 1985 anthem, "Everybody Wants To Rule the World" and his cover of hip hop artist Drake's 2014 Top 40 hit "Hold On We're Going Home" stylistically consistent.
"That was the challenge. I knew I wanted to do the Tears for Fears song because we were playing it live. I also wanted to do something new but I wanted to make sure that if you heard both of these songs back-to-back they wouldn't sound out of place and it wouldn't sound like there was a 30-year difference between when these songs came out," he says. "It is something that has definitely caught people's attention."
After chatting for some time, we finally decide which records to purchase and head toward the register. I walk away with Otherness, the latest record by British pop producer Kindness, while Burtless ultimately decides to take home Every Time I Die's 2009 record, New Junk Aesthetic, which he argues is the band's best record, and a must own for any Buffalonian regardless of musical preference.
Humble Braggers are currently working on their follow-up to Say, which fans of the band will get a feel for when they play at Nietzsche's on Friday, January 23 with one-man electronic storm JeffRepeater, rapper Mic Excel, and hip hop DJ Cove. The show will be the first in a monthly series of concerts at Nietzsche's presented by The Public.