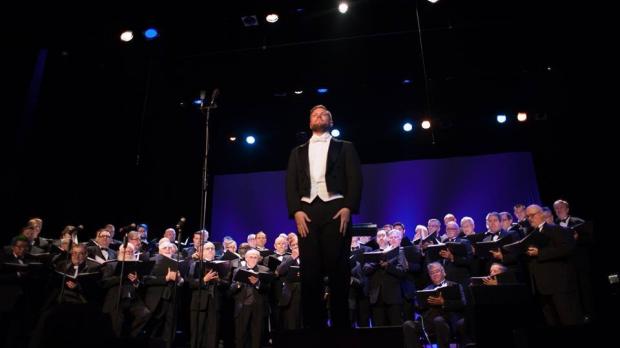 Buffalo Gay Men's Chorus Presents: Our Grown Up Christmas List
[HOLIDAY] Last weekend the Buffalo Gay Men's Chorus opened their Christmas concert series, Our Grown Up Christmas List, with a bang, filling up Westminster Presbyterian Church for a holiday celebration that you don't want to miss. And you don't have to! The chorus is performing it twice more: on Saturday, December 8, 7:30pm at the Unitarian Universalist Church in Elmwood Village (605 Elmwood) and Sunday, December 9, for a 3pm matinee at Williamsville's North Presbyterian Church (300 North Forest Road). This is a fun, festive program of holiday favorites—some with a modern spin—that's suitable for the whole family. BGMC is excited to be partnered with the Greater Buffalo Friends of Music who've helped outfit each of this season's shows with special musical guests. For the December 8 concert, BGMC is joined by the Buffalo Silver Band,  a professional  group with origins from a century back as the Hungarian Baptist Band, which specializes in marrying brass with percussion.  Sunday's concert will feature the Williamsville South Jazz Ensemble, conducted by Matthew S. Cool, who's became an adjunct professor of music at Canisius College and is also the founder of the Canisius College Concert Band. Tickets for either show are $20 and can be purchased through www.buffalogaymenschorus.com  (scroll down to the events section) or at the door.
When:
We're sorry, this event has already taken place!