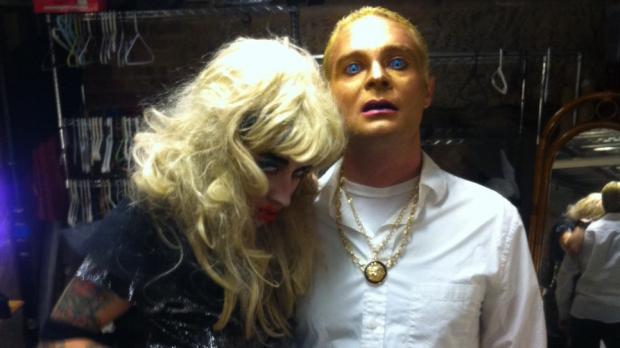 The Coincidental Hour with Ric Royer, featuring Neil Louis Coletta, Jack Topht, and others
Call it an art miscellany or a cabaret gone to seed, the brainchild of Niagara Falls-native Ric Royer resides on liminal edge of many other profound works of art that is very hard to categorize. Gifted with a pop singer's sense of melody, Royer's performance work opens the skeleton closet most pop singer's keep hidden away. The gloriously faded interior décor of the former Elmwood Lounge is almost too perfect of a fit for the Coincidental Hour's Buffalo stop on an eight-city northeastern tour.
Part music, part comedy and part participatory liturgy of the damned with prizes for contestants, the classically-trained thespian's acts are based on main sketches or gags with improvisational elements sprinkled liberally about. Royer will be joined by an ever-changing crew that piles in his conversion van with Rhode Island plates declaring it "Vanpyre." Filling out the bill will be comitragic acts and sketches by Pat Kewley, Neil Louis Coletta, and a stand-up set by the protean slack-hop rapper Jack Topht along with other local comics.
When:
We're sorry, this event has already taken place!
Where: