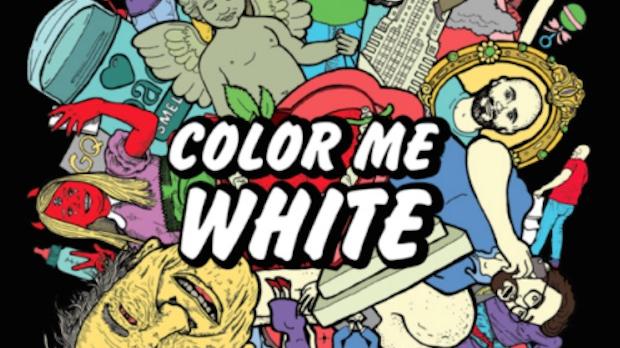 Color Me White Launch Party
Color Me White, by Kevin Thurston & Mickey Harmon
These days we hardly need another book comprised of a straight white male's thoughts, but when that book is overtly self-conscious of this normativity—when that is in fact what the book is all about—it's a delightful, if cringe-worthy ride. Each poem or entry in the book has a gorgeous original illustration by artist Mickey Harmon, a perfect whimsical, often humorous complement to the book's wry tone.
A straight white male is talking about his friend who is

Latina and her tenure-track job.

Well, you know why she got tenure…

They are friends. The three of them.
Ultimately an experiment in empathy, Kevin Thurston's Color Me White, takes us through the looking glass of awkward masculinity, presenting a series of overheard conversations or experiences by way of direct observation, perfectly willing to aim the the arrow at himself.
A straight white male is so grateful that he is allowed

to show off his complexity with this project.
Aphorisms for our time, Color Me White will be debuted this Thursday night at Pine Apple Company, and is available for sale at Pine Apple Company (224 Allen Street) and Talking Leaves Books (951 Elmwood Avenue).
When:
We're sorry, this event has already taken place!
Where: