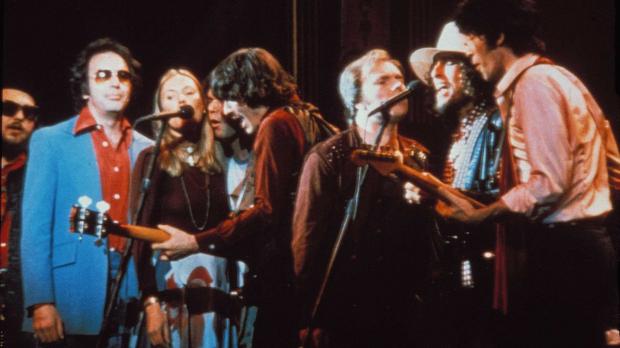 Last Waltz
[ROCK] When rootsy Canadian-American quintet The Band organized their farewell show for Thanksgiving Day, 1976, at Winterland Ballroom, few would have imagined the concert's enduring legacy. After all, while The Band were highly respected among musician peers, they were not the stuff of huge album sales and media events. But the resulting Martin Scorsese film and soundtrack are considered by many to be the best releases of their kind, and in cities throughout the world, it's become tradition to re-enact The Last Waltz — which featured guests like Bob Dylan, Eric Clapton, Neil Young, Joni Mitchell, Van Morrison, Muddy Waters, Emmylou Harris and Dr. John, among others — with casts of local players each year around this time.
For this year's Last Waltz celebration in Buffalo, to be held at Babeville's Asbury Hall on Friday, November 17, the core band, i.e. The Band, consists of local guitarist/singer/songwriter Doug Yeomans as Robbie Robertson, Jim Whitford (Pine Dogs) as Rick Danko, Pete Holguin (Billy McEwen and the Soul Invaders) as Levon Helm, along with Ron Davis (Leeron Zydeco) as Garth Hudson and Jimmy Ehinger as Richard Manuel. Portraying the guests is a long list of regional talent, including Buck Quigley, Tom Makar, Dan Delano, Jerry Hall, Sharon Bailey, Rod Nickson, Erinn Benning, Joyce Wilson Nixon, Michael McGuire, Leah Zicari, Ted Cacciatore, Eric Crittenden, Frank Grizanti, Joelle Labert, Mark Norris, Kevin Cox, Bill Smith, Matt Harris, Joe Parisi, Al Jaenecki, Harry Fackelman, Phil Knoerzer and The Brothers Blue: Charlie Coughlin, Matt Sperber and Ben Haravitch. In the 40 years since the original concert, much has been written about the event itself (a hotbed of cocaine use) and the catalyst behind it (Robertson wanted to stop touring and break up The Band, but the other members felt differently). Perhaps what makes The Last Waltz crackle is the tension brought on by these and other factors. Regardless, it's become a holiday tradition. The show is being presented by the Sportsmens Americana Music Foundation and starts at 8pm with doors opening an hour earlier. Tickets are $35 in advance, $40 the day of the show. There will be seating allocated as well as standing room. Come early for seating.
When:
We're sorry, this event has already taken place!
Where: