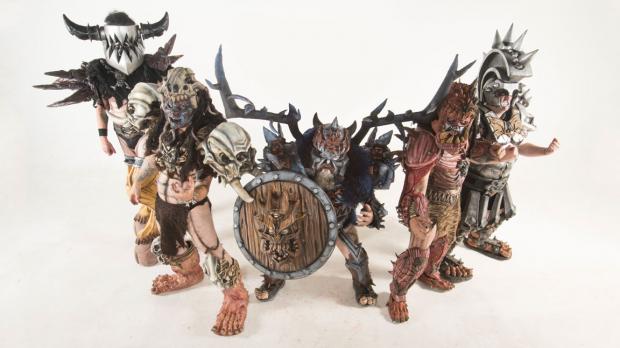 Interview: GWAR
[METAL] Local businesses, residents and outside interests are all rooting for Buffalo's economic turnaround and downtown revitalization. But one frequent visitor to the Nickel City, interplanetary metal band GWAR, is strongly against a new and improved Buffalo.
"If you guys are starting to clean things up, we are going to have to start rescheduling our tours in the future. I mean, I'm not going to have any part of that," GWAR guitarist Pustulus Maximus says. " I am cozier when when it looks like you've undergone constant terrorism on a daily basis. That's the kind of town that I like to be a part of. Not gentrified, nice places with a [California] Pizza Kitchen and a Starbucks on every corner, we don't like that. That's boring! We like crack infested, AIDS-ridden prostitutes running around. That's when we feel at home!"
Unfortunately for GWAR, it's too late to escape playing Buffalo on Saturday, November 7 at the Town Ballroom with Battlecross and Born of Osiris. This will be Pustulus' second stop through Buffalo since joining GWAR is 2012. Pustulus (known in human form as ex-Cannabis Corpse guitarist Brent Purgason), replaced GWAR character Flattus Maximus after the death of guitarist Cory Smoot in 2011.
"Three years in and it's been nothing but misery, pure misery. But you know, there are some perks to playing in a band like this. You have all kinds of under-aged sex parties backstage, all the crack you can smoke, all the drugs you can do, all the alcohol you can drink. There's really no complaints in that department," Pustulus said.
This weekend's gig will be the Buffalo debut of new GWAR frontman Blothar, who replaced GWAR's most iconic character, Oderus Urungus. Oderus was retired from the band after the passing of Dave Brockie in 2014. With the deaths of two key members, recent years have been challenging for GWAR and the Richmond, Virgina-based creative collective, Slave Pit, which has imagined and realized their outrageous musical and visual concepts for 30 years. Michael Bishop, who plays the role of Blothar, returned to the band after previous stints as bassist Beefcake The Mighty in the 1980s and 1990s.
"[Blothar is] kind of helping us get through some tough and trying times. I still don't know what the future holds for GWAR, but it's good that we are getting through one of the most difficult things that, hopefully, we ever will have to face," Pustulus said.
With the addition of Blothar to the fold, Pustulus foresees a new direction in GWAR's future recorded material that will pay homage to the band's punk-influenced beginning while venturing into new territories of extreme metal when appropriate. Blothar's size and appetite have also had an impact on the band.
"Well, a lot of us are losing weight because he is eating all the food. And Beefcake, he's very upset, he's very sensitive when you take his food away. So there is a little bit of problems there," Pustulus said. "The bus is leaning to one side, because they are both sleeping on the same side, so that's pretty fucking dangerous when we are traveling around mountains and stuff. But other than that. he's fitting in pretty good."
GWAR has made a habit of dismembering politicians and pop culture goons on stage in spectacular, gory fashion, leaving the audience covered in a mess of bodily fluids and viscera. According to Pustulus, GWAR has had no trouble finding inspiration through recent headlines.
"Well, there is definitely going to be no shortage of people to kill, or behead. And quite frankly, I'm going to enjoy doing it. Because, just as you see the nation taking a turn for the better, you start seeing things like gays getting married without incident," he said. "Then, a woman like Kim Davis pops up and gets rallied support from religion and Republicans, claiming they are victims!"
While not offering a direct endorsement, Pustulus spoke fondly of a Donald Trump presidency based on purely selfish motivations.
"You know, if [Trump] wins, at least there is going to be an endless supply of material for us for the next couple of years, that's for sure. And, for some reason, metal always does better when there is a Republican in office. I guess when people feel more oppressed, they get more angry, and they go towards angrier music."
When:
We're sorry, this event has already taken place!
Where: