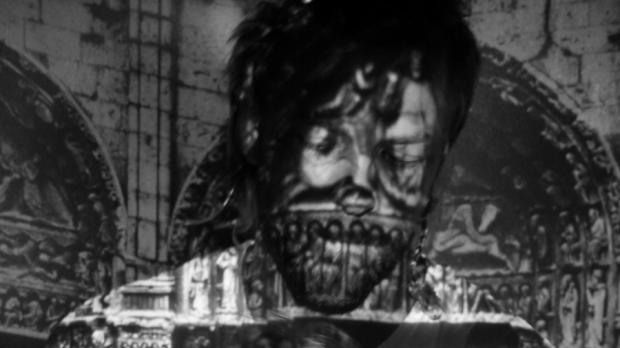 Without Their Limits: Just Ending Now, Rodagues, Half Animal, Music For Ultras, and Sparklebomb
[EXPERIMENTAL] Hi, be quiet now and welcome! This is another edition of (your town here) tabloidic intrusion. If you haven't already heard enough about the vast incumbent erection, feel free to flip back a page and check to see if anything has changed. Photographing this barcode with your contract lens will automatically include you in a big money raffle. Big. Money. Raffle. Big. Money. Raffle. Relax, and embrace the sound of my words as they stimulate your beta waves. Fall deeper into want as I massage your frail scalp and replace your most basic instinctual needs for love and spiritual connectedness with a desire to burn gasoline, and copulate more violently.
This is how your life has become. You subject yourself to a saddling of aggressive information even if the sentience at large doesn't ask permission. You open the floodgates and let the little silkworms of desire burrow beneath your forehead. You are, genderless automaton, a prime candidate for the concert being advertised hereunder. Your discomfort regarding silent mindfulness will be nursed by the bombardment of audio/visual information like a starving tick upon the breast of a bomb. Nay, gentle reader, you need not fear for lack of mental stimulation; the artists at hand are preparing to scrape together enough collective energy to wind whip the Niagara Falls hydroelectric powerplant into a Stage IV bout of crippling homeostasis.
The curtain falls, the lights go dark and Scantron fires up a circuit bent slideshow projector from the 1880s. The words 'Without Their Limits' appear flickering in neo-candescent wonder on the stage of the Evening Star Concert Hall in Niagara Falls. One by one a holographic image of each artist appears on stage and speaks through a grainy CB radio microphone and the artists enter one by one to speak for themselves and entice us to attend the event being promoted.
Jason Pfaff: We've inherited a world that is backwards and full of shit, but I think it's important to realize we can change that. I think it's important to have a creative outlet, beyond most things. Especially in this day and digital age where we are seemingly losing touch with our most common threads of humanity. I believe it's important to focus on the world we want to create versus get sucked into all of the negative—in this way we can create a parallel world on top of the old monopoly board that's killing the grass.
Sparklebomb: For about two years I've been having frequent dreams about something bad happening outside, so I break into people's houses and end up finding secret passageways that lead into lavish private rooms. Whatever is happening outside ends everyone except me; the reasons could be vast and complex.
Jeremy Jermaine Jerome: A visionary ironically blurs the line between idea and reality with their most prized resource, insight.
Jordan of Rodagues: My lyrics will sometimes be about love, but not always necessarily about females. Meaning it could be an odd mix, you know, like weed.
Scantron: Applications which are run-off science from my research are being developed into a math visualization project where students could DJ math relations and abstract visual-scapes. I am presenting about this at the 2016 Wolfram Tech Conference in Illinois next month as a featured speaker.
Sparklebomb: One time in 1999 I tried to do "The Superman" on my Razor scooter and something went terribly wrong.
Jeremy Jermaine Jerome: As an outsider, you are a vessel to transition the adaptation from others perspective.
Jason Pfaff: Art is supposed to speak for itself. Communication itself beyond language, the freedom to communicate alongside the good, the bad and the ugly- to ideally transcend it all, temporarily.
Jordan of Rodagues: Anything done in the name of art is wonderful.
When:
We're sorry, this event has already taken place!
Where: