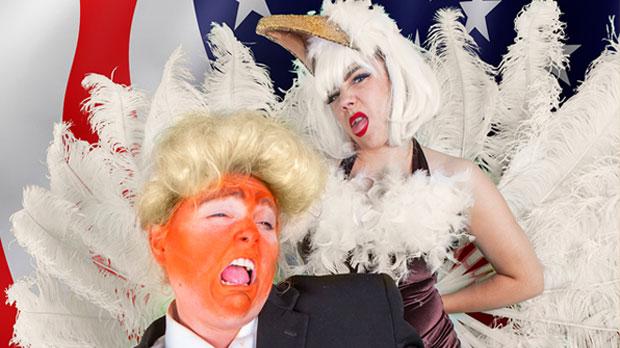 Squeaky Wheel Presents The Third Party
[PARTY] Delighting in all things counter and strange during a bewildering presidential election is the job for any Third Party candidate. Heavy reliance on pseudoscience or baffling ignorance of Syrian geography will not help you this go-round, stepping into the Curtiss Malting Agway Building on Saturday likely will. Squeaky Wheel's big election year throwdown brought to us by the "Squeaky Wheel PEEPSHOW SUPER-PAC" starts with a complimentary local beer tasting at 8pm and ends with a dance party into the wee hours, with performances, shenanigans, installations, provocateuring, and exit-polling brought to you by theater troupes, dancers, artists, poets, brewmasters, and a goat. Too many to name, but what the hell: Kyle Butler, Ron Ehmke, Lizzie Finnegan, Ruth Goldman, Mickey Harmon with The Public's own Kevin Thurston, Tilke Hill, Norah Hurley, Holly Johnson, Brian Milbrand, Seth Oyer and Pocket Sand Improv Group, Sarah Paul, Julie Perini, Caesandra Seawell, Shasti O'Leary Soudant, Jeff Shervin, Annette Daniels Taylor, Jeremy Bailey (Toronto), Max Bernstein (NYC). Other performances by jam-band Space Junk, a noise performance by Chrysler Montgomery (a project of C.U.N.T.S.), theatrical acts from Torn Space Theater, Buffalo Aerial Dance, Cat Sinclair and Fifi Laflea of the Stripteasers, as well as electronic and soul/hip hop DJ's, DJ Ephraim Asilli (Hudson, NY), and DJ Big Basha. It's this year's fundraiser for Squeaky Wheel, the media arts organization that provides endless good works to our community in terms of access to equipment, education, and even workforce development. It will probably be the only time you feel good about this election cycle, some of the best money you can spend on Saturday night, and it's all in a historic building on Niagara Street you've probably never been in. You just can't pass that up.  
$15 in advance, $20 at doors.
When:
We're sorry, this event has already taken place!