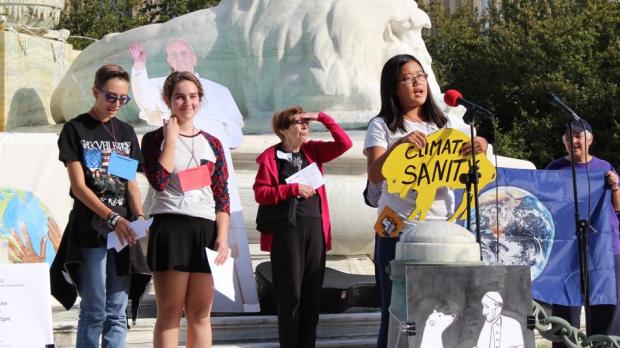 100 Thousand [Young] Poets for Change
Art cannot exist apolitically. For better or for worse, everything we create is influenced by the world surrounding us. Such is the viewpoint of 100 Thousand Poets and Artists For Change (100TPC), an international event promoting peace, justice, and sustainability. Since 2011, 100TPC has inspired artists in over 70 countries to come together to share art that promotes serious social, environmental, and political change.
Because young voices are crucial to the global conversation, Buffalo's 100TPC event this year will be highlighting the poetic, musical, and artistic talents of our city's youth. With election season looming, young people in America are faced with an interesting phenomenon: we aren't yet able to vote on the things that affect us on a daily basis. This is why it's especially important to showcase our voices and viewpoints. We all have something important to say.
Thus, if you believe that art can evoke unity and inspire change or that young voices are significant to consider, or if you just want to see some cool kids present cool art, come join us! Run and organized by Youth Ambassadors from Just Buffalo Literary Center's Writing Center, 100 Thousand [Young] Poets and Artists for Change takes place Friday, from 5-7pm in front of the Buffalo Erie County Central Library. Visit justbuffalo.org for more information.
Finally, we challenge you to partake in the following writing prompt, inspired by a long discussion at the Just Buffalo Writing Center about identity labels, why they're important and why they are limiting. This exchange was in response to a Joshua Jennifer Espinoza poem titled "How Many Colors There Are vs How Many Colors Have Been Named."
In any art form, create something that complicates one of your labels or identity traits. Somehow weave in a scientific concept/failure/conundrum.

[Espinoza's poem can be found at dailypublic.com]
How many colors there are vs how many colors have been named
in the shadow
in the light
in this living body i feel a spectrum.
how many feelings can one girl have?
that was a rhetorical question, i already know.
everything goes on forever
long after we lose the ability
to process information.
when i appeared in the world for the first time
someone looked at my body
and said "boy"
and waved a pen like a magic wand.
twenty eight years later i am lucky to have survived
all the deep reds and shining yellows
that surround this circle of grey.
we know the calm before the storm
can sometimes be the storm.
we have named almost nothing
and everything we have named
has been wrong.
When:
We're sorry, this event has already taken place!