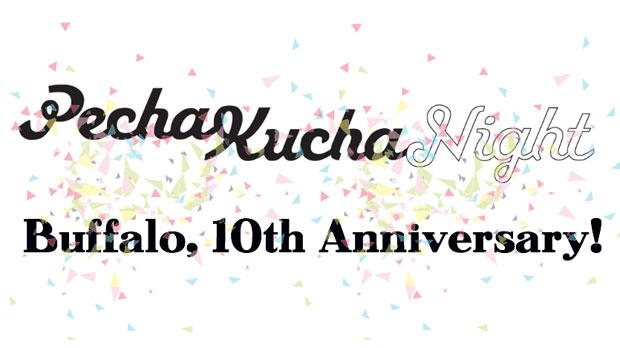 PechaKucha Buffalo: 10th Anniversary Edition
[PRESENTATION] According to a press release, the word Pechakucha is Japanese for "chit chat." And there will be plenty of chit chat at the 10th anniversary of PechaKucha Buffalo at the Albright-Knox Art Gallery on Thursday, September 15. The premise of the event is simple: ten thought leaders in the realms of architecture, design, and other creative disciplines will each deliver a six-minute and 20 second-long presentation. Presenters include  Brian Carter, Professor at the University at Buffalo School of Architecture and Planning; Paul Vanouse, Professor of Art and Director of Coalesce Center for Biological Art at the University at Buffalo;  Dana Mcknight, Founder and Arts & Performance Director of Dreamland; Amy Ozay, Founder of Buffalo BookBike; and Dan Shanahan, Artistic Director and Co-Founder of Torn Space Theater and Assistant Professor at Daemen College; Charles Davis, PhD, Assistant Professor of Architectural History and Criticism at the University of North Carolina Charlotte; Matthew Hume, a Buffalo-based architect and designer; Jean-Michel Reed, artist, designer, realtor and retired paramedic; and the collaboration known as Liminal Projects (Omar Khan, Principal and Associate Professor and Chair at the University at Buffalo Department of Architecture and Laura Garófalo, Principal and Associate Professor at the University at Buffalo Department of Architecture); Joanna Gillespie, Independent Arts Consultant and Co-Organizer of PechaKucha Buffalo, and more. The event, which will also feature DJ sets by Sherrie Miller and Mario Fanone of ABCDJ, has been held in hundreds of cities around the world, including in Tokyo, where the first was held in 2003. The first edition held in Buffalo—the 30th of 925 cities to hold the event—in 2006.
When:
We're sorry, this event has already taken place!
Where: