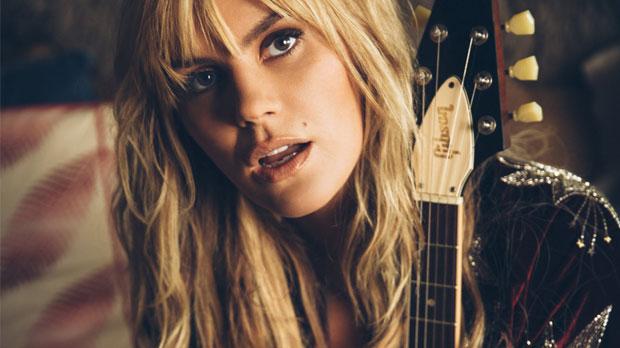 Interview: Grace Potter
[POP] Grace Potter was known as the frontwoman of the roots-rock outfit The Nocturnals before she pursued a solo career in 2015. Her penchant for experimentation rings loud and clear on her latest album, 2015's Midnight. Midnight finds Potter's pliable vocals awash in shiny pop-rock garb. This week we spoke with Potter about the album, what it's been like stepping away from The Nocturnals, and more in anticipation of her show at the Rapids Theatre on Tuesday, September 20.
You've recently been selected to replace Gregg Allman on the 2016 Clearwater Jazz Holiday Lineup. Congratulations—that's really exciting.
Thank you! Whenever these kinds of things happen – when somebody can't make it – I'm always sad for the fans that are super psyched to see someone else, so that makes me want to do even better. I've got to really deliver.
When you take on something like this – replacing someone as iconic as Greg Allman – do you get nervous?
It's very much about me wanting to share with the audience the fact that I understand and appreciate how amazing the live music experience is. It's not nerves, but I think a lot of people want it to be perfect, and I am definitely far from perfect. No show is ever the same and there's a reason for that. My shows are so much about interacting with the audience. There's this energetic give and take that you get to experience and it really does change the show. So I follow the audience as much as the set list. I'm so Type A in most of my life but I sort of just throw it all to the wind when I'm performing because there's no way you can control everything.
I notice your Type A peronsality in the technical proficiency of your songwriting and musicianship, but whenever I've seen you live it's seemed really free-spirited and off-the-cuff.
I don't want to feel like I'm on an amusement park ride when I'm at someone's concert. I certainly don't want to feel like I'm running an amusement park ride when I'm putting on a show. It's never the same experience because it's not a roller coaster; it's this other emotional, dynamic visceral experience that all humans share. It's a desire to just sort of feel free and dance and enjoy life.
With the release of your solo album, Midnight, it seems clear that your departure from the Nocturnals wasn't a diva move; but rather, a musician looking to grow.
I think that change scares everybody. I had worked so hard to really emphasize the band. I considered us a team, and so leaving was really one of the hardest things I ever did, but as an artist I was stifling myself by insisting The Nocturnals be a part of every single thing I did. I felt indebted. There was a good five-year window where there was that push and pull, and we always came back to center as a band, but it wasn't easy for me, and there always seemed to be something I was giving up. It was difficult to give myself what I need professionally. It felt better to give to others than to take for myself, and this was a very big moment of stepping out of my comfort zone, and really being brave enough to not be afraid of being deemed a diva or bitchy to the outside world because I knew there was going to be some backlash.
Midnight has such a dynamic pop-rock vibe that seems very Grace Potter-esque in that it exudes confidence, sexuality, spontaneity—it sounds very free. Did you feel liberated when you were writing and recording it?
Yeah. There was definitely a moment of realization where the music was just shooting out of me. This whole album is about not compromising and not trying to have everything be kind of washed with "hopefully all five people will be satisfied when they're on stage playing this song." Just being able to be a single-minded person and pursue that. Pursue and pinpoint the spotlight of your original idea and really see it through. I've never been able to really do that before – with my own music anyway. This was a really rewarding experience. To answer your question – yes – this was a very new way of songwriting.
Can we expect another album in the near future?
I've got a lot of ideas. I'm still hashing them out, but I've got my sight set on the horizons. It's still far off, but this is really the tail end of the tour so we're definitely going to end with a splash. You're catching some of the last live performances of this version of the band, and it's an amazing experience live and I'm so excited to get there and share it.
When:
We're sorry, this event has already taken place!
Where: