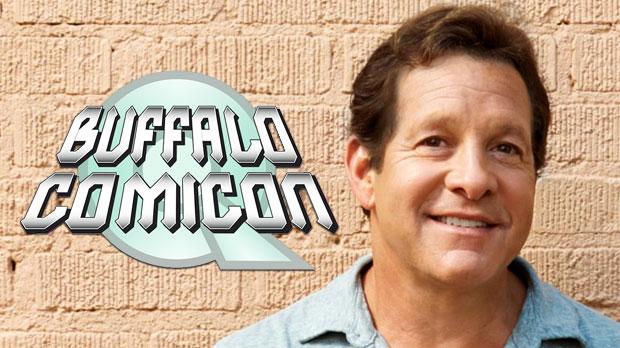 Buffalo Comicon: An Interview with Steve Guttenberg
[COMICS] You can meet Steve Guttenberg this weekend at the Buffalo Comic Con, this Saturday, September 17 through Sunday, September 18 at the Buffalo Niagara Convention Center but the world famous actor isn't coming to town just to visit his fans. Guttenberg's attachment to Buffalo is personal and potentially professional. Guttenberg's girlfriend, news anchor Emily Smith is a Grand Island native who started her broadcast career at WBEN. In recent years, the 2 Lava 2 Lantula star has become a big fan of the region while visiting Smith's family and friends.
"There's so much promise in Buffalo that I just fell in love with it after visiting several times. You'll see that the architecture is just brilliant and the people are honest and hardworking… I think it's going to have a great future and I think it's going to grow by leaps and bounds and I want to be a part of it," the actor says. "Buffalo is going to (see) an influx of great of artists and galleries and great restaurants, and I think that it is a place [where] I would be interested in investing some money," he said.
And while Guttenberg is hesitant to share the breadth of his plans, he will admit that he is interested in the hospitality business. The Short Circuit star is partnering with local attorney and businessman Howard Cadmus, who met Guttenberg when the actor visited Cadmus' Sweet Jenny's candy and ice cream shop in Williamsville.  
"It's safe to say we'd like to do something in the food world. It's exciting, and we are hoping to provide something that's lacking from the area," Cadmus says. He pointed out that the operation will focus on flavors popular to the New York City area, as both proprietors are natives of the city.
Guttenberg's name was a late addition to the list of celebrities attending the Buffalo Comic Con. The convention will also feature comic artists Mike Zeck and Steve Rude, stars from the cult classic horror film Return of the Living Dead, WWE Hall of Famer Tito Santana and more.
Guttenberg enjoys meeting with fans of his film work on the convention scene. "I get the chance to chat with people. My demeanor is very friendly, but I'm pretty much a private person," he says. "Mostly people just want to chat about the movies and [that] helped them have better times."
Guttenberg is likely to hear questions and comments about the Police Academy series he starred in as Cadet Carey Mahoney. The screwball franchise (which has made nearly $240 million in worldwide box office revenues, according to move business data website The-Numbers.com) was a topic of Bill Clinton's speech at the Democratic National Convention earlier this year, when Clinton said he watched all six movies in a row with his daughter Chelsea during some time off.
Guttenberg, who also starred in Diner, Coccoon, and Three Men and a Baby, says he enjoyed the unexpected reference.
"It was exciting, [Clinton is] a pretty powerful human being, so when someone that regal describes a portion of their leisure time and it centers on my work, it's a great compliment," he says.
For more information on Buffalo Comic Con, visit buffalocomiccon.com.
When:
We're sorry, this event has already taken place!