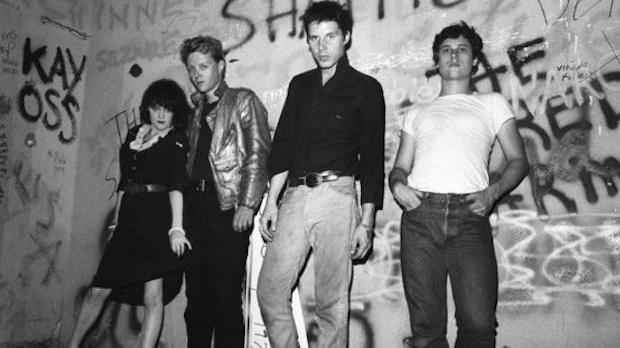 X
[PUNK] Remember when Donny and Marie Osmond used to sing about being, "A little bit country and a little bit rock and roll" on their variety show? It was a little bit cheesy, and a little bit sexist and patronizing (she was country, he was rock and roll). Oddly enough, it also describes the sound of X, one of punk's most venerated treasures. On Sunday, September 17, X will perform at Town Ballroom along the path of their 40th Anniversary tour, which finds them playing the entirety of their 1977 Slash Records debut, Los Angeles, (albeit out of track order) named after the town from which they sprung. The sound of the L.A. punk scene was similar but different than that of NYC's Bowery, shot through with a heat-stroked weariness that comes across brilliantly in X's music (and perhaps most stunningly in the title track of their debut). And while Black Flag's Henry Rollins is more famous, and the image of long-dead Germs singer Darby Crash is more romanticized, X is still doing what they do best 40 years on: touring. Maybe they never got famous enough whereby retiring was an affordable option, but the lack of commercial success has kept them humble. Often described as the quintessential cow-punk band, X has become iconic in its ultimate singularity: there's no mistaking their signature sound for anyone else, even through the sanded edges of a (failed) mid-late 1980s attempt at penetrating the mainstream.
Set to the revving engine of Billy Zoom's guitar and D.J. Bonebrake's drumming, the slightly off-kilter co-ed whine of Exene Cervenka and John Doe topped off a previously unheard of "rocka-hill-billy" blend that becomes addictive with repeated listening, something critics at Rolling Stone The Los Angeles Times, The New York Times and The Village Voice had surely discovered when they all named X's sophomore set, Wild Gift, as "Record of the Year" in 1981. The first four X albums, considered their best, were produced by Ray Manzarek of The Doors and are arguably his greatest post-Doors achievement. Their updated treatment of the 1967 Doors tune "Soul Kitchen" (featuring Manzarek on keys, of course) forges a connection between Jim Morrison's beat-poet aspirations and Cervenka's poetry, which is largely responsible for X's tonal mix of cynicism and despair channeled through some sort of vaguely Americana filter. Suffice to say, a lot can happen in 40 years. Cervenka and Doe got married and divorced. X scored a major label contract and failed to gain mass popularity. There was alcoholism—maybe some mental illness. Guitarist Billy Zoom had cancer. Cervenka got diagnosed with MS, then later retracted that statement. Drummer D.J. Bonebrake launched two different jazz ensembles and has played with the Palisades Symphony (!). Cervenka indulged some conspiracy theories, pissed some folks off and worried others. But X remains the same, with all four original members, performing slightly slowed-down versions of their most celebrated tunes. And as if their Buffalo gig wasn't enough, Town Ballroom is also hosting a free entry record fair for vinyl enthusiasts (and surely there's plenty of crossover with X's audience) starting at 6pm in the Leopard Lounge (to the right once inside the venue). This is sponsored by Funtime Presents along with Discogs, the online vinyl authority, and the WNYVC, a regional vinyl club with an active Facebook page. BRING CASH.
When:
We're sorry, this event has already taken place!
Where: