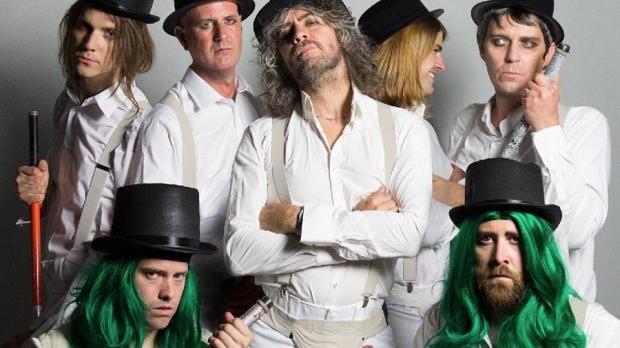 The Flaming Lips with Mac DeMarco
[ROCK] The Flaming Lips put out their first record in the year I was born, 1986. I became a fan around 2004, just after the band's iconic record Yoshimi Battles the Pink Robots and before its sister album At War with the Mystics. It was exciting to become a fan of the band at the time because not only were they hitting a sweet spot as a band, but their immense back catalog offered a lot to explore—full of masterpieces like 1999's The Soft Bulletin, 1995's psychedelic punk opus Clouds Taste Metallic, and oddities like 1997's Zaireeka (a four disc album and all four discs are meant to be listened to simultaneously through four different speaker systems. Needless to say, it takes a team of people to pull this off by accurately pressing play at the right moment). 31 years since the band released their debut, Hear It Is, and  they've gone through many phases; sound-collaged punk, hedonistic psychedelia, bad trips, rebirths, flirtations with mainstream pop culture, and deep dives into experimental nihilism, but what's remained constant is the band's quest to simply make sense of the world around them and explore the purpose of sound and music in the universe. 
One other thing that's been constant for the Oklahoma-based psychedelic rock band is their trippy, surreal, and fantastic live shows. They'll bring their live show to the Rapids Theatre in Niagara Falls this Wednesday, September 20 with support from Mac DeMarco. DeMarco, whose absurdist style has likely been at least somewhat influenced by the Lips, has released a string of impressive records; most recently this year's This Old Dog, which lands on the mellower side of a catalog that dipped into low fi, retro garage rock on 2012's Rock and Roll Night Club and dreamy indie rock on his 2014 breakthrough, Salad Days. 
When:
We're sorry, this event has already taken place!
Where: