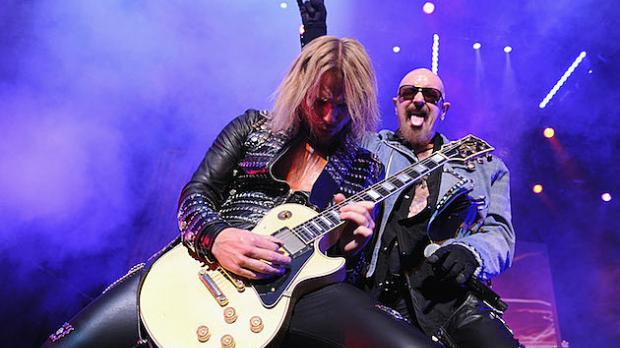 Interview: Judas Priest
[METAL] Take a look back at Judas Priest's history, and you'll genuinely wonder how this band has survived—and thrived—since 1969. Priest has fought critical damnation, accusations of promoting youth suicide through backmasked lyrics, knuckleheaded ridicule over singer Rob Halford revealing his homosexuality, and health battles—most recently with long time guitarist Glenn Tipton removing himself from full time touring after a diagnosis of Parkinson's disease earlier this year. Yet somehow, Judas Priest moves forward and builds on its monumental legacy. The 2011 retirement of guitarist K.K. Downing—Tipton's partner in Priest's dual lead guitar attack—lead to the hiring of Richie Faulkner.
Faulkner, who was born in 1980—the same year Priest debuted their breakout "British Steel" record—has proven to be more than just a worthy musical replacement. Faulkner has also acted as a connection point to a younger generation through his contemporary personal style and engagement on social media.
Faulkner will operate Priest's legendary guitar section with fill in touring guitarist Andy Sneap, who produced the band's latest album "Firepower", when Judas Priest and Deep Purple play the Darien Lake Performance Art Center on September 5. Faulkner, who may pay a visit to a famous Buffalo dive while in town, spoke to The Public about the upcoming gig and his role among the Metal Gods. Ticketing information is available at LiveNation.com.
After years of playing hard rock standards in small clubs with other bands, it must still be surreal to play a song like "Breaking The Law" on stage with the actual, real life Judas Priest in front of thousands of people.
Dude, of course back in the day I used to play in a lot of cover bands around London and around England, and bands like Judas Priest (were) the staple diet of the rock guitar player. So you have to know "Breaking The Law," you have to know "Another Thing Coming," it required all that kind of stuff. So it was part of my musical makeup, really. So, when you're playing it, there is a part of "Breaking The Law" where you go to the front of the stage and Rob and Glenn are there and they almost doing the "Status Quo" thing. And of course, you get flashbacks to when you were in your bedroom learning. 
I'm not sure that the public in general are totally aware of the level that [frontman] Rob Halford is performing at right now at 67 years old. 
It's shocking. Rob's not just a singer. He's theatrical—he's the whole thing, man. And he connects and emotes in a way that no one else does. And you're right, in my opinion he's probably singing better than he has in the past 10 years. He's out there, he's enjoying himself, and he's the real deal. The complete package.
Many fans are concerned and curious about Glenn Tipton's health and status with the band.
Glenn is still a member of Judas Priest. In what capacity that will be remains to be seen. If we go in to record again, I'm assuming that Glenn is very much going to be a part of that. Glenn is a creative force, and even if he's struggling physically, his brain is still Glenn Tipton. But Glenn's been with out with us. We've been out on the road since March and Glenn's been coming out with us. He comes out and does some songs with us and plays the encore. And sometimes he's there and sometimes he's not. And if he's not, the fans understand. And if he's there, they just lose their minds. No matter what challenges you've got, there's Glenn Tipton up there with the challenges he's got and he's still standing in front of thousands of people, battling the challenges, and I think we can all be inspired by that. 
Deep Purple must have been one of those bands that you jammed to early in your music education. What does being on the road with an iconic band like Deep Purple mean to you?
Again, part of the staple diet. Like a smoothie of hard rock and metal, you blend it all together. If you want to be a rock guitar player, that's the stuff you learn. As a rock guitarist, it doesn't get any better than that. 
[Deep Purple singer] Ian Gillan actually has a connection to the Buffalo area. He even had an artist depict a little Buffalo dive bar called The Pink on one of his solo records [Gillan's Inn]. It's been a few years since Priest has played in Western New York. Any thoughts on coming back to the area? 
Yeah, I think the last time we played around there was in Rochester in 2014. It's been a good few years since we've been out there and we have a few friends out there as well. And I think we have a few days off in Buffalo. I think we are going to get out the grill and hang out with friends. And now I know another place to go. It's called The Pink? It's always the dive bars that make a connection with people. 
When:
We're sorry, this event has already taken place!
Where: