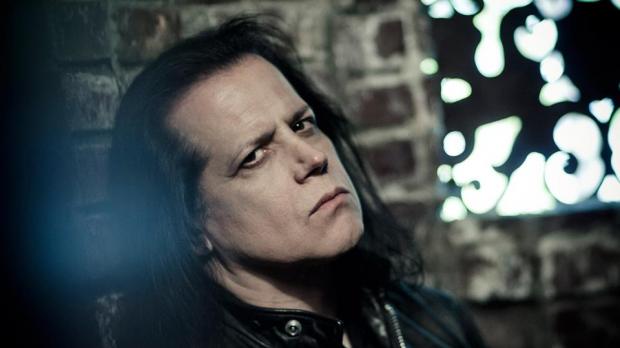 Danzig
[ROCK] Glenn Danzig may not be known as rock and roll's friendliest front man, but he certainly has a fondness for Steve Zing. Zing has been one of Danzig's most frequent musical collaborators, playing bass and drums in post-Misfits punk-goth-metal outfit Samhain in the 1980s and during subsequent reunions, and as touring bassist for the band Danzig since 2006. Clearly, Danzig likes working with the multi-talented and amiable Zing, who is a fellow Lodi, New Jersey native.
Zing and his bandmates are preparing for a string of tour stops that lead to the Riot Fest on September 16 in Chicago, where Danzig will play 1992's Danzig III in full. One of those dates is Tuesday, September 12 at Artpark in Lewiston, where Danzig shares the stage with Corrosion of Conformity, Mutoid Man, and Buffalo's Governess. Zing spoke to The Public about working with Glenn Danzig, the Misfits reunion, his personal project Blak29 and his desire for Anchor Bar chicken wings when Danzig comes to Western New York for a late summer outdoor metal bash at Artpark.

You are the longest tenured bass player with Danzig (touring bassist since 2006) and one of the most experienced collaborators with Glenn Danzig going back to your days in Samhain (1983-1985). To what do you attribute the strength of your working relationship with Glenn?
There's no ego, there's no drama. I like to go up and have a good time. I'm not going to complain about the food, I'm not going to complain about this or that. It's a blessing to be doing what we are doing, I don't care who you are playing with. To do it on our level, and for the amount of years that we've had success, it's a true blessing. I met him when I was 12 years old, I'm 53. It was an interesting thing, I can remember the day when I went into the garage to listen to the Misfits rehearse in 1978. And I just looked at him and said, "I'm going to be in a band with this guy," and I didn't even play an instrument.
Your show in Buffalo comes just a few days before Danzig plays Danzig III in full at Riot Fest in Chicago. Is it likely that we will hear material from Danzig III at the Buffalo show?
I think so. I'm actually flying out Monday morning to rehearse and then I'm going to fly home to New Jersey on Tuesday. We're going to rehearse specifically Danzig III stuff. The great thing about this lineup is we don't have to play for a year, we get in the rehearsal studio and it just flows. I'm blessed to play with (drummer) Johnny (Kelly) and (guitarist) Tommy (Victor).
Glenn frequently says that he's not interested in touring anymore, but here is on the road again.
Well, this is a short run, it's nothing where he's going to get out for a month and go anymore. And he shouldn't have to, that's not his thing. He still has a brand to promote. I don't think he will tour with the Misfits. I think he enjoyed it, which is why they are doing another show, but I don't think they are going to get on a bus and tour. Never say never. As a fan, you'd love to see it. But, I'm loving the fact that they are getting the respect for the original music.

I enjoy your Blak29 project, where you really get to show off your chops as a vocalist. Some of stuff is reminiscent of Ian Astbury of The Cult or Billy Idol and I think people might be surprised.
People refer me to Ian Astbury, and I like the Cult. I don't really, like, listen to them, but I do take that as a compliment. I started singing vocals years ago because I couldn't find people to sing the songs I was writing. I would bring people down and let them sing and it didn't make sense. And it was kind of like, you know what, screw it, I'll do it myself. It's kind of like the Glenn attitude, when he wants to make music and no one is around, sometimes he plays the bass, he plays the guitar. He does what he's got to do to get it done.
Is there anything coming up from Blak29 we should be looking out for soon?
There's new Blak29 coming out, we'll be doing a 45 soon, I'll announce that hopefully within a month. We're just having problems getting vinyl. Because what's old is new again, so vinyl is on this uptick, So, you know, they can't make it fast enough. All these places that produced vinyl at one time went out of business. A lot of those machines were discarded, so now you have a lot of these companies and now you have to produce the machines again. Because nobody ever thought, after vinyl basically died and CDs took over, that it would ever come back. So these guys were just throwing the machines in the garbage.

When compared to other punk and metal acts of the time, Glenn has been very protective about the brands that he's been involved in.
Look, there will be times when Glenn will do certain things and you kind of sit there and question it and then you go, "Oh, now I see why he did it." Again, it's for protection. He doesn't want to water it down. That's not his thing, never was. And he's going to do it his way, or it's not going to get done. And look, every band has moments where you kind of plateau and it levels off and I think he knows that. Glenn has always been protective. When it comes down to shirts—if he sees a shirt and the quality is horrible, he will reject it. He'd rather not sell it, he says, "I don't want to sell crap." When it comes down to the stickies that are printed up for backstage, if the thing is wrong, he will reject it. You can say, "Who cares?" He does. It's down to the most minuscule things that you would never think of, but he's concerned about it. And people can put down the production of things, but it doesn't matter. He's raw, he's a raw guy. He can be produced if he wants to be produced, but when it comes down to it, he's a raw guy. He's what punk rock is. He will sit there and make laminates himself. He loves the control because it's his, you know? It's his. And if people want something overproduced, they're not going to get it from Glenn Danzig. He's going to do what he wants to do, and that's that. And you know what, he's been damn successful with it.

Is there anything about coming back to Buffalo you are looking forward to in particular?
What I'm looking forward to is just coming up to Buffalo, musically kicking your ass and having some wings from the Anchor Bar and Grill.
When:
We're sorry, this event has already taken place!
Where: