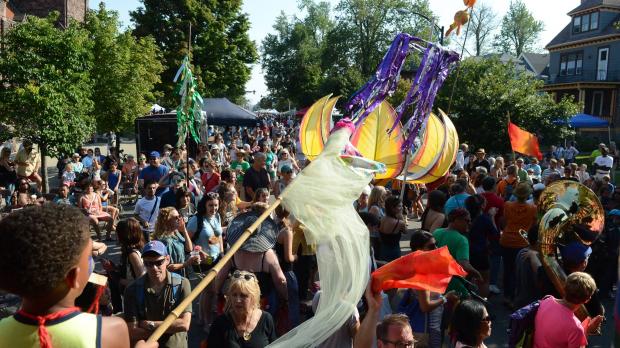 Elmwood Avenue Festival of the Arts
[FESTIVAL] The Elmwood Avenue Festival of the Arts returns for its 17th year on the streets of Elmwood Avenue this Saturday and Sunday, August 27 and 28. As usual, the festival will feature hundreds of artists dealing in more than a dozen mediums including ceramics, digital art, glass, jewelry, metal, fabric, painting, photography, wood, and more. For an indepth look into one artist, Kelsey Merkel, check out this week's issue of The Public.  The festival will also feature a ton of performance art too across a few stages and tents—the Dance Tent, the 7-11 Stage, and St. James Stage. Some highlights include Joh & Mary (4pm Saturday, St James Stage), The Observers (12pm Saturday, 7-11 Stage) Slyboots Circus (2pm Saturday, Dance Tent), Ten Cent Howl (4pm Sunday, Dance Tent), and the Songwriter Showcase (10am Sunday, 7-11 Stage). There will also be a yoga class—Sacred Sounds Yoga—on Sunday at 10am and an official, family-friendly after party on Saturday starting at 6:15pm and featuring The Rockaz and Outer Circle Orchestra. For a full list of artists and activities see eafa.techriver.net.
When:
We're sorry, this event has already taken place!