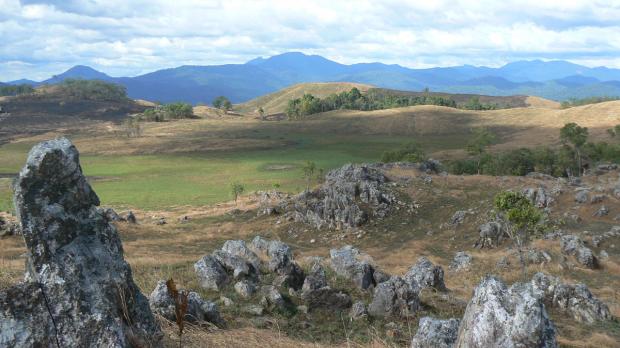 Fundraiser for Habitat ID in Virachey National Park
[FUNDRAISER] Virachey National Park in northeastern Cambodia might as well be ground zero for the earth's sixth mass extinction—an ongoing human-impacted event that may be claiming over 100,000 species globally per year. Not only is the 1300-square-mile Virachey up against the habitat loss and climate change wreaking havoc everywhere else, but it faces the devastating poverty and its resultant widespread corruption in the impoverished Southeast Asian country.
Enter Gregory McCann and Habitat ID, a NGO focused on discovering where endangered species are hunkered down and managing to survive and bringing global awareness to the need to preserve the earth's natural history and its living heritage. Since setting up camera traps in Virachey, McCann and his team have been able to document populations of iconic mammal species on the brink of disaster: Asiatic black bear, sun bear, gaur, dhole, stubbed-tail macaque, sambar deer, clouded leopard, and binturong among many others.
Habitat ID is hoping to create an ecotourism model around Virachey to incentivize the local populations away from the illegal logging, poaching, and mining that is decimating the ecosystem.
Why Buffalo? McCann, a PhD candidate who teaches English in Taiwan, and fellow Habitat ID biologist Keith Pawlowski are both from the area and are hoping to combine their summer visit back home with their overall mission on the other side of the world.
What makes Virachey special? Well, that's easy. "The jungles of Laos and Vietnam have largely been hunted out, but Virachey still houses a tremendous amount of wildlife, which our camera traps have proven," McCann informed The Public. "So that means that Virachey is truly one of the last bastions of wildlife in Indochina. And with its upland savannah hills it is one of the most beautiful places in Southeast Asia."
Joining the efforts at Dreamland on Thursday will be the diverse musical talents of the Folkfaces, RadaRada & DJ Crespo. 
fundraiser, donation-based
When:
We're sorry, this event has already taken place!
Where: