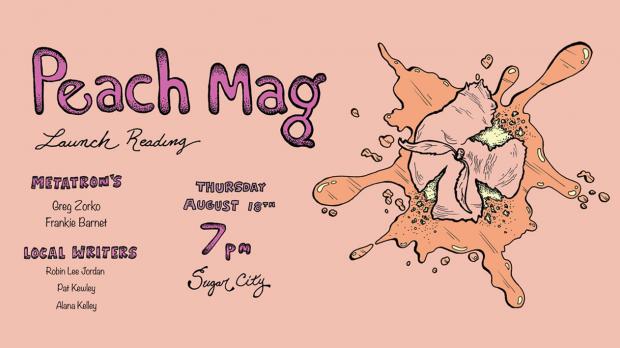 Peach Mag Launch Reading
[PARTY] A writer writes a poem alone in the woods. Is it any good? Who knows—most likely, nobody ever reads it. Despite the fact that our cultural imaginary is saturated with images of artists who are both brilliant and isolated, the truth is that writers thrive when they're part of a community of like-minded individuals who can challenge and encourage them. Peach Mag wants to create that community in Buffalo. The online literary magazine launched this Tuesday and they're celebrating the occasion with a reading at Sugar City on Thursday, August 18. The reading will feature local writers Robin Jordan, Pat Kewley and Alana Kelley along with touring writers Greg Zorko and Frankie Barnet, currently signed to Montreal's Metatron Press. The free all ages event starts at 7pm. The reading is part of what Peach hopes will become a seasonal series. Peach Mag's core offering, though, will be publishing submitted poetry and prose twice weekly on their website. The submissions come from all over the country (and all over the world), though editors Rachelle Toarmino, Matthew Bookin, and Bre Kiblin are dedicated to making sure Buffalo is well-represented.
"We want it to very much be a 'Buffalo-based' literary magazine," said Bookin. "Something that could only happen here." In part, the editors were inspired to found Peach because of Buffalo's lack of structure for someone "in-between," the writers who were no longer students but weren't established as artists yet.
"I think its unique to Buffalo that there isn't really anything in-between," said Toarmino. "We want to connect people our age who don't have book deals yet, those who are just discovering creative writing for the first time. We want to be able to make those connections for people in Buffalo." Peach Mag accepts submissions on a rolling basis at peachmgzn@gmail.com.