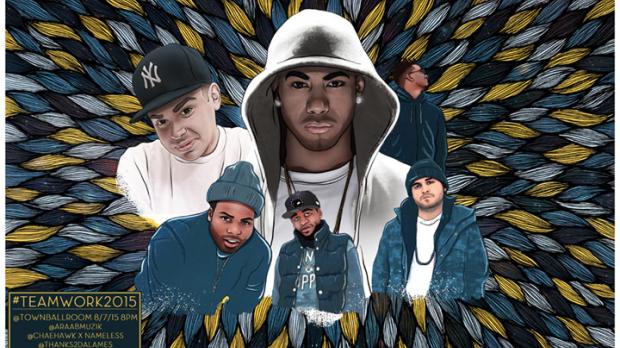 Teamwork 2015: Araabmuzik
[ELECTRONIC/DANCE] The difference between your favorite drummer and Araabmuzik is that Araabmuzik plays his drum solos with his fingers, not drumsticks. That's because Araabmuzik, real name Abraham Orellana, perfers to drum on an MPC—a Music Production Center, better known as a drum machine—and he uses all 10 fingers to hammer out groovy hip hop beats and metallic double bass drum frenzies.
The 26-year-old producer from Providence, Rhode Island, nicknamed the "MVP of the MPC," is preparing for the release of his next full-length album, Dream World, the proper followup to his 2011's Electronic Dream. Since then, the young trance and trap producer has released a series of instrumental albums—titled For Professional Use Only parts one and two—but his focus now is refining the MPC-fueled trance sound he masterminded on the critically acclaimed Electronic Dream album (which Fact Magazine even went as far as to argue is the "greatest pop record ever released"). 
Right now he's working on clearing samples for Dream World, which was meant to be released in June, but will be delayed until October. The original tracklisting included artists like Kelela, but he says that the album has changed dramatically since the track list surfaced in April. "Dream World was originally a continuation of Electronic Dream," Orellana tells me over the phone. "I had so much extra music from that time that I decided to put together and release. I could still do that but right now I want to focus on putting together a real album for the fall…I'm trying to set the bar and put something out that I haven't done yet. I want to give the people a real Araabmuzik album," he says in the kind of assertive tone that's become customary for the producer who has worked with acts ranging from Cam'Ron to Azealia Banks and Mt. Eden.
Since his decision to overhaul Dream World, he's released a couple of tracks for the film Southpaw starring Jake Gyllenhaal—featuring the hip hop group Slaughterhouse—and some collaborations with producers like Dvnk Sinatrv.
When Araabmuzik comes to the Town Ballroom on Friday, August 7 it will be part of Teamwork 2015, presented by Buffalo rapper Chae Hawk's TeamRadio.net imprint. "This show will be a special one. We have teamed up again with Compeer, a company who helps fight mental health through the power of friendship.They turn 30 and they reached out to my company TeamRadio.net and I to help raise awareness and attract more male mentors to their organization," says Hawk, who has also teamed up recently with Niagara Falls hip hop crew Nameless to release their latest single, "Good Days." Nameless and Chae Hawk will also perform along with WBLK's DJ Heat, who will be spinning records.
"I've been through a lot since last year's Teamwork," says Hawk. "Losing Craig Reynolds, Lance Diamond, and close friend Michael Perry Jr. has made a huge impact on me—allowing me to grow and appreciate this life even more."
When:
We're sorry, this event has already taken place!
Where: