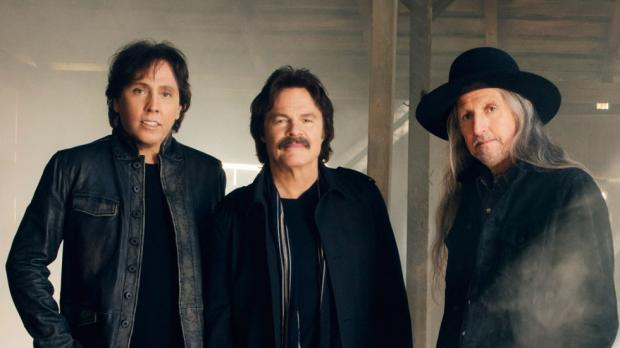 Interview: The Doobie Brothers
The Doobie Brothers have been "Rockin' Down the Highway" for over fifty years. And even during their mid-1980's hiatus, guitarist Pat Simmons kept moving with that theme, opening a vintage motorbike shop with author William Craddock, a celebrated fixture from the California biker scene during the 1960's countercultural heyday. Simmons, 66, is the only Doobie that's been constant throughout the groups incessant lineup changes, sticking around during the Michael McDonald years when co-founder Tom Johnston took off (he returned in the late 1980's). McDonald's special brand of blue-eyed soul took them to new commercial heights, completely switching musical gears from the more driving, country-tinged rock sound that'd characterized their early hits. But especially in the beginning, the Bay Area outfit was considered somewhat of a biker band, attracting a cross section of music loving motorcycle enthusiasts. Simmons has never stopped pursuing his passion for motorcycles, which is what we spoke to him about during a stop in Denver this Spring on a tour that brings the Doobie Brothers together with Chicago at Darien Lake on Tuesday, July 18.
In the beginning, how entwined were the Doobie Brothers and the California biker scene?
I would say there was certainly a relationship there, and I'm a hardcore biker. Maybe it was happenstance — we used to play in a lot of clubs in the Bay Area where bikers would hang out, so that was a big part of our early crowd. Tom Johnston and (original drummer) John Hartman also owned cycles and we were pretty into it as far as our own lifestyles were concerned, so it spilled over. I continued to evolve with my own take on the sport part-time, in that I've always been interested in mechanics. I really enjoy that aspect of it. Since the mid-1970's I've mainly worked with vintage bikes.
When you say vintage, how old are we talking?
Really old. Going all the way back to the inception of motorcycling—antiques. My wife and I do these bi-annual endurance rides called the Motorcycle Cannonball. She's done it three times, I've done it twice. They go coast to coast; last year's was from Atlantic City to Carlsbad, California. Next year's is Portland, Maine to Portland, Oregon. It's all vintage bikes – the last one was 1916 and earlier. The next one will be 1928 and earlier, I believe. The organizers set it up to be sixteen days of riding with one day off in the middle. It averages out to 250-300 miles a day.
That sounds exhausting.
It's extremely exhausting, yes – eight to 10 hours a day on the bikes. The average speed of a bike that old maxes out at 50 mph, which means it's more comfortable to ride at 40-45 mph. You have to gas up every 50 to 60 miles or so, which makes for a lot of stopping and starting. And at those speeds, you're staying off the freeways, taking a lot of back roads, some of which are pretty rough. But on the other hand, you're taking in all that scenery—there's something to be said about riding a bike like that, since you're so tuned in to the performance and how it's running. You end up paying a lot of attention to the road.
So, it's an exercise in focus? There's a cliché in here somewhere about zen and motorcycles. Do you think that discipline is what's helped you stick with the Doobie Brothers all these years?
You hit the nail on the head: focus in the key word. It's an application of both mind and body. I think of the music and the sport as separate things, but there's definitely a complement to the physicality of piloting a bike and getting up and playing on a stage for a couple hours each night. Part of my interest in cycling sprang from interactions with people I met through music – it's definitely helped sustain my interest in it. I would say that music has helped keep me involved in cycling more than the other way around.
Is it fair to say that the current Doobie Brothers sound is something akin to a reclamation of what the band was originally?
Absolutely. The band was more guitar and blues based. When Tom left, we hired Mike McDonald as a backup singer—and then we discovered his amazing talents. As he became our major songwriter for that period, we morphed into having a more R'n'B feel. I think that happens often when lineups shift. Fleetwood Mac is a great example: you change members, talent steps forward and you try to cultivate and nurture it. You'd be foolish not to. That's what we did with Mike. We've definitely come back around to a more guitar-based sound, but we're all still friends. I'd like to try and do a tour where we have all the writers and singers from our different lineups involved. As it is, we've done gigs with Mike from time to time.
When:
We're sorry, this event has already taken place!
Where: