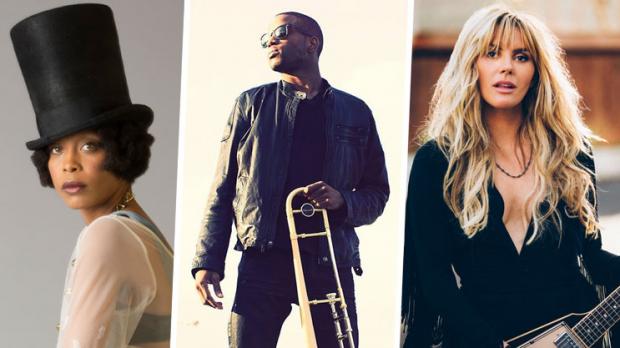 Xerox Rochester International Jazz Festival
[JAZZ] To celebrate their 15th birthday the Rochester (Xerox)International Jazz Festival's will host 1500+ musicians performing 320+ concerts at 19 venues clustered around the Kodak Eastman Theater on East Avenue from Friday, June 24 through Saturday, July 2 in downtown Rochester. As per usual, this year's festival will feature a rich blend of rising stars ( and veterans) like vocalist Erykah Badu, Trombone Shorty, child prodigy pianist Joey Alexander, saxophonist Jonas Kulhammar, drummers Dan (Dave's son) Brubeck and Charles Ruggerio, and jazz legends trumpeter Randy Brecker, saxophonist Joe Luvano, trumpet virtuoso Chris Botti, guitarists Chick Corea, John Scofield, Russel Malone, John Abercrombie, pianist Harold Danko, and more.
Half the headliners at Kodak Hall in the Eastman Theater should be familiar to pop-music lovers, starting with rock singer-guitarist Grace Potter, this Friday, then Chick Corea on Tuesday, ex Grateful Dead pianist-composer Bruce Hornsby & the Noisemakers on Wednesday, Greg Allman, co-founder of the Allman Brothers Band, on July 1, plus a free show by the Wood Brothers, on closing night, July 2, and Trombone Shorty & Orleans Ave on the Midtown Stage.
If soul & funk is your thing you'll want to catch trumpeter Nicholas Peyton and the folksy gospel-inspired chanteuse Lizz Wright, Catherine Russel, , and the funky Fitz & the Tantrums. More eclectic palettes will love the Velvet Caravan's blend of gypsy, honky tonk, and swing.
Big Band lovers will have many options like the New Energy Jazz Orchestra & the New Horizons Big Band plus many excellent college and high school bands from upstate New York.  A festival favorite is the nightly jam session,10:30-2:30am, at the Holiday Inn, at 70 State Street, hosted by guitarist Bob Snider, where you could catch any of that day's stars jamming with Bob's trio inside the packed State St. Bar & Grill.
This year there are six stages free to the public, scattered around the Eastman Theater, which hosts the headliners. Tickets to performances in the clubs may be purchased at the door, if available, but if you plan to spend 2-3 nights or more, you'll want to buy a 3 day or the 9 day club pass, which gets you into 235+ shows. There are also around 100 free acts on the public stages plus many unofficial performances in downtown clubs, restaurants and parks. For a detailed schedule, music samples, ticket and pass info and more visit: rochesterjazz.com.
When:
We're sorry, this event has already taken place!