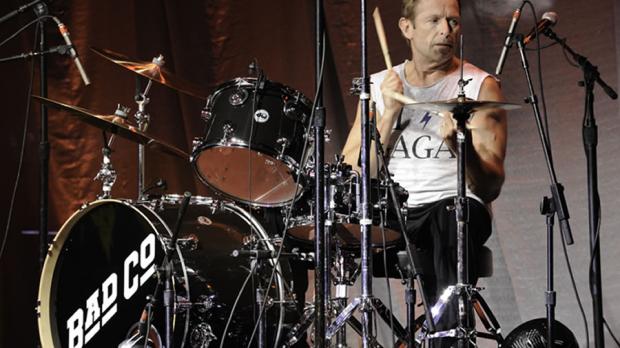 Interview: Simon Kirke of Bad Company
[ROCK] Former Eagle Joe Walsh is in Bad Company, and he can't deny. Having essentially been on the road with the Eagles since finishing his tour in support of his last solo disc, Analogue Man (2012, plus a live document of the tour the following year), Walsh returns this summer to excite and delight with his nimble-fingered soloing on a co-bill with U.K. monsters of classic rock, Bad Company. If you got a chance to see the Eagles during any of their post-reunion tours, there's never been any question: he remained their secret weapon right until the end, bringing his edgy Detroit-funk energy to what was otherwise an extremely mellow, sit-back-and-remember kind of show. Here, he'll deliver the best of all possible worlds, performing his James Gang classics ("Funk #49," "Walk Away"), picks from the Eagles stash ("In the City," "Life in the Fast Lane"), and his own unforgettable party anthems, "Life's Been Good," and "Rocky Mountain Way." Bad Company, meanwhile, has just released a pair of vintage live shows from 1977 and 1979 through Rhino, setting the stage for a hits/retrospective tour that features Black Crowe Rich Robinson on guitar in lieu of founding member Mick Ralphs sitting out this round. It's hard to imagine this could be anything but "One Hell of a Night" for the classic FM crowd, Tuesday, June 7 at Darien Lake. 
Drummer Simon Kirke is a rock and roll survivor with a career of nearly fifty years under his belt. As a founding member of Free ("All Right Now") and Bad Company, both featuring vocalist Paul Rodgers, the U.K.-born Kirke has navigated some heady highs and hit some considerable lows. The latter led him to become a board member with NYC-based non-profit Road Recovery, established in 1998 by storied tour manager Gene Bowen, which assists young people in recovering from addiction, But at 66, as a father of four (with 3 of his children involved in successful  entertainment careers) Kirke is in a really good spot, touring with Bad Company on a summer co-bill with fellow FM-dial legend Joe Walsh. He's also readying  a new solo album for release this year, and Atlantic has just put out a 'from-the-vaults' pair of Bad Company shows from 1977 and 1979. As a governor on the board of NARAS (the Grammy voting committee), Kirke wades through his share of pop fodder, but there's no denying his contribution to the classic rock canon. We had a chance to ask him a few questions as the tour made its way through the Southern states.  
Of all the past musical projects you've participated in, is there one that stands out to you as a crowning achievement — a particular album, a tour… even a song? 
One of my favorite tours was the first one I did with Ringo Starr's All Starr Band, which featured Peter Frampton, Jack Bruce, Gary Brookner, Mark Rivera, and of course, Ringo. It was the first time I had played a full tour with a band other than Bad Company and it gave me a chance to sing as well. It was scary at first, but after a while it turned into one of the most enjoyable tours of my life."
The technology of touring has changed dramatically since your musical beginnings. What's your favorite aspect of being on the road nowadays as opposed to 40 years ago? And least favorite aspect?
I don't think touring has changed that much, quite honestly. The mechanics are pretty much still the same. You travel to a gig, you play, then move on to the next place. Of course, social media has helped to a degree, but there's still nothing like appearing live in front of an audience. So, my favorite part of touring is playing and my least favorite part is traveling to the different towns.
Some artists really don't like looking back. Do you enjoy the opportunity to put out music 'from the vaults' like the new Live 77/79 sets?
I have no problem looking back to that time. We were a band at the height of our powers and sounded bloody good. Frankly, I was amazed at how clean the recordings were.

How did the tour with Joe Walsh come about—are you all previously acquainted?
My manager David Spero used to manage Joe Walsh and helped secure him to tour with us this year. It's been a wonderful partnership and one that I hope we can pursue again at a later date. It's a great bill!
Tell us a little about your forthcoming solo record—is it refreshing to be in charge? Daunting?
Well I've just completed a solo album, All Because of You, with a band from Chicago named The Empty Pockets. I consider it a musical milestone for me, personally. I was able to apply a wish list of things to several songs: A string quartet, a gospel choir, and pedal steel guitar. Plus Warren Haynes [from Gov't Mule, ex-Allmans] played guitar on one song. He absolutely smoked it!
When:
We're sorry, this event has already taken place!
Where: