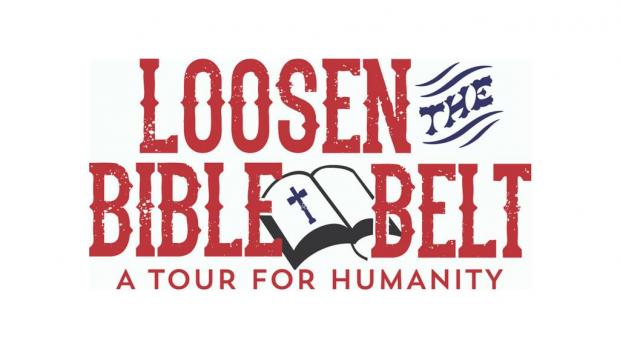 Loosen the Bible Belt Tour
[COMEDY] Kristen Becker's Loosen the Bible Belt show is truly a one-of-its-kind experience. Last year, comedian Becker (an out-and-proud lesbian and activist) and pastor Jay Bakker (son of televangelists Jim and Tammy Faye Bakker) teamed up to create a tour which combined standup comedy and preaching, mixed with a little music, in a traveling tent revival style show bent on promoting not just tolerance but love and acceptance between Southern evangelicals and the LGBTQ community. Becker and Bakker are back at it this year, and they're kicking off the tour at Babeville's Asbury Hall this Thursday, May 12. Accompanying Bakker and Becker on this tour are Buffalo's the Heavenly Chillbillies, Louisiana singer/songwriter SarahRose Marie, and comedian Duane Duke. Catch this curious blend of down-and-dirty comedy, newfangled old-time religion, music, and good will will before the troupe trundles onto the Chillbillies' vegetable-oil-fueled tour bus and departs for point south.
When:
We're sorry, this event has already taken place!
Where: