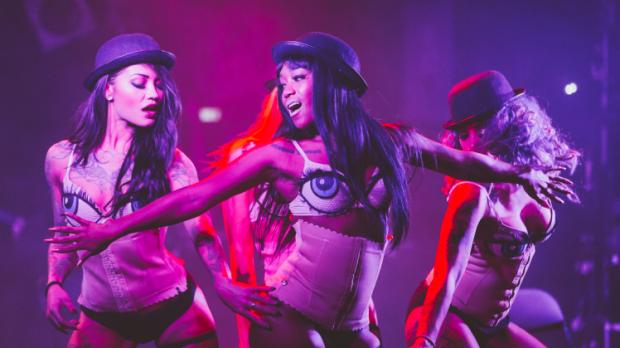 Suicide Girls: Blackheart Burlesque
[BURLESQUE] Did you know there was a social networking site operating before Myspace dedicated to alternative pin-up models? There was, and still is. And that site is SuicideGirls, an online community and adult lifestyle brand featuring pin-up photography sets of alternative models founded by Missy Suicide (whose real name is Selena Mooney) in 2001.
Missy, who runs the site with co-owner Sean Suhl or "Spooky," first came up with the idea for the site after coming across some stunning photos of Bettie Page taken by photographer and pin-up model Bunny Yeager. She became enthralled with Yeager's style of shooting the models and pin-up photography in general.
"There was something just so beautiful about the female gaze," Missy said. "Like when Bunny Yeager would snap the shutter, it was like three seconds before and three seconds after most of the male photographers who had photographed Bettie Page before."
After this she started photographing her friends and putting the photos up online in an effort to capture them with the same respect and beauty Yeager's photos evoked. Seventeen years later she has created a platform for over 3,000 official Suicide Girls and hundreds of thousands of hopefuls, which are models being considered for the official Suicide Girl title, to display their pin-up photos. These pin-up models are from all over the world, which includes every continent; even Antarctica. Members of the site pay a fee to have viewing access to these photos.
"I wanted to create a space where [women] could share themselves in their own words, not just through their images. So I created blogs for them and blogs for the members and a space where people could connect."
Over the years Suicide Girls have been featured in movies, comic books, TV shows, and burlesque tours. Missy describes a Suicide Girl as "a girl who lives life according to what drives her, is uniquely and beautifully herself, that doesn't feel the need to conform to anybody else's definition of what she is or what she should be, and who feels passionately and is confident and comfortable with her body and with herself."
One Suicide Girl from Buffalo, who goes by the name Lascaux, started following the website in 2015 when she was 19, and last year she decided to audition for the show, Blackheart Burlesque, which is a burlesque company attached to the SuicideGirls community, and has been touring with them ever since. Aside from dancing in the burlesque group, she also works in the office at SuicideGirls headquarters in Los Angeles and takes part in photo shoots that are later posted to the site.  
"Being part of Blackheart Burlesque is hands down the greatest experience of my life," Lascaux said. "Every day you wake up in a different city, which is an incredible thing for a kid from Kenmore."
Lascaux came up with her name due to her interest in art history, which she majored in at Buffalo State College. Her moniker is named after a set of ancient cave paintings in France that caught her eye when she was in college.
Before dancing with Blackheart Burlesque, Lascaux had no experience as a dancer, and before modeling, no experience as a model. She described herself as "bookish" and never really imagined she would be a Suicide Girl, but is glad she found the courage to try new things and broaden her experiences.
"Learning something new and performing and stretching the boundaries of my comfort zone was cool to me," Lascaux said. "All of the girls I get to dance with on the tour have the most unique personalities that somehow manage to be friends, which is amazing to me. It's a lot of really powerful and talented women that really function as a unit and that's really special to me."
Missy decided to add the burlesque element to the SuicideGirls platform in 2003. The group's first tour saw them opening up for music artists, such as Guns N' Roses and Courtney Love. After this they suspended the tour for about a decade and the company returned to touring in 2013.
The routines in Blackheart Burlesque shows are all based on pop-culture references from films, TV shows, video games or comic books, such as Star Wars, Game of Thrones, and even Rick and Morty, which is their newest addition. All the dances are choreographed by Manwe Sauls-Addison. The shows feature an alternating lineup of performers, so every other performance showcases different dancers.
"In the same way that we had taken classic pin-ups photos and redefined them with a modern twist, we decided to take classic burlesque and update it and put a modern, unique spin on it," Missy said. "Everybody should come out and see the show. It's really a beautiful, unique, and fun experience. It's one of those nights that could change your life."
Missy says she's grateful to get to live out her passions every day. She also enjoys getting to know each Suicide Girl in the company and tries to serve as a mentor for all of them and give them the advice she wishes she would have had growing up.
"It's really been amazing and freeing to be able to do what you love for a living," Missy said. "In doing so, I feel like I've been able to help a lot of other women be able to do what they love for a living as well. If what you want to do is something that doesn't exist yet then just make it happen."
The Suicide Girls perform at the Town Ballroom on Wednesday, April 11.
When:
We're sorry, this event has already taken place!
Where: