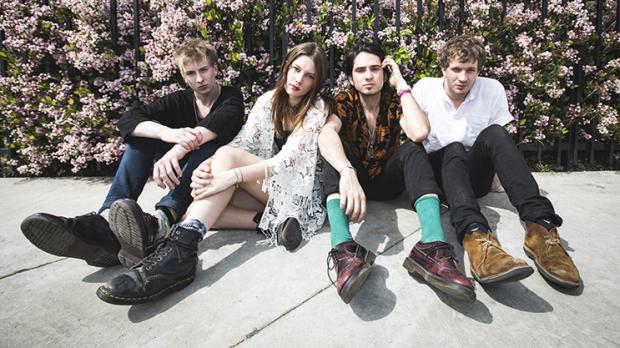 Interview: Wolf Alice
[INDIE] North London band Wolf Alice cannot be forced into a singular genre. Though some may attempt to shove them into a box, they ultimately burst through it, pulverizing the listener's initial expectations, leaving them with a conglomeration of different sounds. After a first listen of the group, it's obvious they've been influenced by grunge, shoegaze and alternative rock, however, the list goes on and will never stop, as drummer Joel Amey says—who spoke with The Public this week—since, as a band, they have not set any limits to what they can and will do in the future. The group, comprised of main vocalist Ellie Rowsell, guitarist Joff Oddie, bassist Theo Ellis and drummer Amey, will be making their way to The Tralf on Wednesday, April 6 at 8pm.
When did you start playing music?
Joel Amey: I started playing guitar when I was like 13. My mum bought me a guitar and then I started playing in bands when I was 15, 16, and I've literally played since then in different bands. It's just something I've always wanted to do. My mum is a guitarist as well, so it was never a problem for her when I was like 'I'm going to go do a gig or see a show.' She was very supportive of it."
How did the band come up with the name?
Ellie came up with the name. Her mum picked a book [a short story by Angela Carter] off the shelf and Wolf Alice was the name. We've definitely grown into the title, which is quite nice.
How long did it take all of you to create your debut My Love Is Cool?
Some of the songs on there are like three and a half years old, so we finished a lot of them up in the studio. For the first album you put what you think is your strongest material in. It's like your early greatest hits. It really ranges from like a few years to the big finish when we did the record. We did the record in about a month. It's weird. You have like five years to write your first record and then five minutes to write your second one."
Who came up with the name for the album?
It's a lyric in a track that happens quite late on in the record. It's a hidden track after "The Wonderwhy." It's the one thing we could agree on that we really liked.
Who's the young boy on the album cover?
It's actually a young lady. It's a still from an art movie that a friend of Ellie's made back when she was in art school. It's a really beautiful film that she made and we kind of had a couple of stills from that and Ellie showed them to us and said 'what do you think?' and we were like 'that's perfect.' So it's like a still frame shot from a moving image. You can see the full length on our Facebook.
When I listen to your band, I feel like I'm transported back in time to the 1980s and 1990s when grunge and shoegaze were big. Are these areas of music big inspirations for all of you as artists?
Yeah, I personally like Screaming Trees. There's a few times when people compare us to stuff we're not familiar with. Shoegaze big bands like My Bloody Valentine, but there's more to it than those eras. Then there are also all the bands that have maybe been influenced by shoegaze like The Horrors. Any musician looks through all these different touchstones of different eras and they're going to affect you. You're just going to bleed all over it and pull it apart and put it together. There's so much different stuff that it's more like you just subconsciously put things together. When you create something you can make more of a unique sound. It's less about genres and more about the sounds that we like.
Are there any new bands that stand out to you?
Totally. I can name you a shitload of new bands. I'm really into a band called Vinyl Staircase. They're these four teenagers from just outside of London in a county called Surrey. They make really trippy colorful pop, but not quite pop, more like Syd Barrett-type pop. There's something not quite right with it. I like Alex G. This great punk band called Bloody Knees, they sound like Green Day playing Oasis.
What have been some of your favorite cities to play in so far on tour?
I like Philadelphia. I've enjoyed Portland when we've been here. I really enjoyed Washington. We haven't played Buffalo yet. Some of our best mates are from Buffalo. Made Violent. We went on tour with them around America last year.
When:
We're sorry, this event has already taken place!
Where: