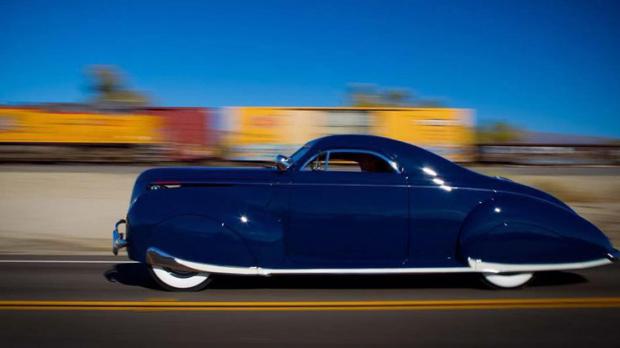 Buffalo Motorama
[AUTO] Automobiles, particularly cutting edge or luxury automobiles, are intimidating, expensive and often the spotlit focus of auto shows. There's a sticker shock and culture shock to the realization that next year's model is comparable to your mortgage. What's left for the rest of us, the non-expensive car buying car enthusiast? The weekend mechanic, the rat rod dude or the person who wants to witness the Flintstones movie car with their own two eyes? We have our answer this week, when the Buffalo Motorama rides into the Buffalo Niagara Convention Center this Thursday, March 24 through Saturday, March 26. The Buffalo Motorama features iconic rides from pop culture's past—including the aforementioned Flintstones car, the classic Batmobile, the Dukes of Hazzard General Lee, and the Back to the Future Delorean—along with muscle cars, high-end exotics, customs, tuners, and race cars.
Joe Haniszewski Jr., Buffalo Motorama CEO, has been involved with car shows and cruise nights for 26 years. He says that classic cars and the hobbyist automobile culture are rich in the region. "Western New York has a rich automotive history, and the love of cars have been passed down through the generations," Haniszewski Jr. said. "During the non-winter months, [Western New Yorkers] have a wide variety of car shows and cruise nights to bring their cars to, visit with friends, and talk about the hobby."
Attendees will have plenty to observe beyond the featured vehicles, including an array of car culture celebrities and a showcase of over 200 custom cars and motorcycles from across the United and Canada. With Star Wars characters and the Easter Bunny on hand, the Buffalo Motorama is a family friendly event, Haniszewski Jr. said. "We also have the 'Motorama Marketplace' with 35 non-automotive vendors selling clothing, housewares, food and more. We want families to come as a family and enjoy the automotive hobby," he said.
Entry to the Buffalo Motorama is $15 per day. Tickets can be purchased at the Buffalo Convention Center Box Office or online at buffalomotorama.com. Discount admission is offered to active and retired military, and children under 10 are free with each paid adult admission. For more information, including show hours, visit buffalomotorama.com.