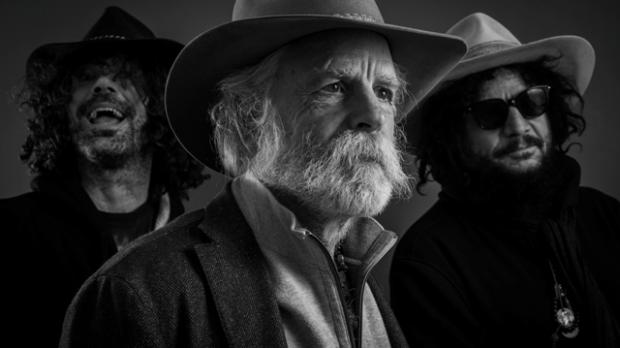 Bob Weir and the Wolf Brothers
[AMERICANA] Grateful Dead rhythm guitarist Bob Weir refuses to sit still. Very shortly after the Grateful Dead's 2015 Fare Thee Well stint in Chicago, Dead & Co. headed out on the road—the most recent incarnation of the Grateful Dead, featuring John Mayer alongside Weir on the front lines. But in between those shows, which continue to sell out venues four years on, Weir has released and toured a solo album, Blue Mountain (Columbia/Legacy, 2016), and is now out in a trio as Bob Weir and the Wolf Brothers, a tantalizing configuration that lands at Shea's Performing Arts Center on Friday, March 15. Alongside Weir are Don Was on upright bass and drummer Jay Lane—no slouching support. Was, who has been president of Blue Note Records since his appointment in 2012, is not only a revered industry figurehead but also a celebrated producer. His avant-funk collective, Was (Not Was), pushed at the envelope of  both rock and R&B convention through the 1980s, during which he also produced a string of successes for a newly sober Bonnie Raitt. More recently he produced Blue and Lonesome for the Rolling Stones, the band's triumphant 2015 return to blues. Together, his production credits account for over 90 million albums sold — and his bass playing is as dexterous as ever. Lane, meanwhile, is an elder collaborator from Weir's RatDog band who has also toured with Phil Lesh and Friends and was an early drummer for Primus. As a unit, Weir and the Wolf Brothers have been stunning audiences across the country since embarking on their initial string of gigs last fall. Honing in on pared-down arrangements of Dead favorites and cherry-picked covers, the trio's style harks back to the Dead's Reckoning-era acoustic shows, fused with a bit of rustic swing. Dead and Co. will be back this summer, but these Wolf Brothers shows are a bit more unique—made even truer, as usual, with a setlist that changes each night. Showtime is 7:30pm, $97.
When:
We're sorry, this event has already taken place!