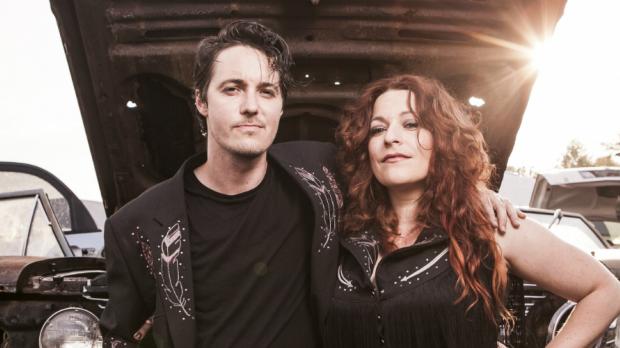 Shovels & Rope
[ROCK] Cary Ann Hearst and Michael Trent, a.k.a. Shovels & Rope, needed a respite from the intensely personal tunes they wrote for 2016's Little Seeds—an album that dealt with tragedy, uncertainty and difficult circumstances, albeit with revelatory musical tones. The South Carolina-based husband and wife duo are known for their earnest Americana that's that'd oft-spiked with elements of garage-y rock and always features their gift for harmonizing. The resulting sound is more timeless than vintage, but it has little in common with the current sound of mainstream country music. Having released a second collection of oddball covers in December, Busted Jukebox Vol. 2 — in which they re-imagine songs written by others by enlisting additional artists to participate, resulting in some truly unexpected transformations — they're currently on the road working up new original material in smaller rooms, stopping at Babeville's Asbury Hall on Tuesday, March 20 along the way.  We spoke recently while their tour bus was parked in Boulder, Colorado. During the conversation, a man in a championship wrestling belt stood outside the bus window and began flexing for an imaginary audience. Americana, indeed.
While you may see yourselves in other people's songs, it's probably a little less taxing to inhabit them, no?
Michael Trent: It's definitely more fun to work with other people's material. They're both satisfying — writing your own stuff and building everything from the ground up is rewarding in a special way, but interpreting other people's music, especially when we get to collaborate with friends and peers is a fun, creative exercise, and you're not connected to the song in such a personal way.  
When you put these covers projects together and invite participants to join you, do you select specific artists for particular songs, or do they get to pick? Is there a list that begins the process?
MT: It definitely varies per song. We start with a list of songs we feel would be fun to do in a different style than the original version and a list of artists we could imagine singing them. One of the challenges is to cast them so the results are outside what you'd expect, but not in an ironic way. For example, with the Breeders song "Do You Love Me Now?," we thought 'what if we were to reinvent this and have an alt-country rocker/crooner song it with a sorta NIN beat behind it — what would that sound like?'
Cary Ann Hearst: We're not in the studio with these artists, so the collaborations happen in the space and time of the internet, mainly because everybody's out on the road. We never know if they're going to like it or not or whether it's going to turn out how we wanted it to be, so it's a fun experiment.
MT: If we had our druthers, we'd be doing it all in a room together. But even still, it helps us get to know other artists and builds a sense of community.
What you do as a duo is fairly different that what you were doing as solo performers prior to 2008's Shovels & Rope. Since then, there's been a lot of recognition, a wider audience, awards, and critical accolades galore. What do you think is speaking to people that maybe wasn't before joining forces?
CAH: Michael and I knew really quickly it was something we could do and do well. We had a lot of time invested in our solo careers and a lot of energy envisioning what we wanted for ourselves. Coming together was a very organic process, and we built our band around this one voice that we create with our two voices.
MT: In the beginning we thought, 'wow, we're not the best musicians, but we sing very well together.' I grew up listening to the Beatles and the Kinks, absorbing that type of harmony singing. Cary grew up with more traditional folk and bluegrass, and so we're able to incorporate a blend of those different types of harmony singing into what we do, and I think that might be what people are reacting to.
Is Americana a backlash in response to what modern country has become? Or perhaps it's an effort at preserving something that seems lost in the country idiom?
CAH: It's a cycle. And don't hear me wrong, I love Nashville and rhinestones and all that. But if you look back at what happened to country music in the 1960's and 1970's, all of a sudden you had these big sweet string sections on country records… everything was all dressed up with super white gowns, violins, and it projected something classy and gorgeous… nothing hillbilly about it. It became super saccharine pop. In 2018, it's happened all over again, just in different ways. The production of country music doesn't have reverence for tradition, necessarily, and there's been a definite response to that in Americana. It's a catchall for music that presented a marketing issue, and now Americana artists have access to business and media — but there was no infrastructure for many, many years. I think of the careers of artists like Dwight Yoakam and Lucinda Williams and what a struggle it was to find a spot for their music.
When:
We're sorry, this event has already taken place!
Where: