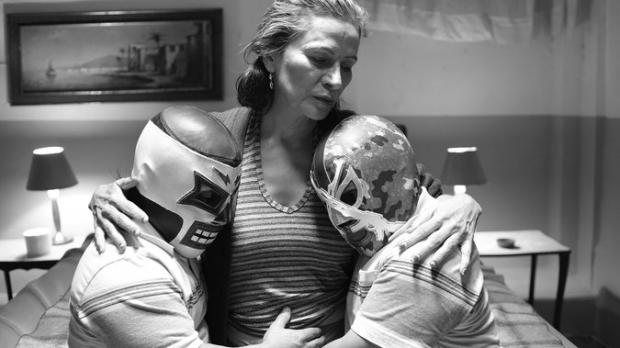 Bleak Street
[FILM] "The golden age has passed us all by," says one past-her-peak streetwalker to another in what qualifies as the cinematic understatement of the year. They are among the downtrodden, dispossessed and dissolute characters who inhabit Bleak Street, a reasonable enough translation of this Mexican film's original title, La calle de la amargura ("The Street of Bitterness").
The film was inspired by the true story of two prostitutes who accidentally killed two luchadores (masked wrestlers) with narcotic eye drops. They only planned to rob them, figuring they'd be flush with cash after winning a bout, and it was a scheme that had worked for them in the past. But they gave them a full dose, which proved fatal on these two little people. (Did I mention that part? Sorry.)
That's pretty much the entire plot of the film, and while I normally wouldn't give that away, Bleak Street was made for an audience who knew how the story was going to end, so I'm doing you no disservice. The plot is primarily an excuse to take the viewer on a tour of life in one of Mexico City's less savory neighborhoods, where little has changed over the years when Luis Buñuel was reviving his career with fatalistic melodramas. (Until the sight of two relatively modern police cars near the film's end, there's little to indicate what decade this story takes place in, from the 1950s to today.)
Veteran director Arturo Ripstein got his start in film with the help of Buñuel, as an uncredited assistant director on The Exterminating Angel, but while he has worked steadily since the mid-1960s few of his films have been released in the United States. If you know his name at all, it's likely for 1996's Deep Crimson, adapted from The Honeymoon Killers.
But while Bleak Street fits the same thematic territory as Buñuel's Los Olvidados, Ripstein doesn't go in for his mentor's surrealism. He peers at tangential characters with subtle tracking shots that make the story feel like a maze with no exit. And the careful lighting and high contrast B&W photography (by cinematographer Alejandro Cantú) gives the grit an ironic polish you would never find in the neo-realist films to which some might compare this.
Bleak Street will be screened this Wednesday Feb. 18 at Squeaky Wheel, 617 Main St., as part of the Kaleidotropes film series programmed by Jake Mikler. Tickets are $7 general admission (free for Squeaky Wheel members). Showtime is 7 pm.
$7 (free for Squeaky WHeel members)
When:
We're sorry, this event has already taken place!
Where: