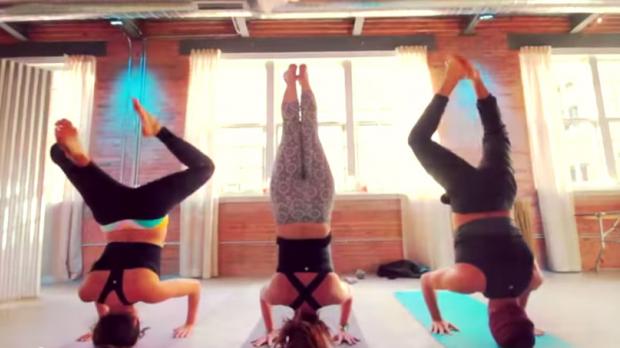 H.E.A.L. Buffalo
[WELLNESS] Cheryl Scheff and Jocelyn Ryann are two local yoga enthusiasts with their hearts firmly planted in Buffalo, and they've realized a vision that brings together many of their favorite things for a day.
H.E.A.L. Buffalo (the acronym stands for Heath Energy, Art, Love) is more than just the one-day event that will take place on February 21, 2015 at the Foundry Suites Hotel on 1738 Elmwood Avenue; it is a concept that showcases Buffalo's strong sense of community, rebirth and renewed development. The venue itself, in the old FWS building, embodies that rebirth.
Yoga studios from all over Buffalo have been invited to showcase what they do, with the goal of providing a space where connections can be made between different yoga communities. Cheryl and Jocelyn plan to bring such events to other cities in the future.
Multiple yoga classes and a posture clinic will be offered, as well as a complimentary lunch (provided by FitnFresh Catering) and a raw food seminar with Erin Curtin. The yoga classes will include live music by John & Molly, Drums by Mbaye, DJ Rick Jameson and Naryan Padmanabha. It makes for a full itinerary from 10 to 5.
Starting at 10 am, admission is free to shop a broad selection of local vendors, who will be offering all kinds of organic goodies, art, and yoga gear, and don't forget the Lloyd Tacos truck out front. Tickets ($60 presale, $75 door) grant access to the full yoga retreat, including all classes, seminars, lunch and valet parking. The vendors available to all include CKDESIGNS, Live Your Life Gear, Everything Buffalo, Just Beachy Jewlery, Power Yoga Buffalo, artist Michelle DaRin, The Painted Yogi, Askers, Red Poppy Purses, Mahina Jewlery, Barra Centric, Modern Nostalgia, Empire Market, Her Story Boutique, Little Pearl Big City, Renew Bath and Body, Yogis In Service, Sara E. Tremaine, Fit-n-Fresh, Dipson Theatres, Blush Clothing and Accessories, Tres Aurae Spa, Leelee, Buffalo Gal Organics, Jodi Waller Pottery, Vishuddha Designs Natural Décor & Body
If you're seeking positive vibes, the best yoga instructors in Buffalo, healthy food and soul-soothing music, this event is can't be missed. 10% off all proceeds will be donated to Lighthouse Women's Residence
You can buy tickets here. 
When:
We're sorry, this event has already taken place!
Where: