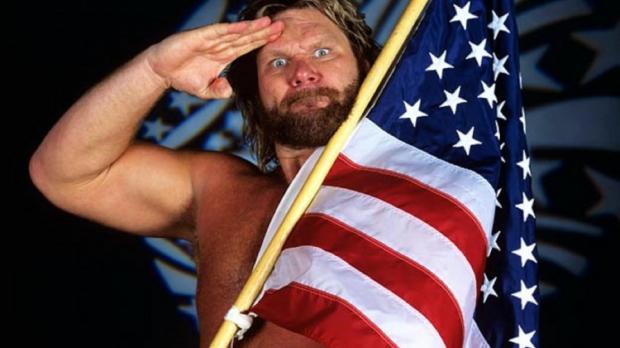 Hacksaw Jim Duggan
[COMEDY] "Hacksaw" Jim Duggan is the latest pro wrestler to climb into the comedy/spoken word ring, and chances are he will be bringing his trusty 2x4 with him. Duggan will make two stops in the Buffalo area this week, with shows at Helium Comedy Club on Wednesday February 3 and 1811 Comics on Sunday, February 7.
Duggan joins fellow WWE Hall of Famers Mick Foley, Jake Roberts and others in the emerging and unique space of wrestler-turned-live-orator. The Glens Falls native sees the trend growing on account of the unique and exotic lifestyle that wrestlers can reference for their material.
"You know, even the folks who are not wrestling fans are always intrigued by our business. I can be sitting on the plane and a business man will sit next to me and say, 'Hey, you're a wrestler? I don't watch wrestling, but how about this or that?'," Duggan says. "It's an intriguing business. [The live show] is kind of a behind-the-scenes look. I'm not going to go up there and tell joke after joke… It's road stories, ring stories, 'rib' stories, which is what we call [practical] jokes."
A major star during the WWE's prosperous era in the late 1980s, Duggan, 62, has no plans to retire as an active pro wrestler. "I still love getting in the ring. People say, 'Do you get tired of it?' I say, 'Get tired of it? You know, you come through the curtain, everybody is on their feet, everyone is going 'HOO!' Cheering, 'USA, USA!' I say, it's like a shot of adrenaline," Duggan says. "I'll come down with a walker made of 2X4s sooner or later. I love it that much." Duggan will perform at Helium Comedy Club on Wednesday at 8pm with a meet and greet following the show. He will return to the region at 1811 Comics in Williamsville on Sunday, February 7. 1811 Comics will host a meet and greet at 1pm, which will be followed by a live show at the Meeting House at 3 pm and a special Super Bowl party.
When:
We're sorry, this event has already taken place!
Where: