Etc.
We Asked, You @Replied: Your Favorite Things of 2014
by
/ Dec. 29, 2014 12pm EST
We Tweeted, you replied (or faved). We'll admit it: asking for your favorite "things" of 2014 was a little vague, but we simply wanted to hear what you loved about 2014 on a local, national, even universal level. From music to dining, here are some of your replies via Twitter and Instagram we received about what you truly loved this year.
If you'd like to add your on favorite things of 2014, please tweet us, use the hashtag #ThePublic2014, or comment in the box below.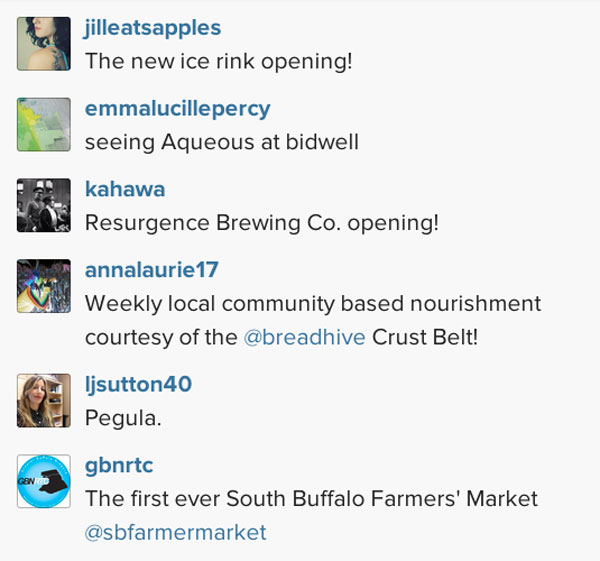 Hey WNY — what were your favorite things and moments from 2014? RT and reply to share yours! #ThePublic2014 pic.twitter.com/kEJd3qaxU1

— The Public (@PublicBFLO) December 21, 2014
@PublicBFLO #ThePublic2014 The reopening of the beloved, renovated and re-energized @NorthParkTheatr . pic.twitter.com/bFb6wi5rgn

— Oxlade-Chamberlain (@BfloDude) December 28, 2014
@PublicBFLO this pretty much salvaged 2014 pic.twitter.com/19MJ1AkMn3

— nickel queen (@egemini618) December 21, 2014
@PublicBFLO Moving back to #BuffaloNY in February 2014 after 16 years in #NYC and abroad. @bfloparks #LegacyCity pic.twitter.com/fzdWH2EuuO

— Preservation World (@NewPreservation) January 4, 2015
@PublicBFLO 2014 #Buffalo fave? Popcorn on my scallops and that raw bar! Oshun all day. #ThePublic2014 #BuffaloNY pic.twitter.com/Zib1ujkQda

— Billy Sandora-Nastyn (@BillybobN) December 29, 2014
@PublicBFLO Moving to Buffalo would be it for me. :-)

— Christine Slocum (@ChristineLSloc) December 21, 2014
@PublicBFLO #tkbc @Altbuffalo Kerfuffle before Christmas concert was definitely a highlight of 2014 for me!

— GMW (@Wigs_Niagara) December 21, 2014
@PublicBFLO Huge year for microbreweries in the area! @ResurgenceBrew became my favorite summer hangout spot.

— Jodie (@jleighorc) December 21, 2014
@NewPreservation @PublicBFLO cannons returned to FP after over 70 years, and RiverRock Gardens opening in Riverside pic.twitter.com/isobqEqifh

— bFLO Olmsted Parks (@bfloparks) January 5, 2015
@PublicBFLO Loved performing @CanalsideBflo surrounded by great audiences #ThePublic2014 @DanaSaylor @florenehughes pic.twitter.com/ytnIXipByV

— Cynthia Pegado (@Cypegado) December 22, 2014
@PublicBFLO My favorite thing of 2014 was @AphexTwin's first record in many years: SYRO. pic.twitter.com/TpDxtmYDvi

— Cory (@CoryMPerla) December 29, 2014
---
Follow The Public on Twitter, Facebook, & Instagram to get in on the conversation!