Visual Arts
Artist Residency Looking to Hatch on the West Side
by
/ Dec. 27, 2014 2pm EST
Tina Dillman has a great idea. She wants her banana peel-colored home on Grant St. to become a revolving door for artists to visit, work, and share their efforts with Buffalo.
Arriving in Buffalo was something like a homecoming for Dillman, who has spent the better part of the last ten years in the San Francisco Bay area. Raised in Central New York and with some family in WNY; Buffalo, with its homegrown arts community, became a logical destination for Dillman after getting an MFA from the San Francisco Art Institute in May. If a curator's job is to host a conversation, Dillman is one-upping that charge by attempting to host the artists themselves.
Equipped with an ample and comfortable basement space–her home is one of the few on the west side built after World War II–Dillman is raising cash to fund an artist residency program. Her goal is to establish three six-week residencies in 2015, and expand it as the program goes. Depending on the medium and the project of choice, each artist will be charged with the responsibility of engaging the community and establishing some kind of cultural exchange. An art show would just be the tip of the iceberg, Dillman is already doing the legwork to connect her artists' proposed projects to established neighborhood and culutral instutitions. Big idea, conceptual work is greatly encouraged. Squeaky Wheel, Hallwalls, and Big Orbit have all pledged their support by granting artists access to space and materials.
"Art has always been about the something else," Dillman explains, "I don't want to paint a pretty picture and hang it on the wall. Art has to be about action."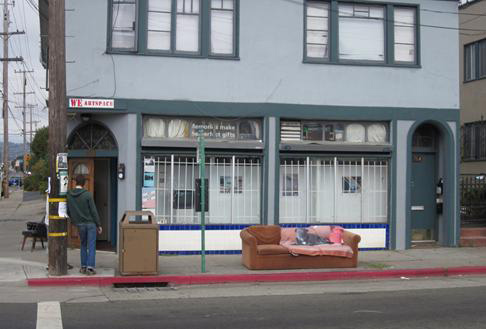 It's all old hat to Dillman, as she hosted a vibrant performance and arts series out of her storefront home in Oakland from 2009-2013 called WE Artspace (pictured above). Now, she's putting together a more serious and sustainable plan, having applied for grants and launching a tax deductible crowd-funding campaign to get Project Grant off the ground.
Dillman, an artist herself with a show coming up in early January, seems perfectly suited to running the thing and we hope it succeeds. It's a form of cultural exchange and ambassadorship that could greatly benefit and enrich the community.  
---

Donate to the Project Grant crowd-funding campaign here.