Etc.
The Year in Review 2015: Sport
by
/ Dec. 22, 2015 11am EST
I have yet to view the ESPN documentary on the 1990s Bills, The Four Falls of Buffalo. I'm angry enough at the combined state of a corrupt league and team forever wedded to mediocrity that any review of the depressing glory years of the Bills might be mistaken for the tonic with which to swallow any suspicion of the present. That's your year in review for Buffalo sports: National media produces an emotional movie about a team's connection with its fans, and this Bills fan is having a hard time bringing himself to watch out of fear it might make the whole thing worse. 
But there's more to meet the eye than Bills, Sabres, and futility. 
---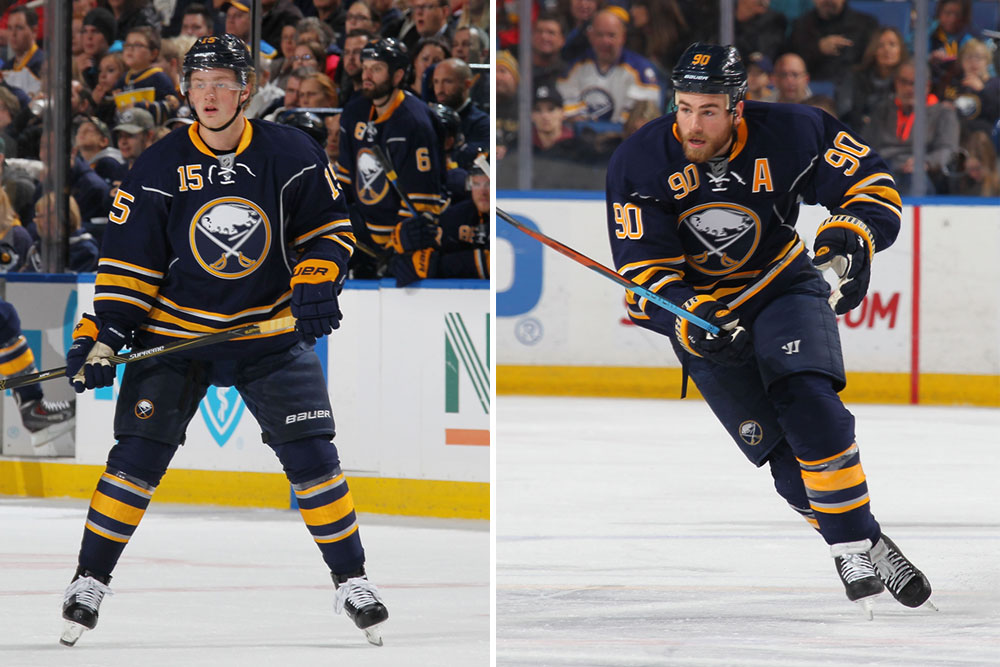 Jack Eichel and Ryan O'Reilly of the Buffalo Sabres. Photo by Bill Wippert/Buffalo Sabres   
Buffalo Sabres
When Terry Pegula bought the team in February 2011, he held a press conference announcing himself to the world as a geeked-out Sabres fan with a penchant for tears. On hand was team legend Gilbert Perreault, whose mere presence made the natural gas tycoon tear up. Trying to explain his love of Perreault as the genesis of his fandom, he announced himself again as a lover of beauty: "I mean, have you ever seen him skate?"
It's hard to even remember how, when, and where the dust settled at the end of the darkest period in team history last season. But out of its ashes: Jack Eichel. Sports are rife with comparison debates; let's not do that with Eichel and Perreault. Let's just say that the 19-year-old skates like the damn wind: effortless and strong. The goals that Eichel scores and the way he scores them set him apart from almost every other player on the ice every time it happens. He's young, he's not yet the team's best player, but 2015 will forever be known as the year Eichel gave fans a reason to watch games again. And we may also remember it as the year Darcy Regier's parting gift to Buffalo, Rasmus Ristolainen, emerged as a true stud, and when Ryan O'Reilly wrested the reins of leadership away from Brian Gionta and Tyler Ennis. 
---
Boxing
Rochester-native Willie "The Mongoose" Monroe Jr. saw his star rise last May in a middleweight title fight against rising superstar Gennady Golovkin in Los Angeles. The elusive and intelligent Monroe, who won ESPN's Boxcino tournament in 2014, fared only slightly better than many of Golovkin's opponents, succumbing to a stoppage for the first time in his career. But he hung in there for a few rounds after being knocked down twice in the second, until the referee called it in the sixth.  
While area boxers Nick Casal, Vincent Arroyo, and now Greg Brady continue long stretches of inactivity, Buffalo light welterweight Emmanuel "Pinky" Colon continues to rise up in the prospect ranks, recently dispatching Jose Marrufo in the first round.
Meanwhile in amateur circles, Albany heavyweight Brandon Lynch passed through the Olympic trials stage and appears destined for Rio next summer. Lynch made his way to the pinnacle of amateur boxing through Golden Gloves tournaments in Buffalo, mowing down opponents like Buffalo bartender Drew Graziadei. At the Golden Gloves finals this year, Graziadei gushed to this corner about Lynch's intensity and the way he thinks through his opponent. Lynch won't be around when the Golden Gloves start up again in late January at RiverWorks, but pro prospects Abraham Nova (Albany), Wilmont Wood, Lawrence King (both of Rochester), and Ahmad Aliyev (Buffalo) will be. 
---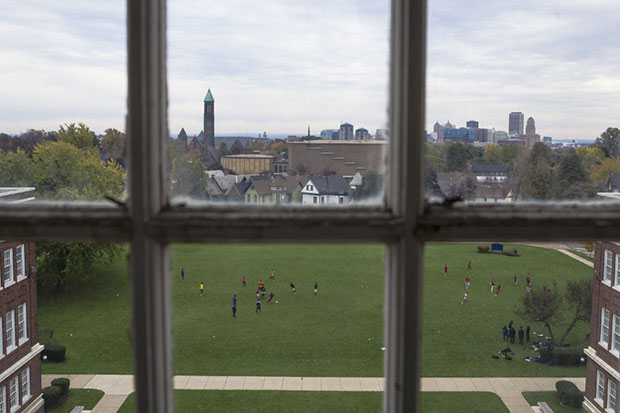 The I-Prep practice field. Photo by Brendan Bannon
High Schools
I grew up in short walking distance of All-High Stadium, the erstwhile historical home of the Thanksgiving Day Harvard Cup championship game for football. It once meant a lot to my father and his generation, when the sons of a working-class town waged battle for neighborhood bragging rights. By the time he was taking me to the occasional game so many years later, the game and the politics around the game had changed so much that it was virtually unrecognizable. And it wasn't good football; the Harvard Cup system ensured that city teams rarely, if ever, played better competition in the suburbs and beyond. The city's high school athletic programs are a rare bird in itself: Coaching staff contractually have to be teachers. 
After 106 years, the Harvard Cup was abolished in 2009 and the remaining city teams, some of which had since combined programs, joined the larger NYSPHSAA. This year, South Park High School, led by English teacher Timothy Delaney and quarterback/cornerback Tyree Brown, completed a storybook season with a wild, improbable, 49-46 win over Lourdes. To get there, they ended a 62-game winning streak by Maine-Endwell, a game in which Brown passed for 203 yards with a touchdown, ran for 103 yards and two touchdowns, and made two interceptions and five tackles on the other side of the ball for the Sparks.
Elsewhere in city sports, the International Prep soccer team fell short of its state title defense, but had another solid year on the pitch, winning their section championship over Lackawanna (photo above is from that game, after an Ahmed Hassoon goal). I-Prep is located in the old Grover Cleveland High School, but lost their name due to the constant reshuffling of school names, principals, and standards in Buffalo and New York State's arduous crawl toward reform. Consider for a moment the stakes for Buffalo students in schools whose survival can never be taken for granted, playing on teams coached by their teachers, and you might get a slice of what it means for them to achieve success. Add to that: There could never be a team more ethnically or linguistically diverse than the I-Prep soccer team, coached by Tony Alessi and the beloved school interpreter, Mr. Abdi. The team consists almost entirely of students from newly settled immigrant families on the West Side. 
---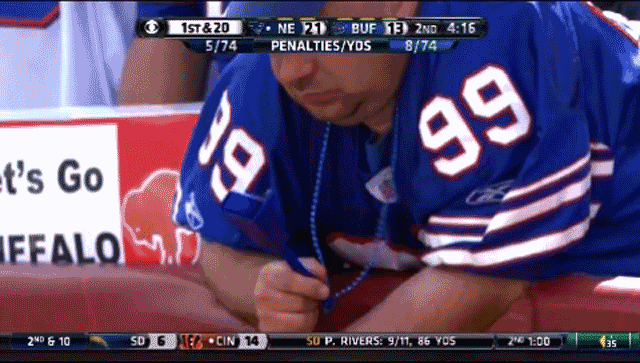 Buffalo Bills
Before the season started, the Bills decided to part ways with aging running back Fred Jackson. For years, Jackson's spirited play was the splash of color on a bleak landscape, someone fans could connect with. Jackson was rescued from professional purgatory by none other than Marv Levy, who took a flier on him because of their mutual connection to something called Coe College. Jackson's utility as a player and his presence as team captain aside, the move made sense from the cold-hearted business perspective that treats its players like chattel and its fans like dupes. It was a sign of things to come, as for months afterward Jackson's cut-out effigy stood sentinel in M&T banks across the area, which had already bankrolled an entire marketing campaign around Fred again raising the green flag. 
What else can you say about this team, which soon will continue to own the longest playoff drought in pro sports, thanks to the 2015 Toronto Blue Jays? They do have a player named Bacarri Rambo, and on opening day about 11 percent of its active roster had "Williams" for a last name. 
---
Rollerskating/Skating
We're not ready to call it a comeback—it's been here for years—but there have been some signs of new life on the border of sport and lifestyle that is skate culture. The skate park in LaSalle Park in 2013 is entering a phase II design stage and rollerskating events bridging the east and west sides of Main Street in the near center of the city at East Ferry's Skateland have become increasingly popular. Add to that, a rollerskating shop, Turnaround Skates, has sprung up on the far West Side on Rhode Island near Niagara Street.
Ice skaters have had an additional several thousand square feet of ice added to their domain this year alone, with the construction of HarborCenter and the completion of the ice at Canalside.