Visual Arts
by
/ Dec. 23, 2015 12am EST
The Albright-Knox Art Gallery has decked itself in its finery for the holidays. The show entitled Monet and the Impressionist Revolution, 1860-1910. Several score paintings and a few sculptures—mostly from its own collection, with a few key borrows—tracking no less of an art historical event than the birth of the modern. Basically by way of the progressive breaking up of the classical realist mode of artistic representation, through a variety of painting surface fragmentation techniques and discarding the Renaissance principle of visual perspective, the picture as an illusionist window. Culminating in complete abandonment of the classical mode in abstract art, and remaking of the painting into something more substantial objectivist—more like a sculptural object, only in two dimensions not three—than illusionist. 
Monet is the feature performer. In one room a dozen or so of his paragon impressionist paintings in nearly an equal number of paint application strategies. Amid other rooms of mostly individual works of other impressionists, pre-impressionists, post-impressionists, and early abstractionists. 
A long and complex story—the birth of the modern—in its roots and ramifications and tangle of disparate artistic impulses. The sculptural centerpiece near the exhibit entrance area is Rodin's statue of Eve after the fall, from about 1880. Impressionist literally in its uneven surface effects of the tactual manipulation—palpation—by the artist of the original clay, but harking back formally to Renaissance sculpture and painting by Michelangelo, and conceptually to medieval poetry by Dante (the Eve statue originated in connection with Rodin's multiplicacious and never fully realized Gates of Hell sculptural précis of Dante's Inferno).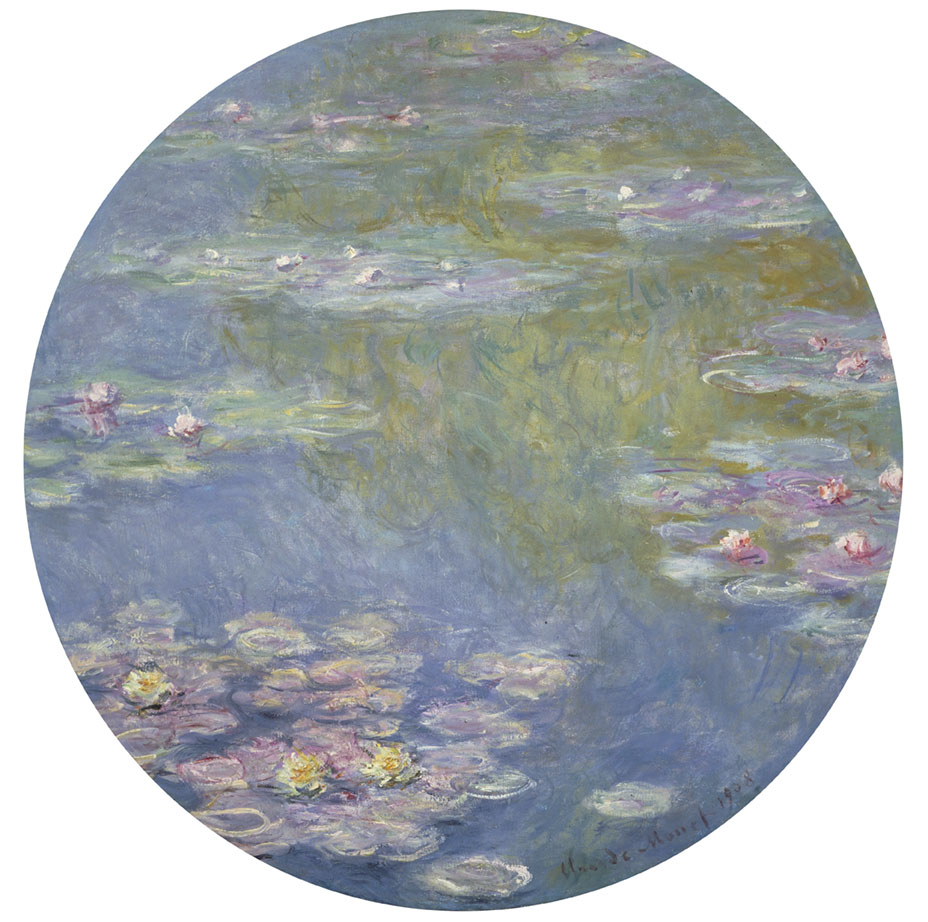 Claude Monet, Water Lilies, 1908
While in the post-impressionist section, Cezanne's wonderful Pool at Jas de Bouffan, also from about 1880, in paint strokes laid on the canvas like a master mason laying bricks, constructing—or reconstructing—painting as a pictorial edifice at once transparent and rock-solid. And his Morning in Provence, from around 1900, employing light like a sculptural material. And Matisse's Notre Dame in the Late Afternoon, from around 1902, unarticulated shadow solid cathedral. But actually just paint on canvas. This is not a cathedral, René Magritte might have said, and Matisse agreed. 
The Monet paintings range from early to mid-career landscapes variously contending with impressionist obsession optical perception issues—the mud and snow towpath painting of about 1875, the ice floes painting of about 1880, the finely fragmented paint surface haystack painting of about 1890—to the nonpareil impressionism Nymphéas lily pond at Giverny example, from about 1908. About surface and depth. Pond water surface as surrogate for the painting surface. As a window you see and don't see into. 
The exhibit begins with Courbet's audacious view into the dark cave source of the Loue, a river in eastern France, and two much less imposing works by Daumier, one of a railway station waiting room, one of a laundress at the top of a Seine River quai stairway, wearily heading homeward after a long day's toil, laundry bundle under one arm and toddler in tow. All in all signaling a turn away from the previous tradition of art intended primarily as commemoration and celebration of great events and great people—meaning rich and famous—to a more exploratory and inquisitive art, about nature and real life, real people. A more honest and humble art, and more interesting. 
And among the post-impressionists, not just the beginnings of abstraction but of expressionism too. Gauguin's alien world dark symbolical Spirit of the Dead Walking, and domestic world bright sunlit to the point almost of harsh-toned Yellow Christ.
Among the borrows are Edgar Degas' Portrait of Rose Caron from Rochester, Gustave Caillebotte's Study for Le Pont de l'Europe from Chicago, and Edouard Manet's Portrait of Isabelle Lemonnier from Dallas. 
The Monet and forerunners and followers exhibit continues until March 20. 
---
Monet & The Impressionist Revolution, 1860–1910
Albright-Knox Art Gallery
1285 Elmwood Ave, Buffalo / albrightknox.org