Local
Looking Backward: Main Street, 1957
by
/ Dec. 23, 2015 12am EST
Main Street in the Christmas season was the center of the Western New York shopping universe. Here, in a photograph taken on November 30, 1957, crowds move through a packed Main Street south of Lafayette Square. The flagship store of Adam, Meldrum, & Anderson—clad in cast iron and decked out with Victorian Christmas window displays—is on the right, followed to the left by Kobacker's, Kresge's, Ulbrich's stationary, Singer's cut rate drugs, Tanke's jewelry, Weisberg's jewelry, and Loft Candy Shop. On the left, looking south to Eagle Street, are Kleinhans, F. W. Woolworth Co., and J. N. Adam's department store.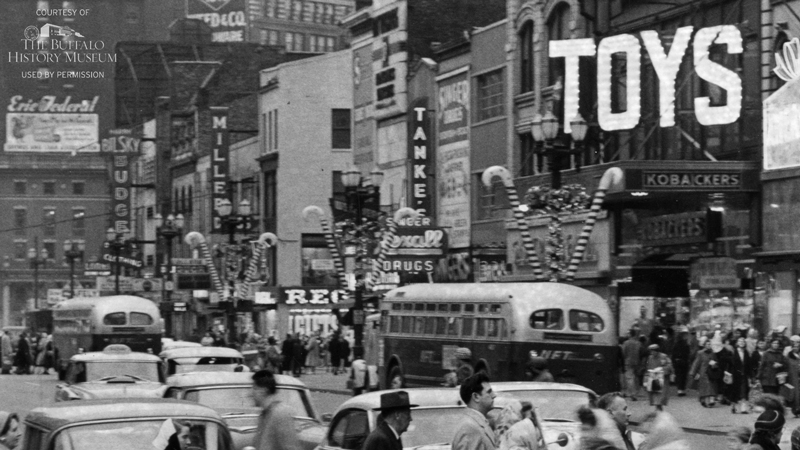 As late as 1948, the Main Street Association tallied 1,581 stores in downtown Buffalo. Downtown shopping has declined, much of it due to suburban sprawl and destructive urban renewal projects. Today, with 888 housing and 1,022 hotel units built downtown since 2000, retail is making a slow comeback. New memories can be created at retailers like Furnishings, Woyshner's Flower Shop, Buffalo Scooter Company, Sarah Danielle, New Era Cap Co., Modern Nostalgia, Choco Logo, WNY Book Arts Center, City Wine Merchant, and Queen City Pop-Up.
---
Image courtesy of The Buffalo History Museum. Used by permission.